Clothing Tights - Mens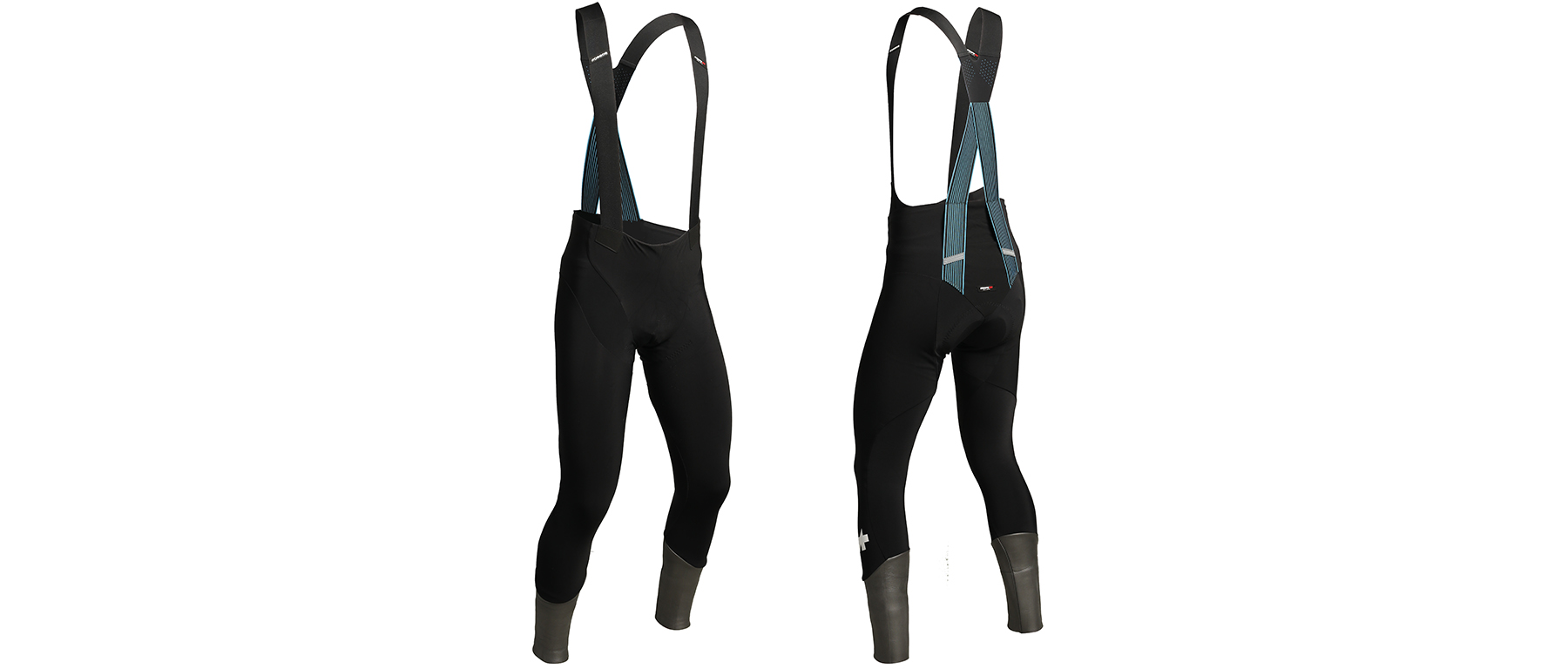 Equipe RS Winter Bib Tights S9
Excel Sports Part #
Assos Part #
UPC/EAN#
Actual Product Weight grams
Request Stock Alert
Sizing
Description
For dedicated winter cyclists, the Assos Equipe RS Winter Bib Tight S9 represents a sophisticated solution to the challenges of cold-weather riding. These bib tights transcend the conventional definition of apparel and instead serve as a meticulously engineered toolkit designed to keep cyclists connected to the road, even in the most adverse conditions. Combining Assos' S9 racing platform with their latest Winter 3/3 innovations, these tights offer an unparalleled level of fit, support, and weatherproofing.
They are designed to combat a range of winter-specific challenges, from light precipitation to freezing winds and chamois discomfort caused by road spray. The strategic placement of SPHERE Ultra and SPHERE Medium membrane-equipped panels on the knees, thighs, hips, crotch, and lower back ensures exceptional weather protection. Taped seams and a durable water-repellent (DWR) treatment further enhance resistance to moisture ingress.
The tights are primarily constructed from OSMOS Heavy, a stretchy insulating material that provides warmth and comfort while maintaining freedom of movement. This combination of advanced textiles and engineering results in bib tights that not only keep riders warm but also shield them from the elements, allowing for extended outdoor training sessions in the coldest conditions.
Return to Top
Features
Engineered as a toolkit for cold-weather cycling challenges
Integration of S9 racing platform with Winter 3/3 innovations
Unmatched fit, support, and weatherproofing
Strategic placement of SPHERE Ultra and SPHERE Medium membrane-equipped panels
Constructed from OSMOS Heavy for warmth and freedom of movement
Return to Top
Sizing
Mens Shorts, Bibs, Knickers & Tights
| Size | S | M | L | XL | XLG |
| --- | --- | --- | --- | --- | --- |
| Height/Waist | 5'3"-5'5"/27"-29" | 5'6"-5'10"/29"-32" | 5'10-6'/32"-34" | 6'-6'2"/35"-36" | 6'2+/36"+ |
Mens Jerseys, Jackets & Vests
| Size | S | M | L | XL | XLG |
| --- | --- | --- | --- | --- | --- |
| Chest | 36"-38" | 38"-40" | 40"-42" | 42"-44" | 44"-46" |
Baselayers - Unisex
| Size | 0 | I | II | III |
| --- | --- | --- | --- | --- |
| Assos Size | XXS-XS | S-M | L-XL | XLG-TIR |
| Chest | 34-37" | 38"-40" | 41"-44" | 45+" |
Womens Shorts, Bibs, Knickers & Tights
| Size | S | M | L | XL | XLG |
| --- | --- | --- | --- | --- | --- |
| Hips | 33"-36" | 36"-38" | 38"-40"+ | n/a | n/a |
Womens Jerseys, Jackets & Vests
| Size | S | M | L | XL | XLG |
| --- | --- | --- | --- | --- | --- |
| Chest | 32"-34" | 35"-37" | 38"+ | n/a | n/a |
Gloves
| Size | S | M | L | XL | |
| --- | --- | --- | --- | --- | --- |
| Palm | 20cm | 22cm | 23cm | 24cm | |
Hats
| Size | 0 | I | II | | |
| --- | --- | --- | --- | --- | --- |
| Head | 48cm-53cm | 53cm-58cm | 58cm-63cm | | |
Socks / Shoe Covers
| Size | 0 | I | II | | |
| --- | --- | --- | --- | --- | --- |
| Foot | Euro 35-38 | Euro 38-42 | Euro 43-46 | | |
Arm/Knee & Leg Warmers
| Size | 0 | I | II | | |
| --- | --- | --- | --- | --- | --- |
| Size | XS | Small/Medium | Medium/Large | | |
Return to Top