Road Bottom Brackets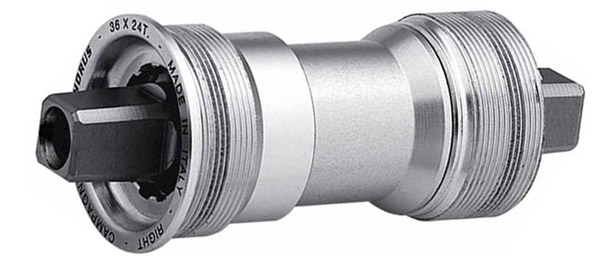 Chorus Bottom Bracket
Excel Sports Part #
Campagnolo Part #
UPC/EAN#
Actual Product Weight grams
Request Stock Alert
Description
This is the workhorse of the Campy BB line-up for square taper Campagnolo cranksets that require 102mm spindle lengths, such as Record and Chorus.
As with all Chorus grade products, this BB receives high quality bearings and a brilliant finish. Alloy cups are precisely machined with perfect threads that will install smoothly. Asymmetrical bearing placement has two bearings on the drive side for maximum strength and one on the non-drive side. The hollow axle is machined to perfect spec then treated for durability and longevity. The taper on the axle is specifically made for Campagnolo cranksets and will not work with any other brand.
Please keep in mind that the BSC thread has a driveside cup that threads counter-clockwise in the shell, while the Italian threads clockwise. The difference is not simply in BB shell widths. For many older frames a light threadlocking compound can be mandatory on the Italian driveside cup, as it can back itself out with pedaling action.
Return to Top
Features
Threaded bottom bracket unit for Campagnolo square taper interface cranksets
Light alloy shell
3 asymmetrically placed cartridge bearings
Aluminum cups
Heat treated hollow steel axle
Installation/removal requires the Campy UT-BB080 tool or Park BBT-5/FR-11
Choose from BSC (68x102) or Italian (70x102) threading
220 grams
Made in Italy
Return to Top