Clothing Hats & Headbands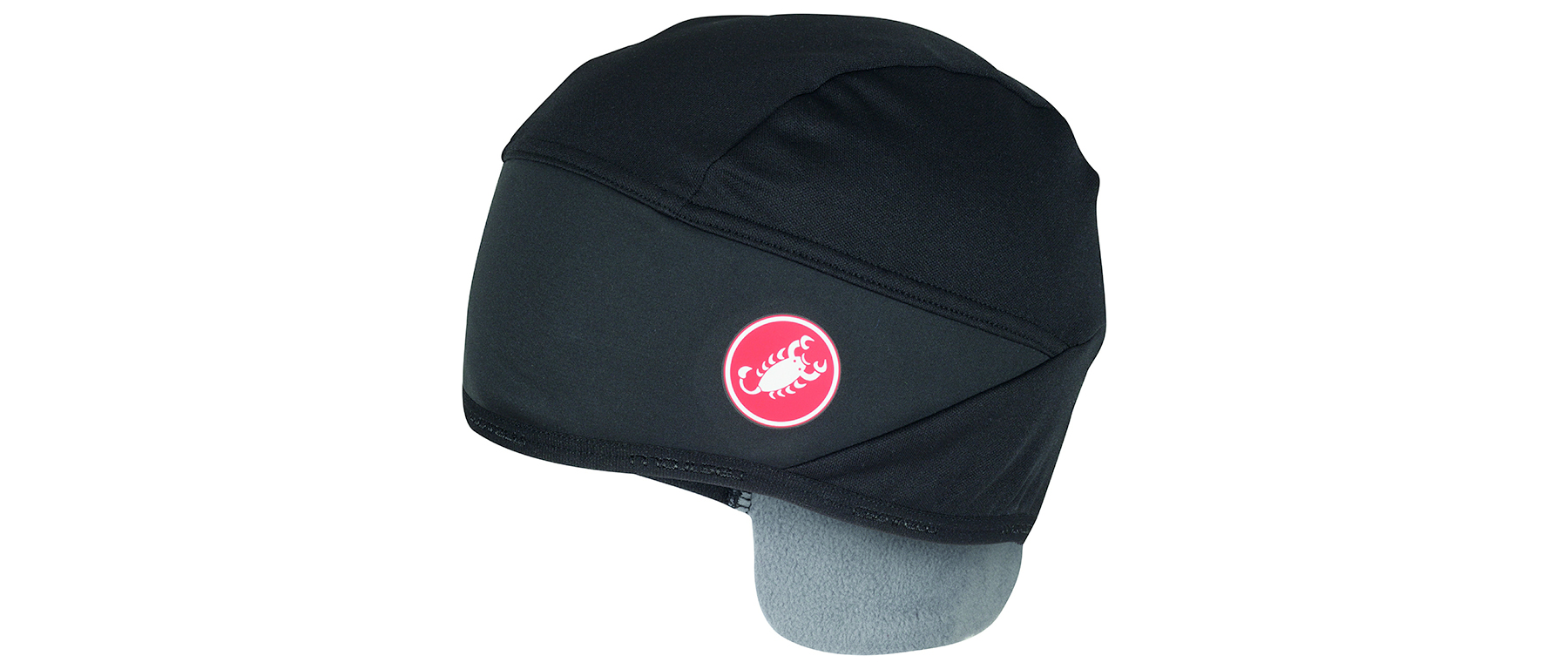 Description

A great winter skull hat has to block the oncoming wind and weather, fit well under a helmet, and offer plenty of warmth, while breathing out excess heat and moisture from perspiration. Not too much to ask, right? Castelli rates the Estremo WS Skully from 20-50°F and it certainly favors the coldest temps for most cyclists who enjoy some extreme winter training. Utilizing the superior stretch, wind blocking, and water repellency of GORE-TEX INFINIUM™ X-Fast blocks the wind With a 4-way stretch softshell material, Castelli gets the protection and insulation you require, along with breathability, all without bulk. The fit is a byproduct of the panels and stretch.
To add extra insulation, especially for the lower ears and neck, a flap of Castelli's own Warmer fleece fabric is employed. The ultra-soft Warmer also breathes well, but lacks the water and wind repellency of the X-Fast. For that reason the Estremo WS Skully is perhaps best suited to cold, dryer, conditions, though light snow or rain won't be a problem. Castelli has taken pains to band the lower edge for greater durability and provide a better finish quality, and we were originally concerned it would create awkward helmet interaction, but were pleased to find it did not. The panel seams are cleanly finished and barely noticeable inside, or when you have your helmet strapped on.
The Estremo WS Skully is perfect for serious cold, dry winter cycling, and perhaps a good alternative to the Difesa Cap for cyclists who don't like the visor of the more traditional cap. That is a personal preference. We can tell the Estremo WS Skully is seriously warm, so if you always feel you need a bit more warmth, it should be your top choice below 50 degrees.
Return to Top
Features
Extreme cold weather under-helmet cycling skull hat with great protection, insulation
Panels made from GORE-TEX INFINIUM™ X-Fast, with 4-way stretch' breathes, blocks
Superior wind blocking and water repellency, excellent fit from softshell-type fabric
Castelli adds lower ear and neck protection with Warmer fleece fabric flap
Structured for best under-helmet fit, with multi-panel design, clean seams
Exceptional breathability helps maintain temp while releasing moisture
Temperature range: 20-50°F
Size: One Size
Color: Black
Weight: 40 grams
Return to Top
Sizing
Mens Shorts, Bibs, Knickers & Tights
| Size | S | M | L | XL | XXL | 3XL |
| --- | --- | --- | --- | --- | --- | --- |
| Waist | 31" | 33" | 34.5" | 36.5" | 38.5" | 40.5" |
Mens Jerseys, Jackets & Vests
| Size | S | M | L | XL | XXL | 3XL |
| --- | --- | --- | --- | --- | --- | --- |
| Chest | 36" | 37.5" | 39" | 41" | 43" | 45" |
Womens Shorts, Bibs, Knickers & Tights
| Size | S | M | L | |
| --- | --- | --- | --- | --- |
| Hips | 33-36" | 36-38" | 38-40"+ | |
Womens Jerseys, Jackets & Vests
| Size | S | M | L | |
| --- | --- | --- | --- | --- |
| Chest | 32-34" | 34-36" | 37-40" | |
Gloves
| Size | S | M | L | XL |
| --- | --- | --- | --- | --- |
| Palm Circumference | 6-7" | 7-8" | 8-9" | 9-10" |
Mens Socks
| Size | S/M | L/XL | XXL | |
| --- | --- | --- | --- | --- |
| Mens | 4-7 | 8-10 | 11+ | |
| Euro | 35-39 | 40-43 | 44-47 | |
Womens Socks
| Size | S/M | L/XL | XXL | |
| --- | --- | --- | --- | --- |
| Womens | 5-7 | 8-10 | 11.5+ | |
Return to Top