Clothing Warmers - Leg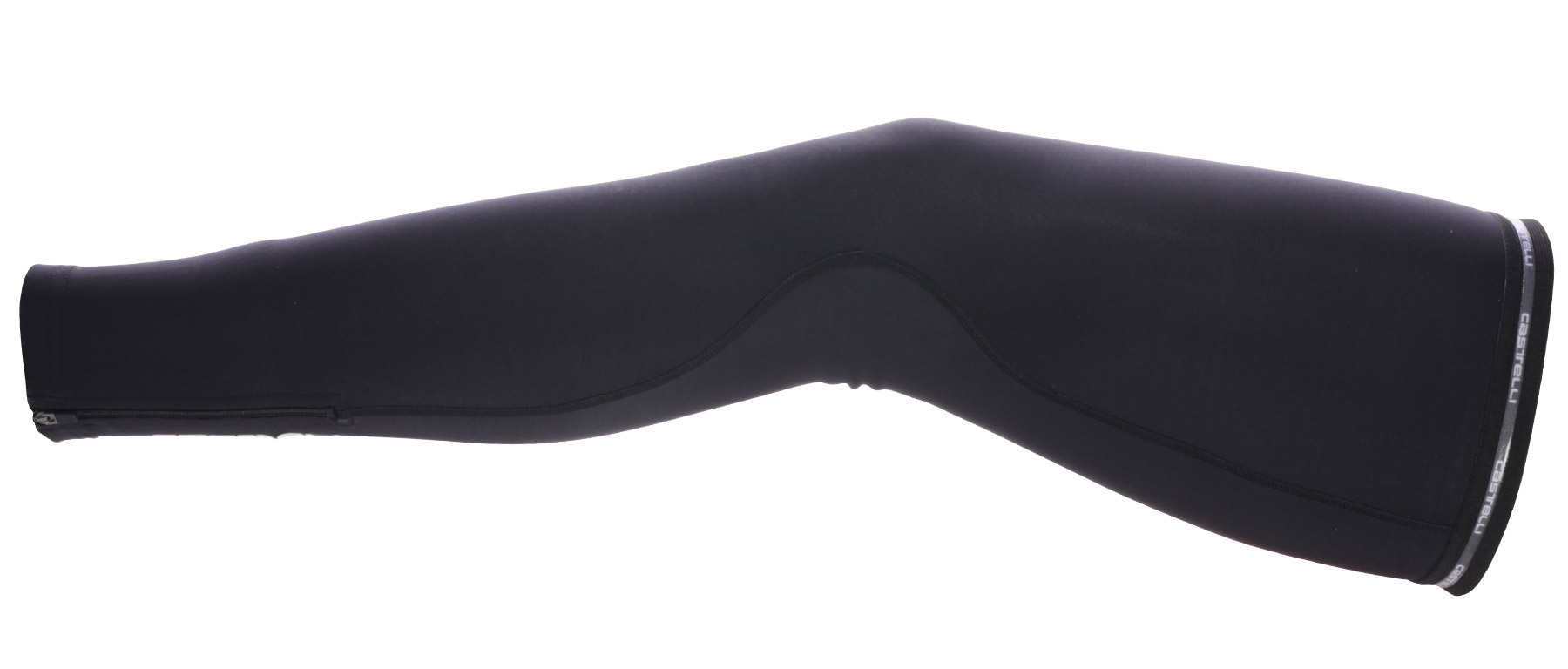 Description

We all want full leg warmers that do it all- keep us warm, block wind and water, and won't restrict the pedal stroke. Oh, and they should be lightweight, compact for stowing away in a rear pocket, and stay in place no matter what we put them through. We do ask a lot, but fortunately Castelli not only listens and understands, but has the skills, materials, and cycling experience to not only meet, but exceed our demands. The Nano Flex+ Leg Warmer is just the latest example.
The advances in lighter weight, yet highly effective cycling protection accessories has been startling over the last few seasons. For Castelli, Thermoflex gave way to Nano Flex, and now Nano Flex+. The vaunted insulation, breathability, and stretch of Thermoflex has carried forward, with Castelli adding a thorough coating of nanofilaments, which impregnated the fiber to create a highly water resistant version called Nano Flex. The company then developed a lighter weight, slightly less insulated version, referred to as Nano Light. Nano Flex+ products combine main panels of Nano Flex with sub panels of Nano Light. The advantages come from the greater stretch of Nano Light, which moves more easily at limb joints such as knees and ankles, without compromising fit. So the rear anatomic panels on the Nano Flex+ Leg Warmers feature Nano Light, delivering better ergonomic movement while warmer stays in place better during pedaling action. Nano Light also breathes at a faster rate, releasing excess heat and moisture more quickly and still providing excellent protection from wet, sloppy conditions.
Castelli maintains all the key features from the Nano Flex version. You still get double sided silicone grippers at the thigh to best maintain height on the leg, and the ankle zips, which make getting the warmers on and off much easier. The pair are left and right specific, with anatomic paneling to offer some mild compression and best flow with the pedaling motion. You don't sacrifice any of the top-level water protection, and the standard Nano Flex panels provide considerable thermal regulation and support from 46-72° F. The better fit and cleaner ergonomics supplied the stretchier Nano Light panel deliver higher overall performance with a greater temperature range. And yes, at 136 grams for a pair in size medium, they are lighter, and more compact when rolled up then the Nano Flex version. Clearly Nano Flex+ Leg Warmers continue to raise the ridiculously high bar Castelli has already set for all-weather cycling accessories.
Return to Top
Features
Lightweight, insulating, highly ergonomic leg warmers that block rain/wind, breathe
Castelli adds Nano Light rear panel for extra stretch for better fit, less bulk
Nano Flex fabric features Thermoflex infused with nano-particles to repel water
Lightly brushed fleece inner for best feel on skin
Anatomic paneling follows lines of natural movement, offers light compression
Pedal stroke ergonomics, warmer fit retention improved with Nano Light rear panel
Dual upper internal/external silicone leg grippers for sure hold
Right/left specific sides feature outer ankle zipper for ease of on/off action
Sizes: Small, Medium, Large, XL
Color: Black
Weight: 128 grams (Medium)
Return to Top
Sizing
Mens Shorts, Bibs, Knickers & Tights
| Size | S | M | L | XL | XXL | 3XL |
| --- | --- | --- | --- | --- | --- | --- |
| Waist | 31" | 33" | 34.5" | 36.5" | 38.5" | 40.5" |
Mens Jerseys, Jackets & Vests
| Size | S | M | L | XL | XXL | 3XL |
| --- | --- | --- | --- | --- | --- | --- |
| Chest | 36" | 37.5" | 39" | 41" | 43" | 45" |
Womens Shorts, Bibs, Knickers & Tights
| Size | S | M | L | |
| --- | --- | --- | --- | --- |
| Hips | 33-36" | 36-38" | 38-40"+ | |
Womens Jerseys, Jackets & Vests
| Size | S | M | L | |
| --- | --- | --- | --- | --- |
| Chest | 32-34" | 34-36" | 37-40" | |
Gloves
| Size | S | M | L | XL |
| --- | --- | --- | --- | --- |
| Palm Circumference | 6-7" | 7-8" | 8-9" | 9-10" |
Mens Socks
| Size | S/M | L/XL | XXL | |
| --- | --- | --- | --- | --- |
| Mens | 4-7 | 8-10 | 11+ | |
| Euro | 35-39 | 40-43 | 44-47 | |
Womens Socks
| Size | S/M | L/XL | XXL | |
| --- | --- | --- | --- | --- |
| Womens | 5-7 | 8-10 | 11.5+ | |
Return to Top