Clothing Shorts - Womens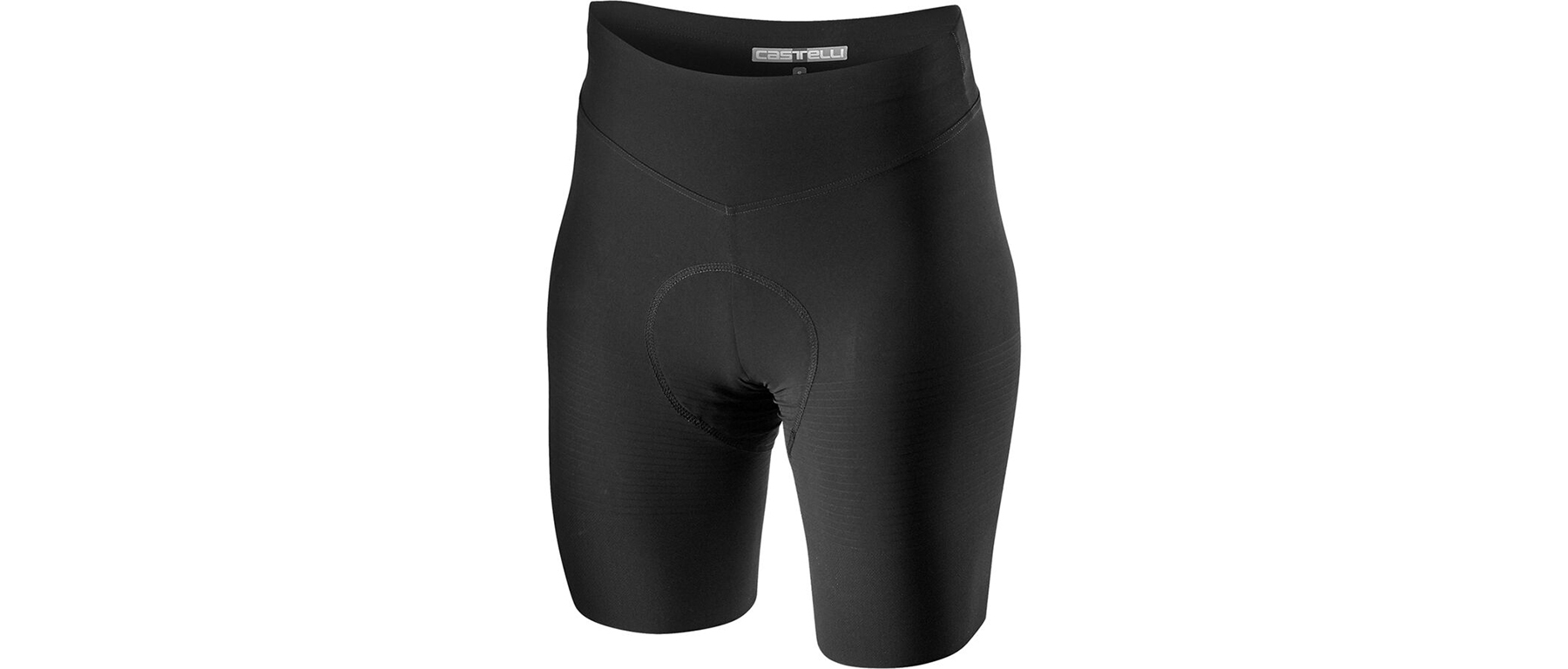 Description

Castelli has been consistently maintaining and improving many of their best garments. The Women's Premio Black Short has been engineered to provide the ultimate in long-distance comfort and to be your favorite short ever. That's a big claim, but there is a lot of research and development in this short to back it up.
The Premio Short has been engineered to provide the ultimate in long-distance comfort and to be the short of choice for every ride type and duration. While the overall design and fabric technology is impressive, the key element for every cyclist is the seat pad. It is central to the Premio's exceptional comfort and the top-of-the-line women's specific Progetto X2 Air Seamless Donna pad is actually two separate components: a soft, stretchy Skin Care Layer next to your skin, which has the sole purpose of preventing any rubbing or chafing, and, under that, the Cushioning Layer, which features two separate densities of foam along with breathable perforated gel inserts under the ischia bones and perineum.
Comfort continues through the construction of the short with reduced seams and only 3 panels. Castelli engineered a new fabric that changes depending on the needs over various parts of the body. The lower leg has a raw-cut leg ending and rubberized yarns to guarantee a flat grip to keep the leg in place. The fabric becomes lighter in the thigh, while the four-way stretch provides just the right amount of muscle support. In the pelvis area, the compression and support increase to keep the seat pad and everything else in place. At the back there's a thicker fabric to avoid any transparency issues. The waist band is soft, but holds nicely, with a wider, flatter surface that won't bunch up or dig in, while the angle of the cut is higher in the rear, with a slight V-shape on the front to better limit direct pressure.
Castelli has carried the less-is-more theme into the graphic design, with minimalist laser-etched logos and subtle finishing. It looks as premium as it feels. You can tell that every component, every stitch, every detail has been obsessed over. You'll not find a better short for your longest, harshest rides, but it feels great on a 1 hour HIIT lunch stress reliever.
Return to Top
Features
Innovatively women' cycling short engineered for ultimate long-distance comfort, support, speed and durability
The premium all-conditions short, that can handle any duration or surface with grace
Gradient stretch woven fabric for the right support in the right place even with pedaling ergonomics
Woven fabric weighs 30% less than comparable knit fabric
Perforated bib straps lie flat and don't bind at shoulders
Integrated gripper elastic at leg ending holds short in place without need for extra silicone grippers
Laser-etched logos and stretch silicone scorpion heat transfers
Women's-specific Progetto X2 Air Seamless seat pad is a superior endurance choice
Sizes: XS, Small, Medium, Large
Color: Black
Weight: 210 grams
Return to Top
Sizing
Mens Shorts, Bibs, Knickers & Tights
| Size | S | M | L | XL | XXL | 3XL |
| --- | --- | --- | --- | --- | --- | --- |
| Waist | 31" | 33" | 34.5" | 36.5" | 38.5" | 40.5" |
Mens Jerseys, Jackets & Vests
| Size | S | M | L | XL | XXL | 3XL |
| --- | --- | --- | --- | --- | --- | --- |
| Chest | 36" | 37.5" | 39" | 41" | 43" | 45" |
Womens Shorts, Bibs, Knickers & Tights
| Size | S | M | L | |
| --- | --- | --- | --- | --- |
| Hips | 33-36" | 36-38" | 38-40"+ | |
Womens Jerseys, Jackets & Vests
| Size | S | M | L | |
| --- | --- | --- | --- | --- |
| Chest | 32-34" | 34-36" | 37-40" | |
Gloves
| Size | S | M | L | XL |
| --- | --- | --- | --- | --- |
| Palm Circumference | 6-7" | 7-8" | 8-9" | 9-10" |
Mens Socks
| Size | S/M | L/XL | XXL | |
| --- | --- | --- | --- | --- |
| Mens | 4-7 | 8-10 | 11+ | |
| Euro | 35-39 | 40-43 | 44-47 | |
Womens Socks
| Size | S/M | L/XL | XXL | |
| --- | --- | --- | --- | --- |
| Womens | 5-7 | 8-10 | 11.5+ | |
Return to Top