Clothing Warmers - Leg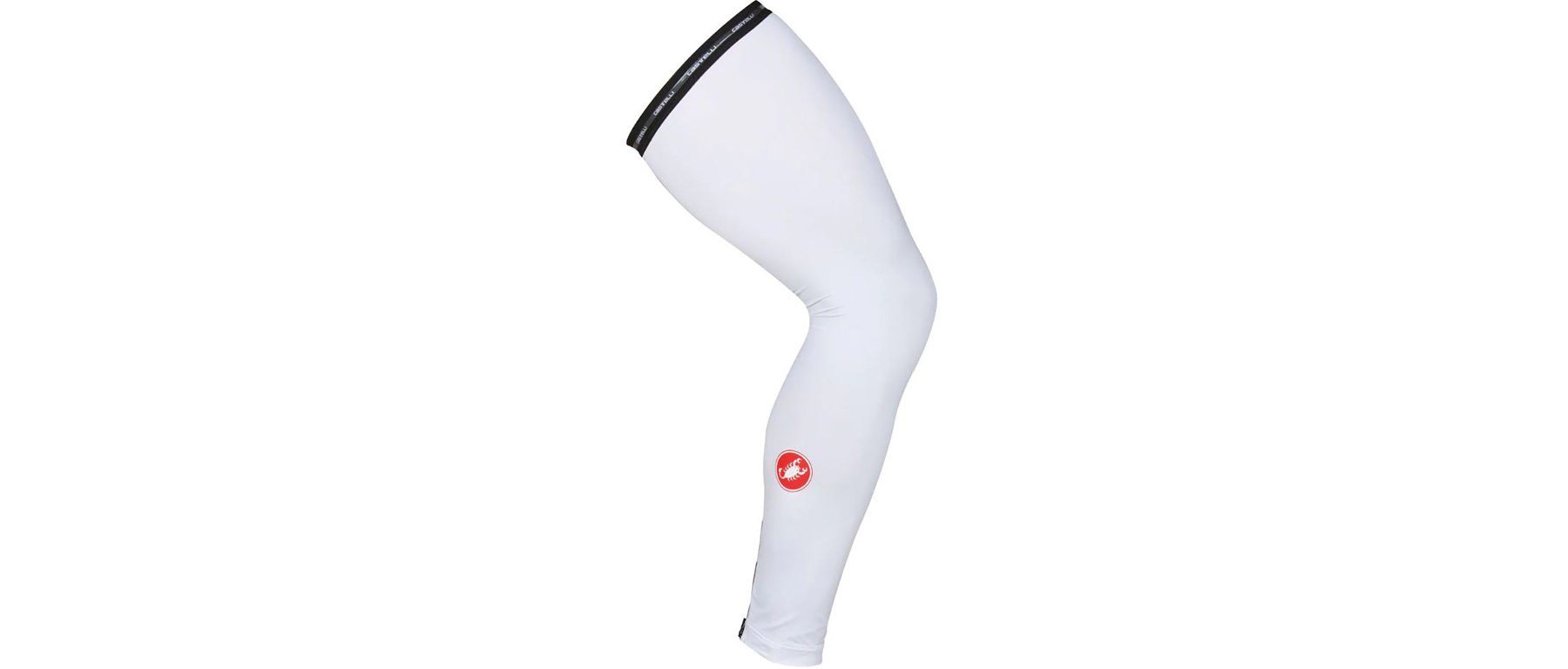 Description

Lightweight and breathable coverage has been all the rage for riding under the power of the sun, whether when cooler temperatures belie the impact of UV rays or the sun is high and the temperature is accordingly hot. With a rating of UPF 50+, Castelli's Light Leg Sleeves keep the chill or heat off without causing overheating and can be worn over a range from 45°-70°F. The stretch material provides a sleek fit and has a low density that make them easy to stow away in a jersey pocket.
The Solare fabric features a 4-way stretch polyester that very effectively manages moisture and heat. As you get hotter and warmer, the material allows faster regulation, but when lessened (such as in cooler temperatures) heat is retained to keep you comfortable. Though the weave is tight to effectively block the suns rays, the fabric will allow some airflow. The Light Leg Skin has an elastic top with silicone gripper inside and out to keep the piece up on the leg, and to hold the short in place as well. A lightweight rear zipper allows for an easier on and off experience and helps sustain the life of the piece. The zipper features a locking pull, so it will stay in place even under the most intense efforts
As far as lightweight sleeves go, the UPF 50 Light Leg Sleeves from Castelli are a great addition to the options we have for sun protection during max activity in cool-ish temps. The gripper system works great, and the fabric feels good against the skin. The moderate compression will support and invigorate the muscles of the leg. Now we can ride for hours starting in the cooler mornings, and not stop until lunch to adjust or change out sun protection. If you live in the mountains, you know exactly what we mean, but there isn't a cyclist in any part of the country who cannot benefit from this piece.
Return to Top
Features
Lightweight leg sleeves for 45°-70°F range with UPF 50+ protection
Solare fabric blocks the sun's rays, has excellent stretch and breathability
Polyester based for excellent moisture management
Keeps the chill off in lower temps without causing overheating in higher temps
Double-side silicone elastic at top for excellent grip
Lightweight rear zipper allows for an easier on and off experience, helps prevent snags
Red Castelli Scorpion Logo on outer calf
Sizes: Medium, Large, XL
Color: White, Black
Weight: 94 grams (Medium)
Return to Top
Sizing
Mens Shorts, Bibs, Knickers & Tights
| Size | S | M | L | XL | XXL | 3XL |
| --- | --- | --- | --- | --- | --- | --- |
| Waist | 31" | 33" | 34.5" | 36.5" | 38.5" | 40.5" |
Mens Jerseys, Jackets & Vests
| Size | S | M | L | XL | XXL | 3XL |
| --- | --- | --- | --- | --- | --- | --- |
| Chest | 36" | 37.5" | 39" | 41" | 43" | 45" |
Womens Shorts, Bibs, Knickers & Tights
| Size | S | M | L | |
| --- | --- | --- | --- | --- |
| Hips | 33-36" | 36-38" | 38-40"+ | |
Womens Jerseys, Jackets & Vests
| Size | S | M | L | |
| --- | --- | --- | --- | --- |
| Chest | 32-34" | 34-36" | 37-40" | |
Gloves
| Size | S | M | L | XL |
| --- | --- | --- | --- | --- |
| Palm Circumference | 6-7" | 7-8" | 8-9" | 9-10" |
Mens Socks
| Size | S/M | L/XL | XXL | |
| --- | --- | --- | --- | --- |
| Mens | 4-7 | 8-10 | 11+ | |
| Euro | 35-39 | 40-43 | 44-47 | |
Womens Socks
| Size | S/M | L/XL | XXL | |
| --- | --- | --- | --- | --- |
| Womens | 5-7 | 8-10 | 11.5+ | |
Return to Top