Clothing Hats & Headbands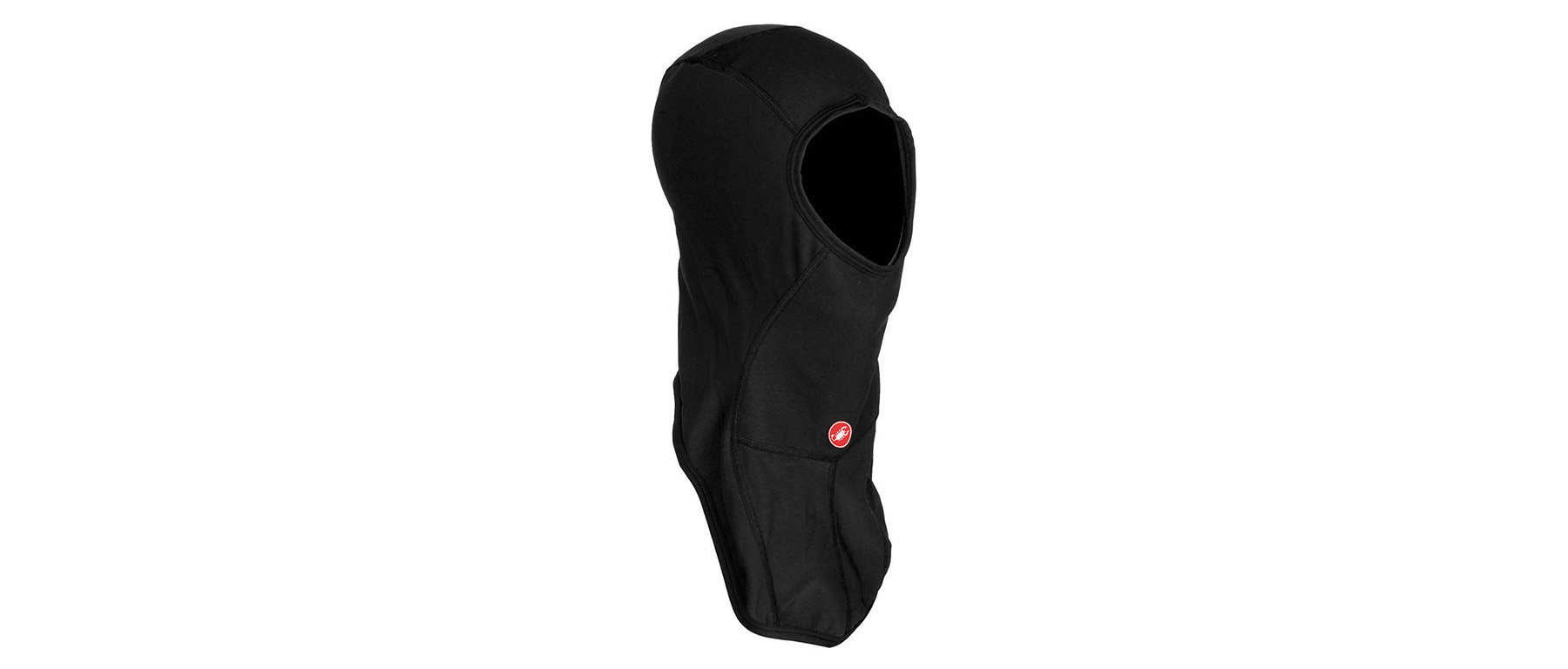 Description

Every cyclist who pushes their riding into the Fall and Winter, or starts up early in the cool wet days of Spring must have one insulated, protection-level balaclava. This simple piece of headgear keeps your head neck and face warm and dry, fits easily under a helmet, and packs away easily so you can always have it with you. The Castelli WS Balaclava is rated for temperatures from 14-50°F, is super comfortable, and very flexible in how you arrange the protection. Featuring forward-facing panels are made from Gore Windstopper X-Fast, a soft shell fabric that blocks all wind, repels rain and road spray, breathes to prevent moisture build-up from the skin, and features 4-way stretch that allows it to ensure a comfortable fit.
Castelli uses a panel structure for the WS Balaclava for the best pre-shape design. Flat lock stitching keeps these seams smooth, so they won't chafe the skin. Mated to the Windstopper panels is an insulating fleece made by Castelli, the Warmer fabric. In keeping with the name, the lofted Warmer insulates and breathes, and has even more stretch than the X-Fast, so though the balaclava conforms to the shape of the skull and neck, and sits on the skin, it never feels restrictive or inflexible.
As far as versatile use, the stretchy opening can be worn over the mouth or nose, under the chin, or, you can even pull the whole top down onto your neck if you get too warm, using it like a neckwarmer. The great thing is, you could actually use it all of these ways on a single ride, perhaps starting or ending with it in your pocket. Serious year-round cyclists love great balaclava's, as do commuters and cyclocross racers, but any cyclist who wants to push the boundaries of the standard riding season needs one in their kit bag or closet. Though it isn't waterproof, you'd be surprised at how simply being warm, with blocking upfront, you can be, even when wet. We believe the Castelli WS Balaclava is one of the best examples of the venerable balaclava, and that you will as well.
Return to Top
Features
Full coverage balaclava with wind and water protection, great fit and breathability
Gore® Windstopper®X-Fast on front for wind protection
Warmer fleece fabric feels soft, wicks moisture, feels comfortable under your helmet
The stretchy face opening gives you a variety of use options: over-nose, over-mouth, or under-chin coverage options
Extended neck coverage down the front, can be worn inside jacket collar
Rolls up for compact packing and stowing in a jersey pocket
Dries quickly, easy to hand wash and air dry after every use.
Temperature range: 14-50°F
Size: One size fits most
Color: Black
Weight: 81 grams
Return to Top
Sizing
Mens Shorts, Bibs, Knickers & Tights
| Size | S | M | L | XL | XXL | 3XL |
| --- | --- | --- | --- | --- | --- | --- |
| Waist | 31" | 33" | 34.5" | 36.5" | 38.5" | 40.5" |
Mens Jerseys, Jackets & Vests
| Size | S | M | L | XL | XXL | 3XL |
| --- | --- | --- | --- | --- | --- | --- |
| Chest | 36" | 37.5" | 39" | 41" | 43" | 45" |
Womens Shorts, Bibs, Knickers & Tights
| Size | S | M | L | |
| --- | --- | --- | --- | --- |
| Hips | 33-36" | 36-38" | 38-40"+ | |
Womens Jerseys, Jackets & Vests
| Size | S | M | L | |
| --- | --- | --- | --- | --- |
| Chest | 32-34" | 34-36" | 37-40" | |
Gloves
| Size | S | M | L | XL |
| --- | --- | --- | --- | --- |
| Palm Circumference | 6-7" | 7-8" | 8-9" | 9-10" |
Mens Socks
| Size | S/M | L/XL | XXL | |
| --- | --- | --- | --- | --- |
| Mens | 4-7 | 8-10 | 11+ | |
| Euro | 35-39 | 40-43 | 44-47 | |
Womens Socks
| Size | S/M | L/XL | XXL | |
| --- | --- | --- | --- | --- |
| Womens | 5-7 | 8-10 | 11.5+ | |
Return to Top