Tools & Maintenance Lubricants & Oil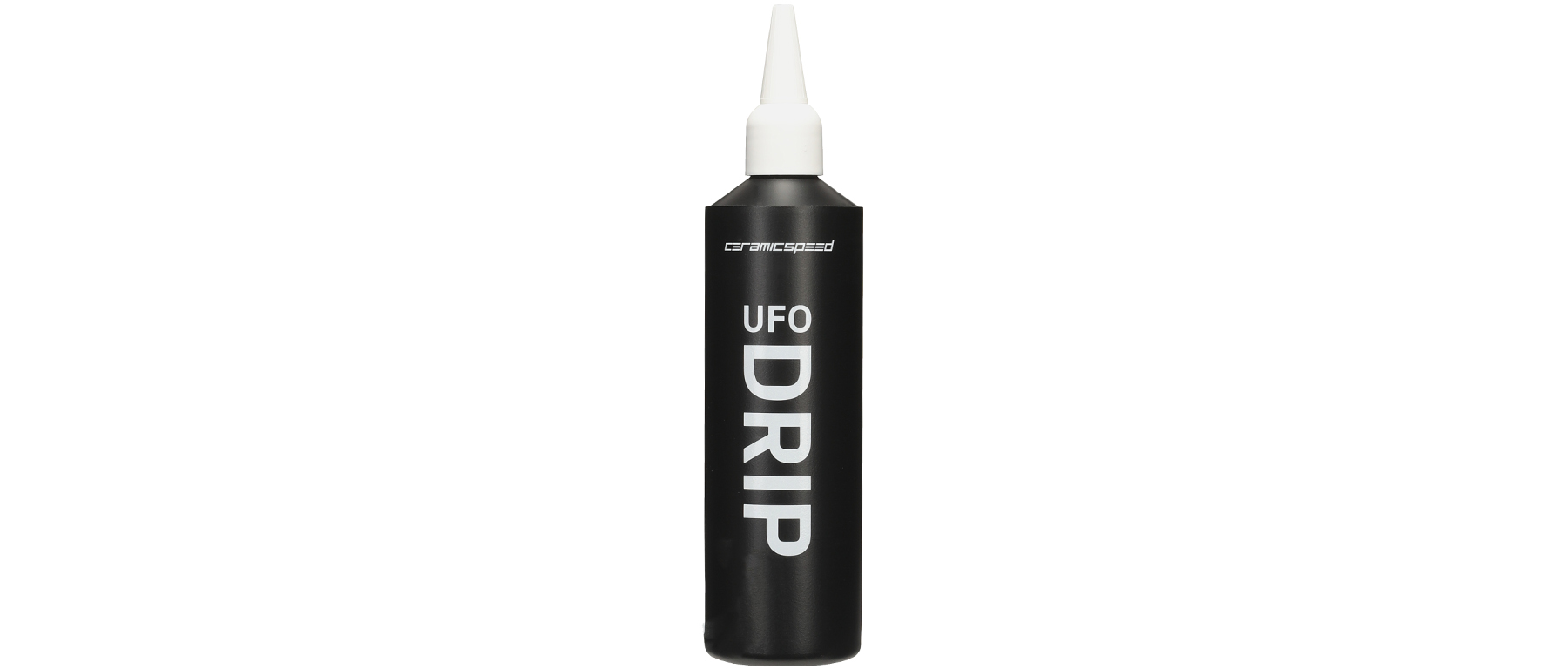 Description

CeramicSpeed has improved their won legendary UFO Drip chain lubricant. The Danish company is known to be obsessive, taking friction reduction to the extreme. Originally the team there came to the conclusion that a specific chain treatment was required to allow the chain to perform to its maximum potential. If chain friction is the problem, then UFO Drip chain treatment was the solution and the New Formula takes it above and beyond with a 15% increase in speed, with greater durability- adding about 50 miles more between treatments than the original. They aslo added greater temperature stability, with greater application and storage temperature ratings.
The unique application process sees the lube applied in liquid form which transforms to a hard and non-static coating. The harder form generates far less friction than standard chain lube. You can think of it as a liquid-applied dry lubricant. Ceramic Speed recommends you apply then let the lube dry overnight. The wax particles in the lube work best when they are dry and merged together as a solid wax. In the bottle the particles are dissolved in water and the water needs to evaporate before the wax particles can merge together as a solid wax coating. Additionally, allowing the wax to fully dry prevents dirt, grime, or road dust to contaminate the wax or create a dirty chain. Due to the viscosity of the lube in the bottle, and the variations in storage temperatures, when you shake the bottle you'll hear a rattling sound, as a bolt has ben added in to help mix properly when shaking.
Testing for UFO Drip is off the charts. Standard lubricants have a hard time ranking against UFO Drip's true dry lube composition in any sort of friction or speed test. It's always best to first apply this lube when the chain is perfectly clean and then use a light reapplication every 186 miles. While the UFO offers supreme friction reduction, it also acts as a coating to protect you chain from the elements. This coating gets refreshed with every lubrication to keep the chain protected and running properly.
Return to Top
Features
New formula is 15% faster and lasts longer than original edition
Increased temperature stability: apply between 41-95°F
Applies wet, then dries/hardens- preferably overnight
Please study and all follow all instructions for cleaning, application, use, and storage for best results
Chain coating is developed to support all disciplines
Decreased drivetrain wear
Lowest friction tested lubricant
Based on a non-toxic, non-flammable and bio-degradable formula
Re-apply every 186 miles
Size: 180ml drip bottle (up to 35 coatings per bottle)
Return to Top