Gravel Complete Bicycles
Cervelo Aspero-5 Force eTap AXS 1 Bicycle 2022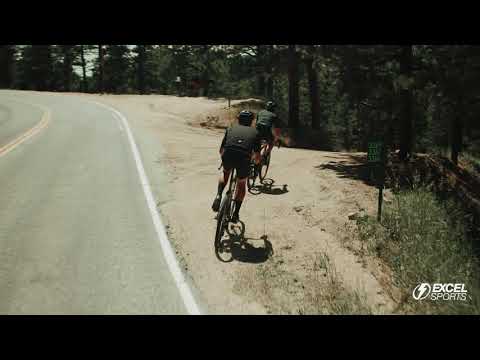 For those looking for simplicity and performance in a wide-ranging 1x12 equipped gravel race bike with a power meter, look no further. Cervelo delivers the Aspero-5, with real upgrades in terms of reduced weight, greater lateral stiffness, increased emphasis on aerodynamics, and component grades, making it perhaps the purest gravel race model, with higher grade carbon fiber, a new lay-up schedule and major refinements that drive performance higher. The ultra-efficient Force eTap AXS 1 wireless shifting, drivetrain and HRD hydraulic disc brakes, is super clean. Add in an exciting Cervelo kit including Reserve carbon wheels, the Aspero-5 Force eTap AXS 1 Bicycle is ready to fly.
The Aspero-5 frameset retains the popular, proven Aspero geometry and Trail Mixer fork chip system, as well as an appearance with tube shapes that are largely the same. A closer inspection indicates a fully internal wiring and housing system, and a refined headtube. The Aspero-5 has the D-shaped fork steerer tube design seen on other 5-series bikes, which in combination with the included Carbon AB09 16° Flared Carbon Handlebar and Cervélo ST32 Alloy Stem, work with the steerer and the frame to bring the routing internal from the levers on back. An All-Carbon Tapered Áspero Fork with Adjustable Trail and headtube shape offer refined aerodynamics, enhanced by the internal routing. Not only is a completed bike visually clean- but faster. Cervelo's internal testing measures aero improvement at 32G of reduced drag over the standard Aspero.
Cervelo made some intelligent choices, such as carrying over the 27.2mm round seatpost, which offers the rider more options, including the opportunity to run a dropper post. The Aspero-5 includes the compliant carbon Cervelo SP19 27.2mm seatpost. Again, given this is a race oriented bike, the frame and fork deliver clearance necessary for 650b x 51mm tires, or 700c x 43mm tires with at least 4mm on either side to spare. Cervelo is cognizant that for many of the longest, harshest events were capability and speed must be balanced with bike control, many racers will opt for 650b/27.5" wheels and may also want a dropper post.
The engineers were particularly focused on making sure the Aspero and Aspero-5 handled properly. Cervelo is using their Trail Mixer system to allow the rider to keep effective fork Trail at 62mm. Larger variations in tire size effect the rearward position of the tire- affecting handling and toe-overlap clearance. By using off center, bolt-in 12mm thru-axle drop outs, the rider can select the +5 forward position or the -5 rear position of the axle. With a 700x42 gravel tire set-up, the +5mm forward is the proper position for best active handling and nimble bike control. If you moved it to the -5mm rearward position, it would slow the handling down, perhaps better for long, flat rides on firmer, smoother, less technical surfaces. Cervelo has a more complete explanation of the mechanically simple Trail Mixer system on their website so you can select your option based on tire size and handling preference.
What is amazing about geometry of the Aspero is that isn't road-like, but it feels like a more natural transition from a road bike than most gravel race designs. The handling speed and control are there, and the toptube measurements are longer, with the frame center of gravity pushed back a little, while a shorter length stem is used to control the front end. When you take it out on the road, perhaps to transition to your gravel access, the Aspero-5 won't feel awkward or uncomfortable, yet it will handle gravel and even twisty singletrack with aplomb.
Along with the frameset, which includes the stem, handlebar and seatpost, Cervelo also adds several of their accessories, including the Stem Faceplate Computer/Accessory mount, Rear Accessory Mount, and Smartpak 400A Top Tube Storage Bag. A proprietary stem spacer kit in also included for slight fit adjustments. In our decades of experience with Cervelo, the 5-series bikes have been well worth the upgrade for those looking for premium performance and refinement. The Aspero-5 offers measurable benefits these cyclists will embrace and apply to their fullest with this complete Aspero-5 Force eTap AXS 1 Bicycle.
Features
Premium grade gravel race carbon eTap AXS Force 1/HRD disc brake bicycle that improves on original design
Upgraded carbon fiber, and lay-up schedule for stiffer, faster design with aerodynamic improvements
Use of D-shaped, tapered carbon fork steerer design, with included bar & stem for full wire/housing integration including dropper post
Change allows for more aero headtube design and reduced drag from integrated routing
Lower, more stable road-like feel from overall geometry, chainstay length, BB drop
Accepts 700c x 43mm tires / 650b x 51mm tires; minimum 4mm side clearance
Trail Mixer fork dropouts can be switched for +/- 5mm selectable fork offset; 62mm optimal Trail
Forward position=decreased trail=faster handling | Rearward position=increased trail=slower handling
Squoval.Max tube designs, enlarged and enhanced for rough surfaces; fork/downtube integration
Large downtube BBright bottom bracket shell w/ oversized dropped chainstays
Carbon lay-up, round seatpost, larger volume tires contribute to rider comfort
1x/2x compatible, with mechanical or electronic shifting systems; removable braze-on FD mount
SPECIFICATIONS

Frame: Aspero-5 Carbon, full internal routing, Flat Mount caliper interface, 12/142mm TA dropout
Fork: Tapered Áspero-5 Fork, Adjustable Trail; D-Shaped steerer, Flat Mount caliper interface, 12/100mm TA dropout
Headset: FSA IS-2 1¼ x 1½"
Thru-axles: Cervelo indexed/threaded: 12/100mm, 12/142mm

Groupset: SRAM Force eTap AXS 1 / HRD

Shifters: Force eTap AXS 1x, with DOT based hydraulic braking set-up
Brake Calipers/Rotors: Force HRD Flat Mount / Paceline 160mm CL rotors
Rear Derailleur: Force eTap AXS w/ battery
Crankset/BB: Force AXS 1 w/ Power Meter 36T / SRAM DUB- BBright
Cassette/Chain: Force XG1270, 10-36 / Force 12-spd Flattop

Wheelset & Tires

Cervelo Reserve with 32mm Carbon rims (IRW 24mm), TLR, DT370 XDR, CL disc
Panaracer Gravel King SK TLR 700x38

Cockpit and Accessories

Handlebar: Carbon AB09 16° Flared Carbon, 31.8mm, integrated routing; Cervelo bar tape
Stem: Cervélo ST32 Alloy, 31.8, (for Cervelo D-shaped fork steerer tube, integrated routing)
Seatpost: Cervelo SP19 Carbon 27.2mm round (48-54cm Zero offset, 56-61cm, 25mm setback)
Saddle: Prologo Dimension NDR T4.0
Cervelo accessories: Stem Faceplate Computer/Acc mount, Rear Accessory Mount, and Smartpak 400A Top Tube Storage Bag, Downtube Protector

Component specifics by frame size:

48cm Bar width: 38c-c, Stem length: 70mm, Crank length: 165mm
51cm Bar width: 40c-c, Stem length: 80mm, Crank length: 170mm
54cm/56cm Bar width: 42c-c, Stem length: 90mm, Crank length: 172.5mm
58cm/61cm Bar width: 44-c-c, Stem length: 100mm, Crank length: 175mm

Note: Component Specifications are subject to change without notice due to supply chain challenges
Colors: Purple Sunset, Five Black
Sizes: 48, 51, 54, 56, 58, 61 cm
Weight: 18.39 lbs
Cervelo Aspero
Size
48
51
54
56
58
61
Wheel Size
700
700
700
700
700
700
Stack
505mm
530mm
555mm
580mm
605mm
630mm
Reach
370mm
379mm
388mm
397mm
406mm
415mm
Head Angle
71°
71.5°
72°
72°
72°
72°
Seat Angle
74.5°
74°
73.5°
73°
73°
73°
Top Tube Length
512mm
532mm
553mm
575mm
591mm
608mm
Head Tube Length
83mm
107mm
133mm
159mm
188mm
314mm
Standover
690mm
732mm
764mm
788mm
814mm
838mm
Fork Trail
58.6mm
58.6mm
58.6mm
58.6mm
58.6mm
58.6mm
Fork Offset
52mm
49mm
46mm
46mm
46mm
46mm
Bottom Bracket Drop
78.5mm
78.5mm
76mm
76mm
73.5mm
73.5mm
Front Center
583mm
592mm
602mm
619mm
637mm
654mm
Wheelbase
990mm
1000mm
1010mm
1027mm
1046mm
1063mm
Chainstay Length
420mm
420mm
420mm
420mm
420mm
420mm