Gravel Complete Bicycles
Aspero Rival XPLR AXS 1 Bicycle
Excel Sports Part # 026390
Cervelo Part #
0H0ASAXV1C58
Request Stock Alert
Description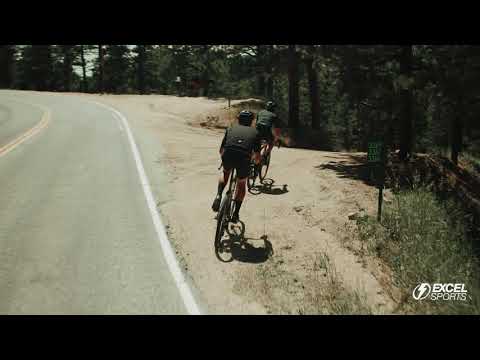 Note: Component Specifications are subject to change due to supply chain challenges.
This well equipped, capable and fast gravel bike is ready for racing, training and epic rides. Featuring the efficient and progressive SRAM Rival XPLR e-Tap AXS 1x12 HRD wireless groupset, a low-aero Reserve carbon wheelset and Easton cockpit components, this Aspero reacts like a road bike than any gravel option we have seen to date, and will surely deliver for those who love to go out and rip it up. Versatile, adaptable and equitably priced complete bike is ready to ride.
The Aspero design has been engineered from the frame up for the race gravel concept for which it was conceived but you will see the R-Series Squoval.Max tubeset shapes in the Aspero, along with details from the C, S, and P series models. Aero inspiration has always a driving force for Cervelo, and the toptube shares the shape and a hidden 2-bolt SmartPak bag mount of the P5 that is compatible with several aero and storage bags available today. The internal reference design points exemplify elements of Cervelo's best engineering practices, and all serve the gravel race concept: fit, speed, balance, handling, and set-up flexibility.
One major goal of the Aspero design process was to provide the clearance necessary for 650b x 51mm tires, or 700c x 43mm tires with at least 4mm on either side to spare. This was accomplished in a few key ways. The fork legs have a new carbon lay-up and shaping from the large 12mm thru-axle dropout on up, with an integrated crown that isn't as vertically thick as you'd expect, yet still inherently strong and gravel ready with great rounded tire clearance. Cervelo also was able to maintain a standard front-center measurement, by elongating the top tube, maintaining a road-style seattube angle, and proper trail via an adjustable front dropout design. More on that in a minute. The center of gravity is moved rearwards, as the headtube angles are more gravel/cyclocross than road. The 56cm toptube of the Aspero is 9mm longer than the 56cm R-Series. The headtube itself was kept essentially at R road lengths per size, which along with the impressive fork design and integrated headset means that the forward cockpit position feels more like a road bike- your saddle drop to bar can be more like your road fit. At the rear triangle, a 420mm chainstay length was achieved with the familiar dropped chainstay design, and a seat-tube cut-out.
The engineers were particularly focused on making sure the Aspero handled properly regardless of wheel and tire size. The concept of fork "Trail" is best known in the mountain bike world, but is relevant across all cycling. Cervelo is using what they call their Trail Mixer system to allow the rider to keep effective Trail at 62mm. Larger variations in tire size effect the rearward position of the tire- affecting handling and toe-overlap clearance. By using off center, bolt-in 12mm thru-axle drop outs, the rider can select the +5 forward position or the -5 rear position of the axle. With a 700x42 gravel tire set-up, similar to the stock Aspero model, the +5mm forward is the proper position for best active handling and nimble bike control, which is what faster, race-oriented users want on more technical surfaces. If you moved it to the -5mm rearward position, it would slow the handling down, perhaps better for long, flat rides on firmer, smoother, less technical surfaces. Cervelo has a more complete explanation of the mechanically simple Trail Mixer system on their website.
The use of the modified Squoval.Max tubeset is clear with the Aspero featuring a substantially larger downtube and massive bottom bracket junction over the R-Series. The integrated fork crown and downtube design resembles the Dropped Downtube of the aero bikes but it is functional for strength and visual balance from the tapered headtube through the downtube. The seattube features a squared back, cut-out design, but carries a 27.2mm round seatpost, for more vertical compliance and compatible aftermarket options. The dropped, oversized chainstays, slightly curved, shaped aero seatstays, rear dropouts and Flat Mount disc interface are all stouter for increased strength and torsional stiffness. A modified Future Proof cable guide/internal routing system has options for a cabled or hydraulic dropper seatpost, and a bolt-on downtube protector handles the debris coming off the front wheel.
Overall, this Rival XPLR 1x build is ideal for a road cyclist who wants to treat gravel like they do their road rides. A few hours a day, several days a week, with a long ride or two on the weekend. 700x38 Panaracer Gravel King tires grace the Reserve 32 carbon wheelset and deliver speed and keep you in control on the ground. An Easton cockpit fits out your riding position and the overall package on this build offers incredible value for complete gravel race-type bike.
Return to Top
Features
Wonderfully capable carbon gravel race-type bike w/ SRAM Rival XLPR eTap AXS 1x12-speed, hydraulic disc brakes
Lower, more stable road-like feel from overall geometry, chainstay length, BB drop
Longer toptube moves COG back; low forward position; 62mm optimal Trail
Accepts 700c x 43mm tires / 650b x 51mm tires; minimum 4mm side clearance
Trail Mixer fork dropouts can be switched for +/- 5mm selectable fork offset
Basic Rule (For 700c): Small(OD)= -5, Big(OD)= +5

Forward position=decreased trail=faster handling
Rearward position=increased trail=slower handling

Trail Mixer design maintains BB drop, effective headtube angle in any setting
Fork: Full carbon tapered model designed for Aspero, with thru-axle, Flat Mount disc, Trail Mixer
Headset: FSA IS2 1⅛ x 1½" headset
Fork features aero integration to downtube with larger, stouter crown design
Frameset: Aspero Carbon w/ large downtube BBright shell transition deftly into oversized dropped chainstays
Carbon lay-up, round seatpost, larger volume tires contribute to rider comfort
Squoval.Max tube designs, enlarged and enhanced for rough surfaces
Internal routing, downtube hose guide; option for cabled/hydraulic dropper post
Bolt-on downtube frame protector; 2-bolt toptube bag mount
Thru-Axles: Cervelo Indexed w/ Lever, 12/100mm fork, 12/142mm rear
Specifications
Groupset: SRAM Rival XPLR AXS 1x12

Shift Brake Lever set: Rival 1 eTap AXS HRD 1x12 Shift / HRD Brake Lever set
Rear Derailleur: Rival XPLR eTap AXS
Crankset/BB: Rival 1 12spd w/40T ring / SRAM DUB BBright
Cassette: Rival XPLR 12s, XG1251, 10-44T
Brakeset: Rival 1 Flat Mount HRD disc calipers with 160mm Centerline CL rotors

Wheelset: Reserve Carbon 32mm, DT370 XDR, 24h (F/R), 24mm IRW, 31mm ERW, Center Lock, TLR
Tires: Panaracer Gravel King SK Folding, 700x38
Easton Cockpit: EC70 AX Carbon bar, EA70 stem, EC70 Carbon 27.2mm round seatpost
Saddle: Prologo Dimension STN
Accessory: Smartpak 400A Top Tube Storage Bag
Component specifics by frame size

48cm Bar width: 38c-c, Stem length: 70mm, Crank length: 165mm
51cm Bar width: 40c-c, Stem length: 80mm, Crank length: 170mm
54cm/56cm Bar width: 42c-c, Stem length: 90mm, Crank length: 172.5mm
58cm/61cm Bar width: 44-c-c, Stem length: 100mm, Crank length: 175mm

Sizes: 48, 51, 54, 56, 58, 61 cm (48, 51, 54 come with Zero offset seatpost)
Colors: Purple Sunset, Satin Black
Weight: tbd
Return to Top
Geometry
Size
48
51
54
56
58
61
Wheel Size
700
700
700
700
700
700
Stack
505mm
530mm
555mm
580mm
605mm
630mm
Reach
370mm
379mm
388mm
397mm
406mm
415mm
Head Angle
71°
71.5°
72°
72°
72°
72°
Seat Angle
74.5°
74°
73.5°
73°
73°
73°
Top Tube Length
512mm
532mm
553mm
575mm
591mm
608mm
Head Tube Length
83mm
107mm
133mm
159mm
188mm
314mm
Standover
690mm
732mm
764mm
788mm
814mm
838mm
Fork Trail
58.6mm
58.6mm
58.6mm
58.6mm
58.6mm
58.6mm
Fork Offset
52mm
49mm
46mm
46mm
46mm
46mm
Bottom Bracket Drop
78.5mm
78.5mm
76mm
76mm
73.5mm
73.5mm
Front Center
583mm
592mm
602mm
619mm
637mm
654mm
Wheelbase
990mm
1000mm
1010mm
1027mm
1046mm
1063mm
Chainstay Length
420mm
420mm
420mm
420mm
420mm
420mm
Return to Top