Road Tires - Clincher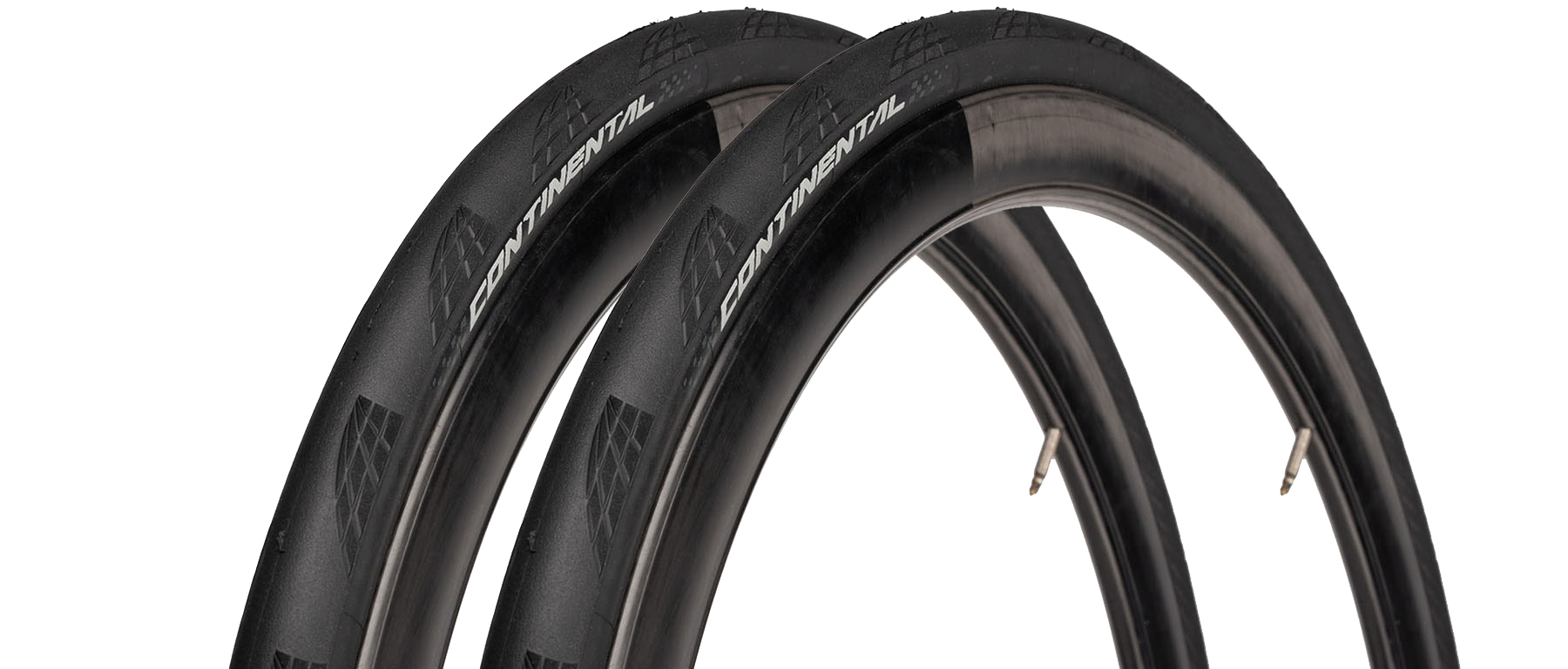 Grand Prix 5000 Road Tire 2-Pack
Excel Sports Part #
Continental Part #
UPC/EAN#
Actual Product Weight grams
Request Stock Alert
Description
We are excited to offer Continental's new top-of-the-line Grand Prix 5000 clincher tire now bundled in convenient 2-packs to add value and make purchasing simpler. These superb clinchers are retail packaged and come with full warranty. Excel Sports is an authorized Continental tire dealer and service center.
In late 2004 Continental released the Grand Prix 4000 clincher tire. Through two successive iterations, advanced rubber compound technology, and a whirlwind of change in bike and tire options, the Grand Prix 4000s II has been our best selling clincher tire. With respect to many other fine tires we have carried, it isn't even particularly close. No other all round performance clincher has been as consistent, with as much puncture protection, capable of serious wear over long miles, with excellent wet and dry grip, as the GP 4000s II. Now Continental has released the Grand Prix 5000 and while improving on the legacy of it's predecessor may seem unlikely, the engineers in Germany feel strongly they have achieved true advantages in the GP 5000 clincher.
Lighter, faster, lower rolling resistance, increased rider comfort and greater overall grip with the same puncture protection; the GP 5000 may well set a new standard for clincher tires. The driving tech behind Continental's performance tires is the tire-specific BlackChili rubber. The engineers formulate the rubber with latest polymers as well as specially developed carbon black particles and filler materials that guarantee unique performance. It is the key to grip, wear, feel, and preventing small punctures. It has driven clincher performance in a race tire with everyday usefulness. And despite the fact that road tubeless tires have been growing quickly in popularity, clinchers aren't going away. For you road tubeless believers, the GP 5000 is also available in a tubeless version, so you can enjoy the same qualities with lower pressure options. The Continental GP 5000 for the win, all the way around.
Continental carries over some technologies in the GP 5000, but with specifications strictly for this tire. You'll find the expected advanced Vectran breaker for puncture protection, and the new BlackChili designated rubber compound. Now add a LazerGrip engraved texture (which results in an inverted tread) that enhances shoulder grip, as well as Active Comfort Technology, a layer of elastomer dampening material inside the tire designed to reduce vibration and defeat the effect of impacts regardless of tire pressure. The results? Continental claims 12% better rolling resistance, 20% increased puncture resistance, improved grip and comfort, while being 10 grams lighter than comparable GP 4000s II sizes. Rider reports indicate the grip is improved out of the box, with no need to "break-in" or get wear on the tire. Technically you shouldn't need this with BlackChili rubber, but over the years we have noticed a need to get some wear on the BlackChili for wet grip,; not anymore. Comfort is subjective, and tire pressure truly impacts this, but at higher pressures there appears to be noticeable benefit. Any increase in puncture protection and tire wear without weight gain is always welcome, and as a performance clincher, we have long been satisfied with the GP 4000s II so we have zero concerns about the GP 5000.
As with their mountain bike tires, Continental seems to have corrected their construction process and molds to deliver tires that are truer to size. Obviously rim width impacts this, but we have always been of the opinion that if you buy a 25mm tire, it should measure out as such. We measured a 25mm GP 5000 on a 19mm internal width rim, at 95 psi and the tire measured out at 24.32mm tall, and 25.65mm wide. At 110psi those measurements only increased by about .6mm. If you want a 28mm tire, buy that size. The Grand Prix 5000 clincher is available in 700 x 23, 25, 28, 32. At 235 grams for the 700 x 28, you aren't adding much weight for volume, and the new 32mm tire is ideal for endurance road disc brake bikes, as well as fitting out your gravel or cross steed for pavement or hardpack. Continental has truly improved on the best all-around performance clincher of this millennium, and we are as excited about this benchmark clincher tire as you are.
Return to Top
Features
Upgraded benchmark road clincher folding tire from Continental
Lighter, more supple, with all the great qualities of GP 4000s II
Ideal for training, road race, triathlon, all-around performance use
3/330 tpi layered casing is perfectly formed, flexible, reliable
Improvements from GP 4000 S II:

New BlackChili compound specific to GP 5000
12% better rolling resistance
Improved grip with LazerGrip engraved texture
Lighter, enhanced liquid-crystalline polymer Vectran protection system
Active Comfort Technology elastomer layer to cushion, reduce vibrations
Truer to listed size (with some variation based on rim width, tire pressure)
10 grams lighter per size

Note: tire is directional, see arrow on sidewall
Sizes / Weight / Recommended psi range:

700x23 / 200g / 108-123 psi
700x25 / 215g / 94-123 psi
700x28 / 235g / 94-116 psi
700x32 / 290g / 87-102 psi

Sold as a 2-pack (of same size)
Color: Black
Made in Germany
Return to Top