Road Spokes & Nipples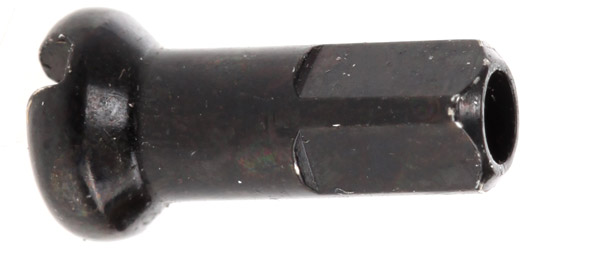 14 Gauge Brass Pro Lock Nipple
Excel Sports Part # 500035
Actual Product Weight
1.0
grams
Request Stock Alert
Description
DT's standard Pro Lock nipples feature a coating on the threads that delivers two primary benefits. Because the coating eliminates metal on metal contact, spokes will tension up more smoothly without the spoke prematurely binding or twisting before it is up to full tension. Our wheel builders strongly prefer Pro Lock nipples particularly for builds with black colored spokes where binding can be a problem. Tension and trueness are also better maintained through the life of the wheel with Pro lock nipples.
Brass (versus alloy) is the best choice for strength, high spoke tension and corrosion resistance. Brass nipples resist rounding and cracking better than alloy nipples but are about .6 grams heavier per nipple.
When you are selecting a nipple it is actually an important decision. This is the part of the wheel that holds it all together so you need to make a choice that will live up to the rest of the wheel. There are 4 basic selections for nipples currently, Brass, Brass Prolock, alloy and alloy prolock. The big difference is material. Brass and Alloy differ in only a few ways. Brass nipples are typically the most durable nipple and best to be used for a wheel that will be serviced frequently. They have a great resistance to corrosion as well. Alloy nipples have a substantial weight advantage so building a wheel with alloy nipples will provide you with the lightest weight wheel you can build. They are also available in a good variety of colors. Both materials are offered in Prolock. Prolock nipples come with a pre applied thread locking agent. This makes the spoke easy to build with since the material acts as a lubricant while building. In addition it helps the wheel maintain its tension through its lifetime. In short, Brass nipples are best used in corrosive environments, if you can see the ocean from your window that is probably a good indication that Brass nipples are a good idea. Alloy nipples are best for light weight high performance builds and Prolock, well that is always a good idea, especially if you are building with a black spoke since the black material tends to do better with more lubrication when building.
Return to Top
Features
1 gram per nipple
Black brass
12 mm length
Uses a standard spoke wrench
Made in Switzerland
Give our sales staff a call if you have any questions. Our professional wheel builders are happy to walk you through the process 800.627.6664
Return to Top