Road Spokes & Nipples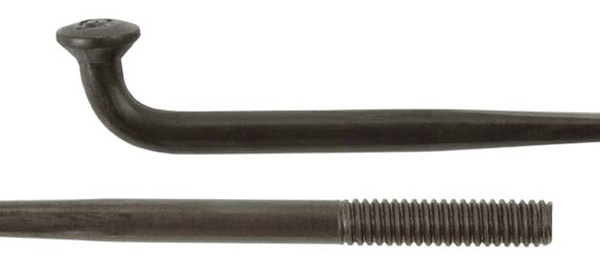 Aerolite Spoke
Excel Sports Part # 500449
Actual Product Weight
4.7999999999999998
grams
Request Stock Alert
Description
Please specify spoke lengths in the comments when completing your order. We do our best to continually stock even lengths from 278mm to 298mm.
DT Swiss is the leader in spoke manufacturing. Nobody makes more spokes or has more technologies in spoke manufacturing as they do. They have been making spokes since before electricity and they have a standout location and factory in Biel, Switzerland not far from where their original factory once stood. It shouldn't surprise you that they have developed the Aerolite spoke, the lightest and strongest in their lineup and possibly the best spoke made today.
DT uses a forging process for every spoke they make. If they didn't their spokes wouldn't have nearly the strength that they have. Forging is a compressive method of forming metal. It's end goal is to eliminate voids and align the grain of the metal. It is important to note that not all forging is the same. DT saves their most time consuming process for the Aerolite spokes. This proprietary process forces the spoke into its shape while creating the strength of a Competition, the weight of a Revolution and combining those properties with an aero profile suitable for all hubs. Their oval shape doesn't require any hub modification like many of the Aerolites bladed cousins and the proprietary blend of metal alloys has been a DT family secret, kept under lock and key for many years. They also feature a rolled thread that, similar to the forging process, uses compressive forces to form the threads instead of cutting material away.
We love the Aerolites for their strength, durability, weight and even their versatility. There is hardly any wheel that can be build that won't benefit from this spoke. From lightweight road wheels to disc brake mountain wheels, it is tough to go wrong.
Return to Top
Features
Lightweight, very strong, highly resilient lightly bladed oval j-bend spokes
Black Anodized
Proprietary Forging Process
Oval Shape
Rolled threads
Disc Brake compatible
Spec: 2.0/0.9/2.3 mm flat cross-section (works in round hole hubs- no slots required)
Sizes: 278mm-298mm in EVEN lengths only
Made in Switzerland
We recommend DT Prolock nipples with this spoke due to the black coloring process used. Give our sales staff a call if you have any questions. Our professional wheel builders are happy to walk you through the selection process 800.627.6664
Return to Top