Accessories Trainers
Description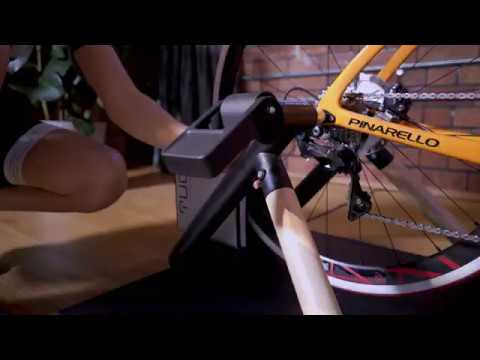 A compact design with modern style and contemporary performance, the Tuo Smart Trainer from Elite offers real benefits to your training sessions. Tuo is Elite's new indoor trainer created in cooperation with Adriano Design. The Tuo Smart is an interactive wheel-on trainer with automatic resistance adjustment. It's a reliable technological companion created to seamlessly fit in any part of your house and at the same time take your training sessions to the next level. This is a smart interactive home trainer that interacts with apps, software, computers and devices (smartphones and tablets) with iOS, Android, OSX and Windows via the double ANT+, ANT+ FE-C and Bluetooth communication protocols. Thus data transfer between home trainer and other areas of the system is wireless. By doing so you can manage resistance levels and display all the different parameters, so you can have great personalization and interactivity on your indoor training session.
Tuo Smart sends Power, Speed and virtual Cadence data, and can be managed via Elite's My E-Training software (12-month free subscription) or other indoor cycling services (which usually require paid subscription), such as: Zwift, TrainerRoad, The Sufferfest, Bikevo, Kinomap and many more. The unit is capable of up to 1300w of power output at 40 km/h, and has a max slope of 10%. Tuo measures power output with a +/-5% accuracy, competitive with top wheel-on smart trainers. In order to offer a pedaling experience as realistic as possible as a function of power, a new algorithm was developed by Elite, created to ensure a power value calculation based on real pedaling variations by the cyclist while training. To do so, the algorithm doesn't just use speed, weight and slope data, it also considers the effect of the energy stored by the flywheel against sudden variations of speed, both when accelerating or decelerating. TUO also allows you to use an ergometer already on your bicycle as a power source via the Power Meter Link (PML), a function where the Tuo Smart, via the My E-Training software, aligns the resistance to the power measured by the ergometer.
The Tuo features a Made in Italy design, understated and distinctive, that characterizes this trainer as the ideal piece of furniture to place in your living room, or any other room of the house or the office, when you're not using it. It features a solid and compact structure made with high quality materials: aluminum unit, steel frame and beechwood legs, one of the most beautiful, sturdy and solid materials used in interior design. Beechwood is not just about the look, it's also perfect to absorb shocks while training and ensure great stability. Other than the anti-slip rubber feet, Tuo includes easily foldable frame and legs in order to ensure quick setup and small footprint under any circumstance. When stored, the frame goes over the unit, for a super compact configuration. It's ideal to store your Tuo Smart anywhere you want and still keep your house or office looking stylish and neat.
Return to Top
Features
Compact, indoor home smart trainer for wheel-on with distinctive design and build
Interactive wheel-on configuration s mart trainer capable of all essential connectivity
Resistance is generated by an integrated magnetic technology braking unit that automatically adjusts resistance
ANT+ (FE-C, Power, Speed&Cadence) and Bluetooth (FTMS, Power, Speed and Cadence)
Control with Smartphone, tablet, bike computer, sports watches, Windows and Mac' Computer ANT+ and/or BLE
Connection indicator: Power source, ANT+ and Bluetooth (3 LED lights)
Firmware can be updated
Measures power output with a +/-5% accuracy
Max power: 550w (12 mph) - 1300w (24.85 mph)
Max slope: 10%
Elastogel roller, an exclusive polyurethane molecule developed and tested by Elite that decreases noise output due to friction by 50%, also decreases its wear by 20%
Includes: 12-month free subscription to Elite's My E-Training software & app
Two height range set-up configurations requires placement of spacer system
Compatible with wheels to 26-29", 700c; w/ 130-135mm QR dropouts, 12/142mm thru-axle (12/148mm Boost adapters are available
Dimensions, open: 26.77" x 27.17" x 16.47
Dimensions, folded: 16.93" x 12.40" x 22.05"
Color: Black/Silver/Beechwood
Weight: 22.05 lbs
Return to Top