Accessories Trainers
Omnium Over-Drive Portable Trainer
Excel Sports Part # 973550
Feedback Sports Part #
17084
Request Stock Alert
Description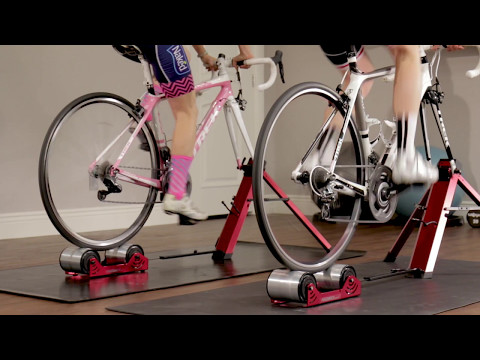 Functional. Portable. Easy to use and adjust. Lightweight. Forward thinking and adaptable. These are all keywords Feedback Sports work stand users have used to describe the Colorado company's products. With the introduction of the Omnium Over-Drive Portable Trainer with Tote Bag, the same qualities that made event and race travel simpler with Feedback work stands comes to warm-up and prep. If you have every hauled your 35-50 lb fluid trainer from the parking lot to the warm-up zone, you know how little fun it can be before and after an event. The Omnium Over-Drive Portable Trainer weighs just 13.3 lbs, yet is highly adjustable, can be used for road, cross or mountain bikes, with any tire choice. Breathe, and let that all sink in for a minute.
The simple fork-mount design has been optimized for warm-up, but can also be used for general bike travel, and even as your winter trainer. The two 4 inch diameter double-wall aluminum drums carry a progressive magnetic resistance system that is amazingly quiet, and quite effective. As you work hard, the magnetic system, called Internal Progressive Resistance (IPR) adds resistance, in a similar way a fluid trainer does. The resistance is there, and the curve is designed to match road feel- no harsh acceleration or deceleration responses. The IPR itself is virtually silent, with any noise more likely coming from the tire-drum interface. And because your body weight and pedaling action keeps the tire in place, you can use a non-smooth tire without worrying about heavy wear or strange resistance. You can even feel comfortable using your race tires, because without the added force of the locked-in drum pressure, you won't generate more friction or heat than you would riding on the road or trail.
The fork mount itself is compatible with all current front axle systems, and is future-proof as well. This is carried by the Feedback-standard tripod design for excellent stability, simple height adjustment and ease of use. The drum section is attached via a sliding system, that locks into place with a quick turn of a knob. Because this track system is slightly raised from the base of the tripod and the drum unit, you don't need pristine, flat ground to set-up safely. The unit comes fully assembled, and folds down to 25.75 x 7.25 x 8 inches with its tote bag.
If you have dreamed of a fully functional, lightweight trainer for events and travel, that can actually provide the resistance you require, Feedback Sports has read your mind, and delivered, in the way that only this innovative company works. The aluminum construction, ease of use, portability and attention to detail is standard for Feedback. All of us, as cyclists benefit from this innovation. We believe the Omnium Over-Drive Portable Trainer with IPR-110 sets a new benchmark for portable trainers, and we suspect you will as well.
Return to Top
Features
Innovative, lightweight, easily portable trainer ideal for event warm-up
Tripod design is stable, and height adjustable for wheels 600c-29er
Accepts forks with standard QR, 12, 15mm diameter, 115, 110mm long thru axles
IPR magnetic resistance unit provides smooth, quiet, progressive resistance curve
Resistance: 600w at 40mph, max 1050 at 55mph
Dual aluminum, double wall drums contain IPR system, 4 inch diameter
Frame features lightweight aluminum construction
Sliding, locking track system creates simple length adjustment, above ground surface
Bearings are greased and sealed, requiring no maintenance
Does not wear race tires like rear-locking trainers, any tire type can be used
No assembly required–simply unfold and mount bike
Includes heavy-duty, padded tote bag for transport and storage
Wheelbase range from 840mm to 1203mm (wheel axle center to axle center)
Folded dimensions: 25.75 x 7.25 x 8 inches
Rider weight limit: 225 lbs
Trainer weight: 13.3 lbs
Return to Top