Travel & Storage Storage Systems
RAKK XL Bicycle Storage Stand
Excel Sports Part # 954177
Feedback Sports Part #
17345
Request Stock Alert
Description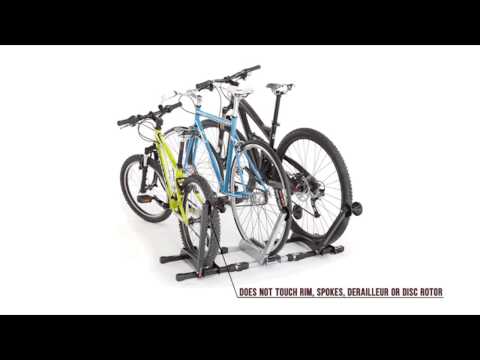 There are many times when you just need your bike to rest securely upright and be ready to go at a moment's notice. For us, there are a few that stand-out. One is when you are rushing out the door, clattering around in your cycling shoes. You don't want to mess around. You are late and the group ride is starting. A second is when you are unloading your stuff for a race day. Your bike has been prepped and is ready to go. You hate to lean it, because it inevitably falls, slides, rolls, etc. The RAKK XL from Feedback Sports eliminates these and many other potential challenges. It is simple, compact, and incredibly effective for such a simple, spring loaded system.
The RAKK has a sturdy base with rubber feet. The spring-loaded arm carries a set of plastic discs that range from narrow to wide. When the arm is up and ready, you simple roll your bike into the channel, towards the spring arm until it stops, and the bike is now secure. Front wheel or rear, 20mm wide road tire to 2.4" mountain bike tire, the RAKK is in control. It is really that simple, and incredibly effective. You can use it on any flat surface, in your house, garage or even grass. You won't have to worry about the bike falling over, and it won't damage or scratch any part of your bike.
The RAKK is simple and unobtrusive. The spring arm can be locked flat for compact storage and easy transport. The design is modular, so if you wanted to link multiple units together, you can. Not to belabor the point, but using this rack is simple. And we did we mention it works great? No need to lean your bike between the wall and the car in the garage, just roll it securely on the RAKK XL. Need to store your bike inside but don't want a floor-to-ceiling unit? Keep it portable and simple with the RAKK XL. Feedback Sports gets it. Mechanics and shops use these units every day because they work great, are easily portable, and keep hands otherwise free. Keep it simple, and keep it safe, use a RAKK XL.
Return to Top
Features
Simple, floor style, single wheel bike stand with a secure, spring loaded arm
Versatile bicycle storage for home, garage or bike shop
Hands free use allows you to roll bike into the wheel slot for storage or display
Spring loaded arm easily holds front or rear wheel, won't scratch or damage
Wheel slot accommodates tire width from 20mm road to 2.4" wide MTB
Works with 20-29" wheels
Modular design supports multiple RAKK's connected together
Weight 6.2 lbs.
Return to Top