Tools & Maintenance Torque Wrenches & Sockets
RANGE Torque Ratchet Combo Set
Excel Sports Part # 520570
Feedback Sports Part #
17360
Request Stock Alert
Description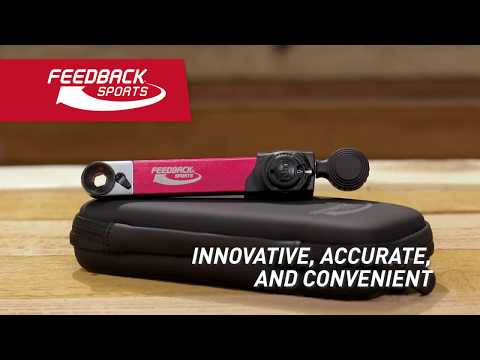 For years cyclists have been able to carry basic tools required for road or trail side adjustments and repairs. The tools get lighter, better, and more convenient, but are still basic. With the lightweight materials and precision fasteners of today's frames and components, there has been a real need for a compact, fully functional torque wrench / ratchet that is practical for anyone to use. Whether a true shop mechanic, self-sufficient capable cyclist, travel or pro team mechanic, the gurus at Feedback Sports bring you the RANGE Torque Ratchet Combo Set, an innovative, ultra-compact bar style torque ratchet and tool set that enables you to safely, easily and precisely install, adjust or remove components.
The Feedback Sports RANGE gives you the precision of a flex-bar torque wrench and utility of a 2-way ratchet in a single tool, and adds a modern take on the the tool housing. The signature Feedback Sports Red Anodized Aluminum body is lightweight, strong and can be used just as you would any 2-way ratchet. When you require a specific torque function, simply apply pressure to the Torque Knob at the end of the wrench to activate the Nm scale dial until you reach the desired torque in the clearly marked display. There is no click, just the easy to read visual scale. Dial back to zero to reset the torque for perfect accuracy with every use. The precise torque range is from 2-10Nm, marked every half Nm. The RANGE tool kit includes 14 commonly used Hex, Torx & Phillips bits, including 2 extended (longer) to reach recessed hardware.
Quality for durability and precise long term use are hallmarks of the RANGE itself and the tool bits. Made of premium S2 steel (for superior durability) the bits are stamped with their size and housed in a slim, protective case. The labeled, molded foam insert ensures stable transport and convenient bit removal and reinsertion for optimal organization. Once zipped up, the entire case fits in the palm of your hand or back pocket, but feels just at home being tossed in a bag, or the back of a car for your next adventure.
The RANGE allows you to streamline your bike maintenance. This ultra-compact torque & ratchet combo tool installs, removes, and precisely adjusts component bolts to factory Nm specs. It will certainly appeal to any professional bike mechanic: shop, pro, and touring, but also to tool aficionado's and serious enthusiasts who know that performance of higher end components is reliant on proper installation and torque specification. This accurate torque tool is not only compact and self sufficient, but also very reasonably priced with an MSRP under $80.00, so there is no need to take a risk with a $350 carbon handlebar, $200 seatpost, or difficult-to-source frame-specific bolt / fitment. We have had a long, mutually beneficial relationship with Feedback Sports, and are continually impressed by the innovation and quality delivered by this Colorado company, but the RANGE Torque Ratchet Combo Set is in a class by itself, and we highly recommend it.
Return to Top
Features
Compact, portable, light and innovative torque/torque ratchet system with bits
Precision of a flex-bar torque wrench and utility of a 2-way ratchet
Modern take on the the tool housing, with stiff, durable aluminum tube
Install and remove with reversible ratchet / precisely adjust with torque bar
Ability to recalibrate after each use to ensure accuracy by returning to zero
Precise torque range is from 2 - 10 Nm
Includes case - optimized for travel / durable, non-slip material; Keeps bits organized, easy to remove and replace
Tested and validated at accredited 3rd party test facility for accuracy of torque wrench and consistency of bits
Wrench-only dimensions / weight: 5.25" x 1" x .75" / 75g
S2 Tool Steel Bits:

#2 Philips
Torx: T10, T20, T25, T30
Hex: 2mm, 2.5mm, 3mm, 4mm, 5mm, 6mm, 8mm
Extended Length: 5mm Hex, T25 Torx

Ultra-Compact PU Leather coated case w/ molded foam inserts
Entire case fits in the palm of your hand or back pocket, also great for bench, vehicle, hydration pack, large saddle bag
Case Dimensions: 3.25" x 6.75" x 1.25"
Total Weight: 263 grams / .58 lbs
Return to Top