Tools & Maintenance Tool Kits
Feedback Sports T-Handle Hex and Torx Kit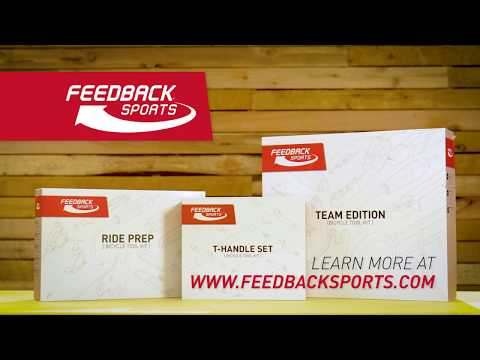 Feedback Sports established travel ease and compact storage as priorities in building out their tool line. One kit option they prioritized is this seven tool T-handle set that comes in a low profile, semi-soft TPU-coated nylon case.
The heart of every bike mechanic's tool set is their preferred design for hex keys. T-handle, P-Handle, L-handle, ball driver options, and so on. Some techs prefer shorter versions, some longer. Some will invest hundreds of dollars, others opt for low cost replaceability. Feedback Sports, like nearly everyone here at Excel Sports prefers higher quality tools that are precise, durable, and outlast what is paid for them. Of course if you work in an environment with techs and sales people running around and "borrowing" tools, things can get a bit edgy when a trusty, cherished 5mm goes missing. Feedback has created a distinctive, high quality series of T-handle hex keys that not only outperform just about any other option, but look sharp and are easily recognizable. Pity the well meaning sales person who walks off with a professional grade, high polish hex wrench.
The complete kit covers 2, 2.5, 3, 4, 5, 6mm hex T-handles, and the now ubiquitous T25 Torx T-handle as well. Each tool features three ends, all of which have the tool end of the specific size. Ranging from 6.5-7" long depending on tool spec, the long section offers great reach, and you can easily use the T-handle to apply moderate or fine torque, as well as spin the tool quickly to thread in or out in a flash. When you need more torque, each tool on either side of the crossbar meshes in cleanly and you use the tool length for extra leverage. The crossbar is held firmly in place by a hex screw that threads in from the top of the long section.
Feedback Sports is committed to high quality tools with excellent function, practical use, and the essential durability required by Pro team and shop techs who work their tools hard all day, every day. S2 tool steel is an alloy renowned for strength, hardness and shock resistance, as well as the ability to hold the tool edges, despite repetitive use. This durable material is ideal for hex and torque wrenches for all of these reasons. The tool ends are left as bare treated steel, while most of the tool is chrome plated maximum durability and a great feel in your hand. Each T-handle is etched with the tool size close to the T for fast identification. These are tools you can actually fall in love with, and not just for the way they look. Once you get used to a compact T-handle (only 3" wide), you may never go back to P or L handle tools again.
Feedback Sports has clearly put considerable resources and dedication into the development of the T-handle tools, and we are all fortunate to reap the rewards. This set, and the TPU case will be coveted, but are built for the daily grind of Pro and shop mechanics, who require that their tools fit cleanly into every bolt, whether titanium, stainless steel or aluminum, delivering torque while preserving the bolt and surrounding componentry at all costs. While this kit is not inexpensive, with the case it does save you over buying individual tools, and you get the complete, excellent set at once. If you are as impatient about such things as we are, this is the only way to go. Maybe even with overnight or 2nd day shipping.
Features
7 tool set of T-handle hex/Torx tools with quality construction, finish for every day use
With specific semi-soft TPU-coated nylon zip case with tool slots, tablet-style support upright tool support, additional mesh storage pocket
T-shape allows for high and low torque usage, all three tool ends are same size
Professional grade tools made from S2 tool steel
High quality chrome finish covers 90% of surface except for tool ends
S2 tool steel is noted for its strength and hardness, ability to hold tool edge
T-bar is hold in place by threaded hex screw
Size etched into tool handle below T-bar
Tools 2mm, 2.5mm, 3mm, 4mm, 5mm, 6mm, Torx T25
Tool physical sizes: 6.5" tall by 3" wide (2-3mm), 7" tall by 3" wide (4-6mm, T25)
Case size: 8" x 6.75" x 1.75" (20 x 17 x 4.4cm)
Limited Lifetime Warranty from Feedback Sports
Tool Color/Finish: Chrome
Case color: Black