Travel & Storage Storage Systems
Description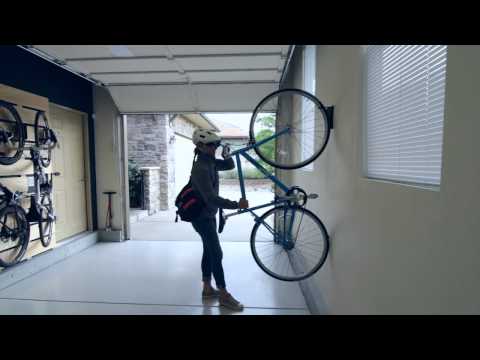 The Feedback Sports Velo Hinge offers one of the most thoughtful, practical, and desired bike storage devices we have experienced. Conceptually simple, but executed perfectly for maximum flexibility, the Velo Hinge is the ideal solution for limited space in areas where hanging the bike by a single wheel is most practical. It is a wall mount wheel hook, that pivots on a hinge and, when not it use, you can store the hook itself away so that the Velo Hinge extends less than 3/4 of an inch from the wall.
Cyclists have been using hooks to hang bikes directly at 90 degrees off walls for years. This system works just fine, but it can take up serious space in a home or garage. The Velo Hinge is just that, a hinge with a hook for a bike wheel. The pivot can be manually changed from one side to the other, so you can swing your hanging bike in whatever direction that works best for your space. Depending on your bike and set-up, the effective space used from the wall can be reduced by over 60% over a perpendicular alignment. Such a simple concept, but it works so well.
Tight garage or room space can now be maximized to best effect, whether storing a single bike, or a whole family's worth. The supplied hook will hold any size wheel with tires up about 2.25 inches wide on a standard box, or low profile, rim. Not using the Velo Hinge? Swing the hook over and into the mount plate and close the hinge. Feedback also supplies a Wheel Bumper, or essentially an optional small mount that you set your tire against on the wall to keep the bike pivoting cleanly with the mount and to prevent swaying. Such a great design, from the industry leader in smart, useful, and stylish engineered design: Feedback Sports.
Return to Top
Features
Simple, innovative technology for conveniently storing your bicycle on a wall
Hinge design allows bike to swing left or right, optimizing available storage area
Wheel bumper stabilizes bike and prevents swaying
Fits most standard Road, Mountain and Kids bikes
Powder coated steel construction
Pre-assembled to pivot left (changeable)
Hook folds away when not in use
Longer hook that accommodates larger tires/ deeper rim profiles sold separately
Load Capacity: 50lbs
Dimensions closed: 11.25 x 5.5 x 0.75 inches
Weight: 2lbs
Return to Top