Travel & Storage Storage Systems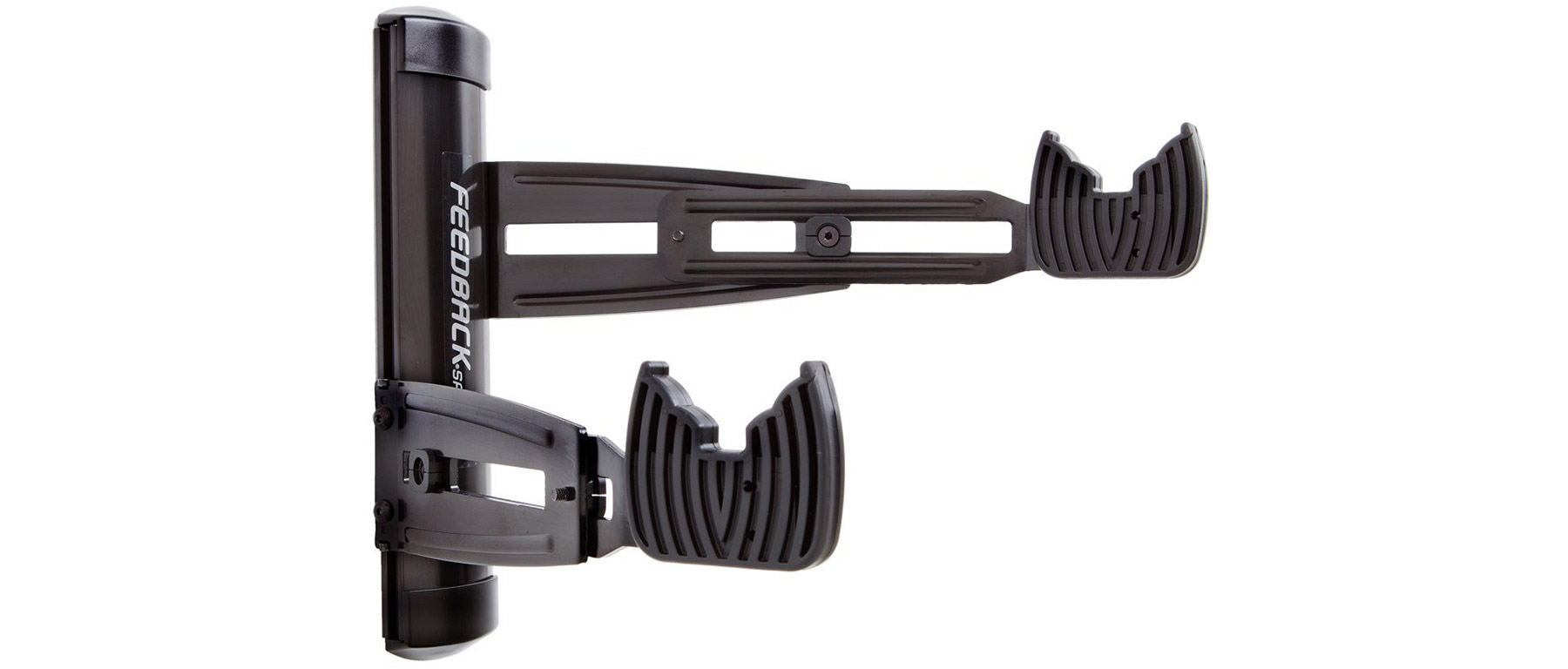 Description
As the second generation of the Velo Wall Rack, the 2D version addresses both the limitations of the original, and how the constantly changing world of bike components impacts design over time. The basic concept- a wall mount that supports a single bike on two height adjustable arms is the same, but designers at Feedback Sports have developed arms that are reach adjustable by the user to change the angle at which the bike sits relative to the wall. This allows for the newer, substantially wider handlebars found on today's mountain bikes. By moving the rear cradle closer to the wall and leaving the forward cradle at full extension, the frame angle gives the bars substantially more room. The arms themselves can be adjusted a total of 4 inches with two Allen bolts in each arm. The cradles then can sit as close as 8 inches from the wall or as far as 12 inches. Combined with the independent height adjustment of each arm, the the cradles now can be moved in 2 dimensions, offering even more flexibility when mounting your bike.
Sharp observers will notice that the changes to the Velo Wall Rack 2D didn't end with newly designed arms. The wall mount itself is extruded aluminum alloy, but the shape and structure is curved, not flat on the outward face. The arm adjustment was moved to side tracks that sit indented into the frame shape. These tracks keep the arms aligned while sliding into the optimal height for the angles of the bike frame. Allen bolts then hold the arm into the track via a steel backing plate. The arms themselves are powder-coated steel, with the two pieces of each section reinforced by shape and ribbing to prevent twisting, bending, or failure. Rubber cradles carry virtually all tube shapes and sizes, and won't mar or scratch any finish. Assembly is simple, though you must mount the unit carefully, preferably into a wall stud. Anchors or togglers can be employed in some walls, but please select hardware rated for 500lbs.
Built to meet the needs of present and future bikes, the Velo Wall Rack 2D is more than up to the task. The customary attention to detail and practical use from Feedback Sports ensures that your bike can be set-up in two dimensions to ensure great fit and will always be safe and secure. The weight capacity of the 2D is 50lbs. Feedback Sports is our go-to company for bike storage solutions. Make it yours as well.
Return to Top
Features
Single bike, wall mount design with 2D arm adjustment to optimize support/space
Stable, sturdy bike storage for home or garage
Stout CNC'd aluminum mounting plate/arm track
Stout, 2 piece, ribbed steel arms are height adjustable for sloping framesets
Four inches of reach adjustment in each arm to manage bar width via angle from wall
Rubber cradles work with virtually any tube shape or design, won't mar or scratch
Easy to adjust in 2D with Allen key wrench
Mounts directly to wall stud, simple assembly process
Mount Area: 11.8 inches x 2.3 inches
Cradle distance to wall: 8-12 inches
Load Capacity: 50lbs
Weight: 2.9lbs
Return to Top