Road Saddles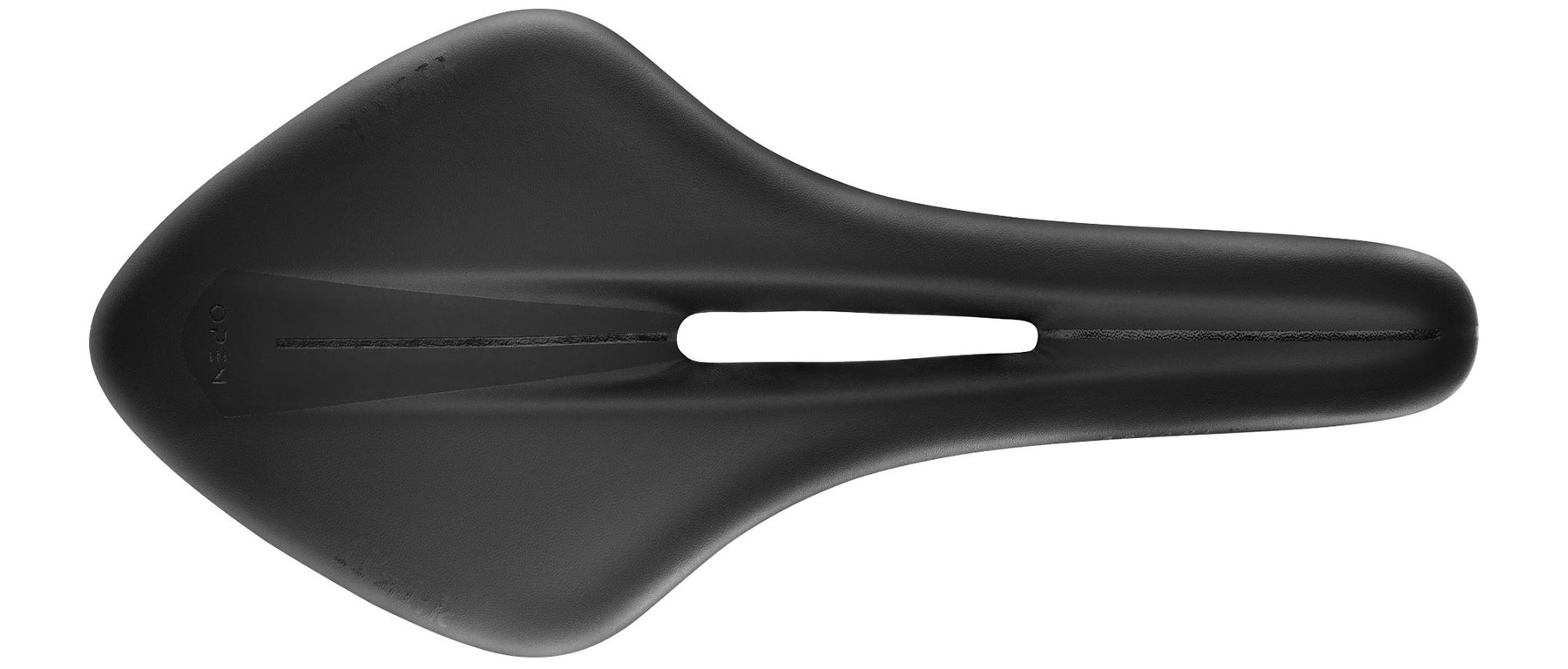 Arione R3 Open Saddle
Excel Sports Part #
Fizik Part #
UPC/EAN#
Actual Product Weight grams
Request Stock Alert
Description
The continued evolution of the classic Fizik saddle line brings you a true Arione design but with an Open cut-out to relieve pressure and rearward channel that gradually tapers to top height. The anatomic cut-out shape and advanced construction technology, materials and craft ensures the Arione R3 Open is a performance road saddle for riders who want a flat saddle profile and a cut-out to avoid pressure and numbness. As with all R3-level Fizik models, the Italian designers of the company use their carbon-reinforced nylon shell and light, strong, corrosion-resistant Kium rail system that also helps to reduce vibration and offers a hint of flex to lessen harsh impacts.
The Fizik Arione concept has long been a saddle favored by many pros, but the Open version is best suited to everyday enthusiasts who log hours and miles, love the Arione, but need a little pressure relief. With Fizik offering the Arione R3 Open in two widths (132mm, 143mm, even more cyclists can enjoy this best-seller. Fizik suggests the Arione for riders with good hip and lower back flexibility, but we find it is a preferred choice for anyone liking a quality, light saddle with a relatively flat surface- and now a cutout. The clampable portion of the rails are 57mm long unlike the extra length of the original Arione model, but with the Open's cut-out the seating position is more defined as well. limiting the necessary rail clamping range, but you still get a 300mm total length to move on while riding.
The special "Kium" alloy that uses silicon and chrome to create the rails are used in the standard 7mm round variety and compatible with virtually any seat clamp. Unlike the original Arione, you won't find WingFlex technology here, as the cut out offers relief and you can't overly compromise shell integrity. A Comfort Core foam layer beneath the neat, durable Microtex cover provides comfort, which is enhanced by the full anatomic cut-out that avoids pressure on the rider's sensitive soft tissue and ensures that all weight is correctly supported across the whole surface of the saddle. The Arione R3 Open is ICS compatible meaning any Fizik ICS accessory can snap onto the mount in the rear of the shell for a super-clean and integrated set-up, especially with an ICS saddle bag.
Return to Top
Features
Evolution of Arione design with firmer set-up, open cut-out channel
R3 series saddles feature the Carbon-reinforced nylon shell and Kium rails
Neat, durable Microtex cover is durable to wear, weather, and perspiration
Anatomic cut-out that avoids pressure on the rider's sensitive soft tissue
Comfort Core foam layer distributes pressure evenly, is supportive not soft
Extended saddle length (298-300mm) provides more positional movement
Slightly wider nose for increased comfort toward the front of the saddle
Carbon-reinforced nylon offers some flex but is resilient to long term use
7mm round Kium rails; lighter weight with better damping than ti, resist corrosion
ICS Accessory compatible
Fizik Spine Concept: Snake
Spec per size:

Regular: Width 132mm, Length 300mm, Weight 230g
Large: Width 143mm, Length 298mm, Weight 240g

Size options: Regular, Large
Color: Black
Return to Top