Accessories Computers & GPS Head Units
Garmin Edge 1030 Plus GPS Computer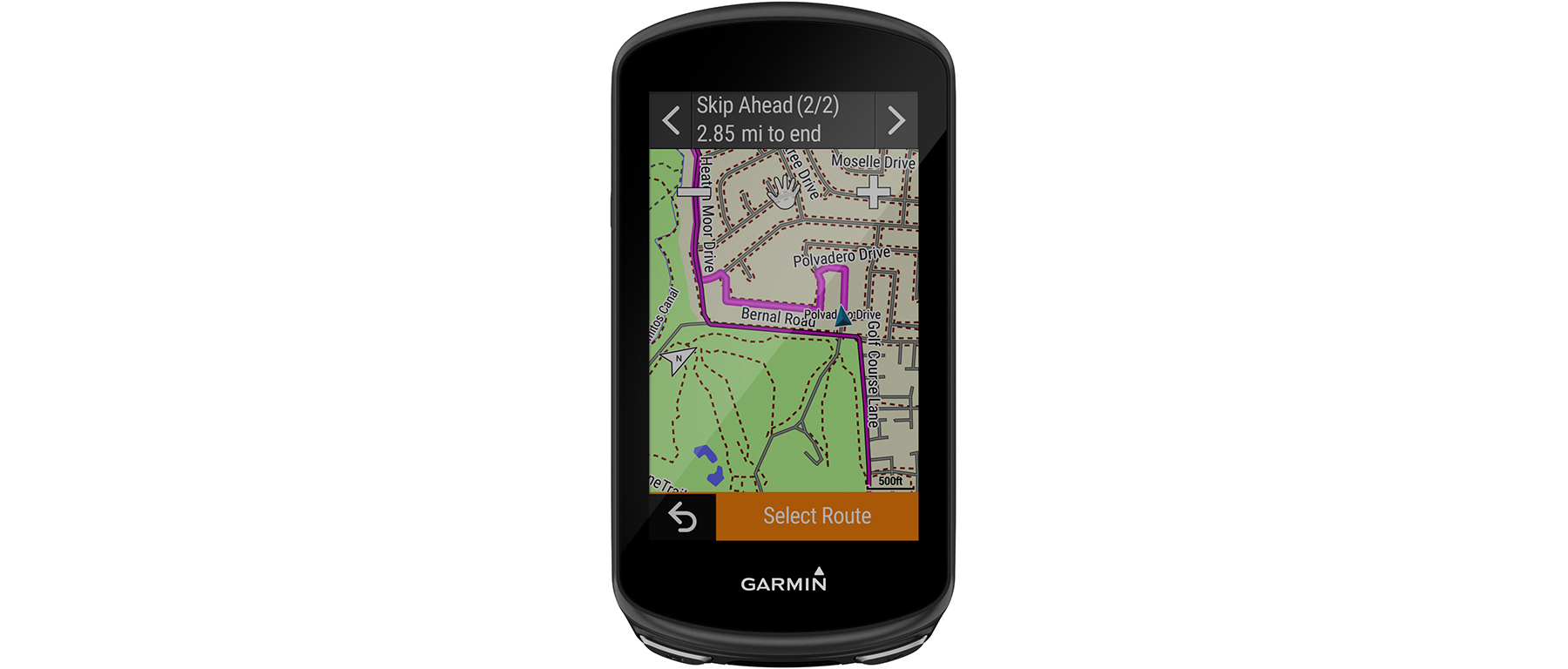 Garmin Edge updated the excellent Edge 1030, with some advanced training options and features that tailor to gravel and adventure riding. You can explore your world and your limits with Edge® 1030 Plus. This advanced GPS cycling computer helps you set and exceed training goals with structured workouts that sync to your device. It also provides workout suggestions based on your training load and VO2 max (When paired with compatible sensors). With ClimbPro pacing guidance to get you through a tough ascent, MTB dynamics that track every epic jump and the ability to pause your route guidance if you intentionally go off course to explore, this tour de force is ready for any ride. More base onboard storage (32gb) and free detailed maps for virtually everywhere available. If you're updating from an older Edge computer, your existing ride profiles and data fields sync to your new one with no fuss. Incident detection and assistance features send your real-time location to emergency contacts (when paired with a compatible smartphone), and it's compatible with Garmin's inReach® satellite communicators for two-way messaging when you have no cell phone coverage. Add in Garmin Connect, hundreds of thousands of rides, with billions of miles, countless routes, and big data have been shared across the system, and now Garmin offers you ways to tap into and utilize this wealth of information.
From a hardware perspective most of the visually obvious carries over from the Edge 1030 but a new screen technology is used, as well as a Sony GPS chipset. The touchscreen color display is a substantial 3.5". Internal battery life of the rechargeable Li-Ion unit is now rated for 24 hours at mode, and Garmin's add-on battery pack can add 24 more hours. Running more limited functions and basic GPS can push standard run time out to 48 hours. The physical size of the head unit is 58 x 114 x 19 mm. The included outfront mount keeps the head unit flusher to the stem, and is also beefed up, as it is designed to have the additional battery pack mounted underneath and integrate directly with the Edge 1030 Plus. You get full connectivity capability: ANT+ / BLE / BT / WiFi including BLE sensors. Other aspects carry over such as button placement, IPX7 protection and the essential quarter turn mount system.
The world of information sharing that Garmin has built is the Garmin Connect website, but that isn't the end of the support Garmin offers. You can download free apps and widgets from the Connect IQ™ store, and connect the Edge 1030 Plus to WiFi for easy device software updates. Trendline™ puts the Garmin Connect information to use via the Edge 1030 to generate a ride for you, finding the best route, choosing from the roads (and trails) most traveled by your fellow cyclists. Garmin Connect Mobile Course Creator allows you to create routes from your phone and load them into the Edge 1030 Plus. The same applies to the Garmin Connect Mobile Workout Creator. Rider to Rider messaging allows you to send and receive pre-set messages to other connected Edge 1030 users. Garmin preloads the new Strava Routes Connect IQ App, TrainingPeaks, and Best Bike Split Connect IQ apps. You also get Real-time Strava Segment listings in coordination with your phone so you can see the info on head unit. All of this allows you to take advantage of new FirstBeat Recovery and Training Status metrics plus Physio True-up across many Garmin wearables.
We are just scratching the surface. Of course you get smart notifications, Incident Detection, Group Track, Weather Alerts, and the ever popular and always improving Live Track system.
Really, the Edge 1030 Plus checks every box on the Garmin features list. The unit is fully compatible with the Garmin VIRB camera, Varia Radar / Lighting systems, Vector power meter pedals, and displays detailed power data from compatible third-party ANT+™-enabled powermeters. The full GPS/Glonass capabilities with full color on-screen mapping, turn-by-turn directions, re-routing capabilities are augmented by the ability to pause off-course notifications, then get directions back to the route when you're ready to resume. This is as complete a GPS bike computer as there has ever been, with room for improvement via easy Garmin firmware updates, and incredible overall capability.
Features
Edge 1030 Plus: Updated full-featured head unit from the leader in cycling GPS and training computers
Tech: GPS/Glonass/barometric altimeter, accelerometer, ClimbPro, inReach compatible
Connectivity: ANT+ / BLE / BT / WiFi including BLE sensor
New Sony GPS chipset that matches other Garmin units released since 2019
Louder audio notification (beep system)
Use Garmin Connect and Connect IQ app for comprehensive support, sharing, user interface options, 3rd party connectivity
New advanced 3.5" color touchscreen, with two physical buttons on bottom edge
Storage/Maps: 32gb 200 hours, 200 waypoints- etc, 100 courses, pre-installed basemap
Ability to pause off-course notifications, then get directions back to the route when you're ready to resume
Fully customizable dashboard interface and set-up
Comprehensive bike, training and power metrics, FIT files, Physio TrueUp
Connected capability: Upload, LiveTrack, weather, notifications, GroupTrack, audio prompts, rider to rider messaging
Cycling awareness features give loved ones peace of mind; incident detection and assistance -sends your location to emergency contacts (when paired with a compatible smartphone, some limitations exist)
Compatible with Varia™ rearview radar and lights, electronic shifting controls
Advanced power tracking and on screen metrics with ANT+ Powermeters
Get ready to ride without the fuss with pre-populated custom ride profiles based on your previous Edge computer, your ride types or your sensors
Receive on-device ride, workout suggestions based on current training load and VO2 max (when paired with compatible sensors)
Manage your efforts on long climbs with the ClimbPro feature, which shows remaining ascent and grade when you're climbing while following a route or course
Get training guidance by syncing structured indoor or outdoor workouts to your device from the Garmin Connect app or other apps, including TrainingPeaks and TrainerRoad
Includes Trailforks app, ForkSight
MTB Dynamics features: track jump count, jump distance, hang time; others include Grit, (rates the difficulty of a ride), and Flow, (measures how smoothly you descend a trail- compare to next ride
inReach® satellite communicator compatibility (satellite subscription for inReach device required)
Dimensions: 58 x 114 x 19 mm overall, 88.9 mm screen, 282 x 470 pixel resolution
USB rechargeable Li-Ion battery with 24 hours run time, optional direct connect battery pack adds 24 hours (basic GPS use with other limited functions can push to 48 hours on standard battery alone)
Garmin has made several firmware updates, so make sure you check the update list for more features, and always update the firmware before setting up your unit.
Includes: 1030 Plus head unit, out front flush mount, stem mount and extra fittings, shims, tether cord, USB cable, Quick Start Manual
Color: Black
Weight: 124 grams (head unit)