Clothing Gloves - Short Finger - Men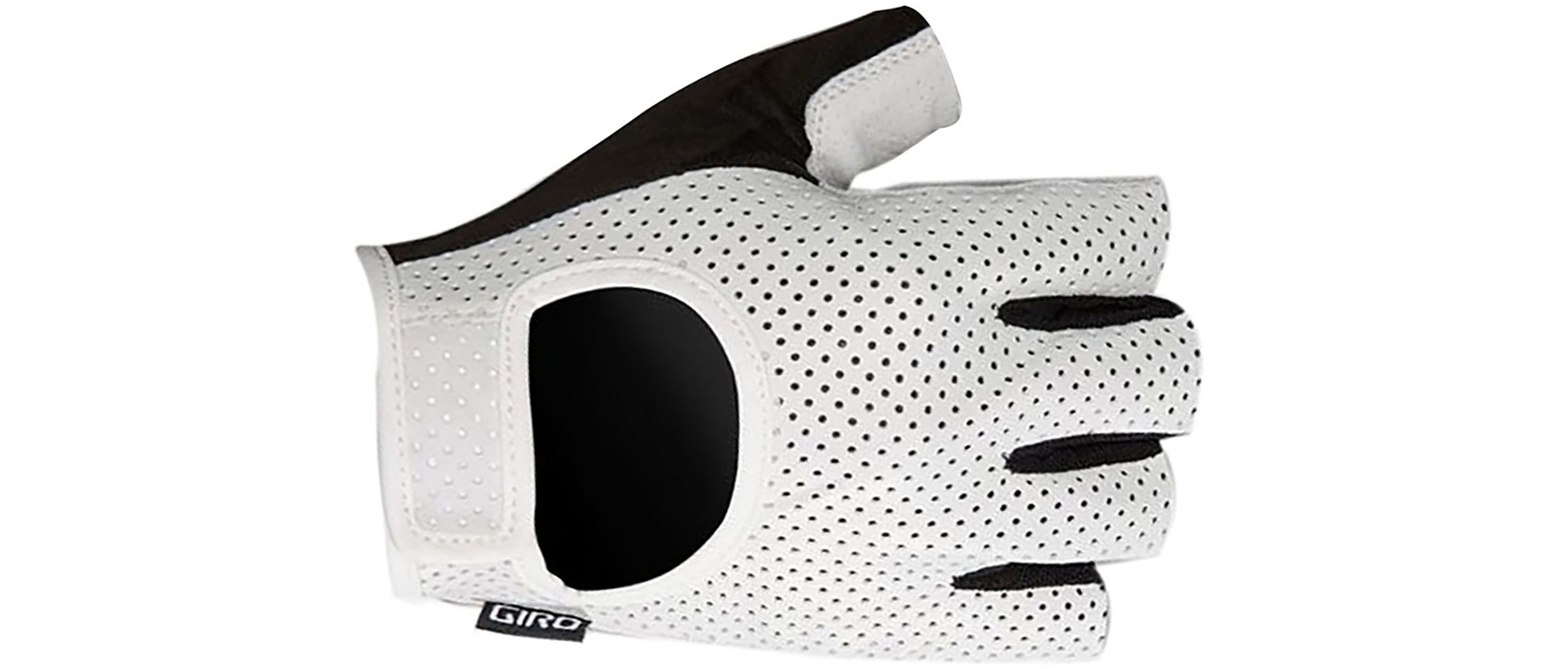 Description

The swanky looking Giro LX Glove offers a luxury feel with great performance that evokes a great driving glove, but happens to be designed and padded for cycling. Besides the great design, the key to the LX Glove is the use of Pittard's leather, a material that counterintuitively absorbs less water and sweat, while providing incredible grip, fit and feel. The outer is perforated for better breathability and airflow. Giro adds their strategically placed 3mm TechnoGel padding, which is known for it's superior distribution of pressure without high volume.
The palm also features micro-perforations, also for comfort and moisture release. At the heel of the palm a sonic-welded, shaped pull tab carries a texture for surer pull grip. The palm carries the ergonomic shape driven by the Giro SuperFit design, so it won't bunch up or cause undesirable pressure points. Double stitched seams are used for superior durability, and a super absorbent microfiber wiping zone is available when you need it. A well positioned, outer wrist hook and loop closure has a finished edge, as does the rest of the wrist for extra comfort.
This glove will be sought after for style, but you'll love it for performance. By it's build and quality, it will make a great glove for gravel riding. The padding is placed for excellent protection, and the extended zones up the thumb, though not bulky, will be very effective over long hours on rough terrain.
Return to Top
Features
Luxury cycling glove with excellent functionality, performance and comfort
Striking, retro design that exudes cool, but is a serious glove, ideal for long miles, mixed terrain, rough surfaces
Giro SuperFit ergonomic palm design
Pittard's absorbs little water or sweat, offers great grip and feel, is durable
Outer is perforated to exude excess sweat and moisture
Palm features micro perforations
3mm TechnoGel padding is strategically placed, wholly effective
A sonic-welded pull tab at the heel of the palm has a textured surface for additional grip
Clean, finished edges for comfort; hook and loop closure on top of wrist for easy adjustment
Microfiber wiping surface is soft and super absorbent
Sizes: Small, Medium, Large, XL, XXL
Color: Black, White
Return to Top
Sizing
Shoes
| Euro | 38 | 38.5 | 39 | 39.5 | 40 | 40.5 | 41 | 41.5 | 42 | 42.5 | 43 | 43.5 | 44 | 44.5 | 45 | 45.5 | 46 | 47 |
| --- | --- | --- | --- | --- | --- | --- | --- | --- | --- | --- | --- | --- | --- | --- | --- | --- | --- | --- |
| Mens | - | - | 6.5 | 7 | 7.25 | 7.5 | 8 | 8.5 | 8.75 | 9 | 9.5 | 10 | 10.5 | 10.75 | 11 | 11.5 | 12 | 13 |
| Womens | 6.5 | 7 | 7.5 | 7.75 | 8.25 | 8.5 | 9 | 9.25 | 9.75 | 10 | 10.5 | 11 | - | - | - | - | - | - |
Helmets
| Size | S | M | L |
| --- | --- | --- | --- |
| Head Circumference | 51-55 cm / 20"-21.75" | 55-59 cm / 21.75"-23.25" | 59-63 cm / 23.25"-24.75" |
FormFit Jerseys
| Size | S | M | L | XL | XXL |
| --- | --- | --- | --- | --- | --- |
| Chest | 35"-37" | 38"-40" | 41"-43" | 44"-46" | 47"-49" |
Return to Top