Tools & Maintenance Cable Cutters & Pliers
Pro Cable Crimper and Cutter
Sold Out
Description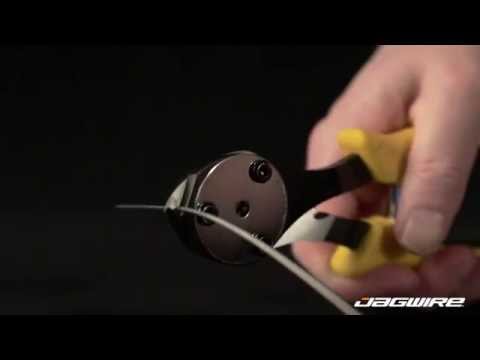 Are you more than a little OCD about clean cable cuts and perfectly crimped end caps? If so, you aren't alone. We can't offer you counseling or support, but we can offer you this Jagwire Pro Cable Crimper and Cutter. This is a tool for the detailed among us. Designed only for bicycle wound strand steel cables, this tool features the "circle-cut" design that delivers the cleanest cable cuts- steel, stainless steel, coated, etc., for a tool in this price range, even those costing more than $50. The crimper tool is built into center of the cutting head, and uses 3 steel blades to perfectly crimp the end cap. Using the slot style gate built into the steel extensions before the composite handle, you can work old crimped end caps free.
Jagwire smartly opted for high quality SK5 steel for the blade extensions/cutting surfaces. SK5 is hard, holds an edge extremely well, and can be maintained if necessary. The circle-type cutter generally rotates on a center axis, and has thinner, more beveled blades than an angled edge cutter that works on an simple pivot point. The edges of the circle cutter cut simultaneously, leading to a cleaner cut that in nearly eliminates fraying, especially with new cables. Do not cut housing with this tool, and keep your cuts to standard bike cables that are 1.6mm in diameter or less. The cutting edges rely on smooth interfaces. if you happen to nick, burr, or fold the cutting edge (the latter can happen when cutting cable that is too thick for the design), it is very difficult to file and sand the edge back to perfection.
Jagwire sweats the details so you don't have to. A stainless collapsing style spring delivers sure, consistent pressure and there is a simple handle lock at the end of the plastic ergonomic handles for closing and storing the cutter. This tool is well made and well thought out. It does mean having a separate housing cutter, which is a drawback for travel, event, or minimalist mechanics, but for the rest of us, what's another great tool?!
Return to Top
Features
Cable crimper and cutter makes it easy to trim a cable and then perfectly crimp a cable tip every time
Hardened SK5 steel circle cut blades are formed to cleanly cut steel shift and brake cables up to 1.6mm in diameter
Unique integrated crimper uses three blades that contract as the handle is closed, giving a professional and secure 3-sided crimp
Ergonomic handles ensure comfort for all-day use
Cutout in arm can be used to remove previously-installed cable tip
Integrated closure hook makes storage easy
NOT to be used to cut housing
Color: Yellow
Return to Top