Travel & Storage Car Travel Systems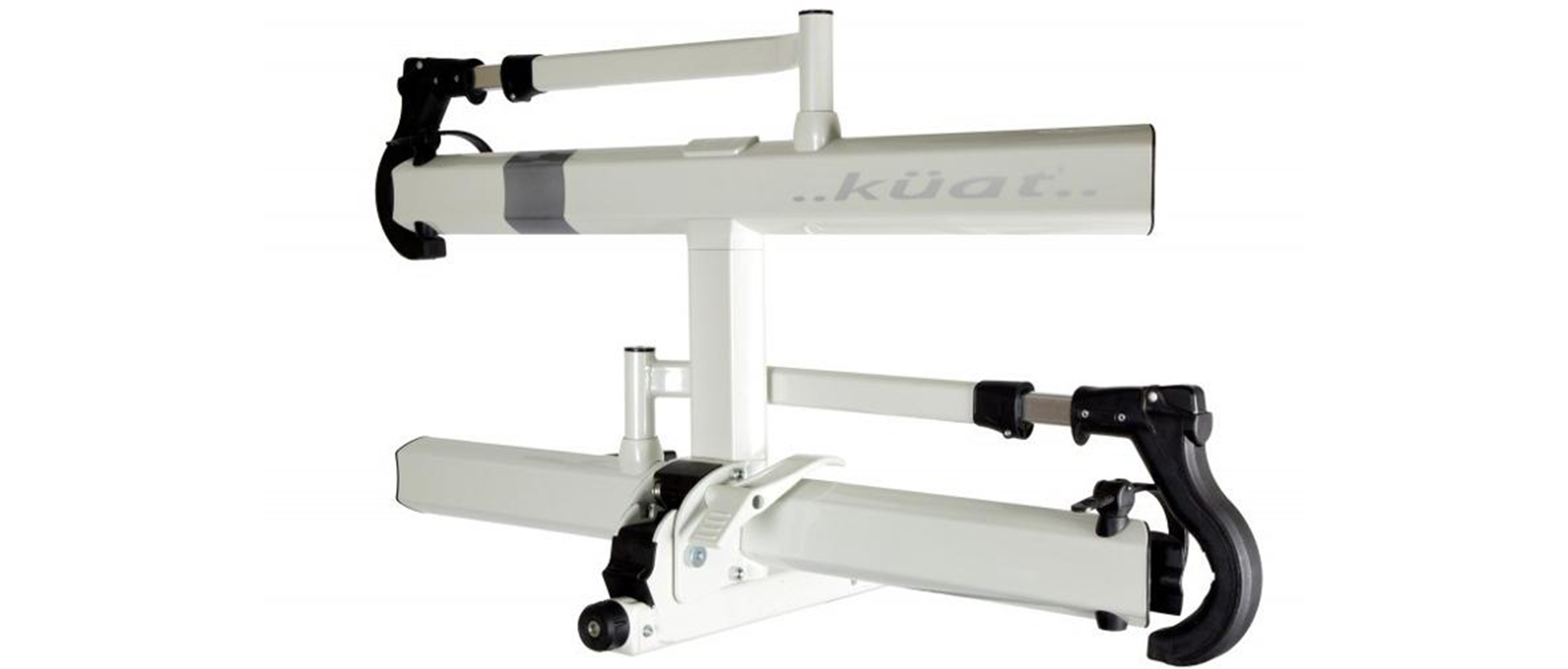 Description

The Sherpa receiver rack has been the Kuat of choice for many cyclists who prefer stout, simple, secure bike transport. Formerly made with steel, the Sherpa had a great visual appearance that alone inspired confidence in the rack. Now made from aluminum and weighing only 32lbs, the Sherpa 2.0 2" rack still has a muscular look, but the overall effect is cleaner, with some innovative design standing out. Capable of carrying two bikes with up to 47" wheelbase, and 3" wide tires, the Sherpa 2.0 is a workhorse rack, and is built for long-term use. Kuat offers comprehensive replacement parts to ensure you get the full benefit of your rack.
The super-clean design of the Sherpa 2.0 has new front and rear wheel cradles that seem to disappear when not in use, almost completely integrated with the carrier frame. You still get the smooth functioning, revised pivot arms and wheel clamp. Kuat has redesigned the actual rack pivot for smoother action and better mechanical advantage and clearance. There is an option for a foot release as well. The no-tools required hand tight hitch cam system doesn't get any simpler. Everything you you need to adjust with your hands has been thoroughly designed for intuitive, easy use. Each carrier holds bikes up to 40lbs each and spacing between bikes and the vehicle has been increased to 14" on center, which easily accommodates the wider bars favored by mountain bikers today. The semi-integrated bike lock system is a great addition to the 2.0 rack. Powdercoated with a gloss metallic finish, the Sherpa 2.0 looks fantastic, and you may find yourself keeping it as clean as your bikes.
For those who find the NV series racks just a little too "much", in features or pricing, the Sherpa 2.0 2" 2-Bike Rack is a perfect solution to make that receiver on your vehicle useful. You get the bike and rack locking security you require, and the tools you need to complete the straightforward initial assembly process. Enjoy the ease of installation, use, and secure travel with Kuat, with the Sherpa 2.0 doing all the heavy carrying.
Return to Top
Features
Lightweight aluminum Sherpa 2.0 2 -Bike rack for 2" receiver hitch systems
Increased spacing to 14" on center from bike to bike, bike to car
Folding tire cradles create an abundance of clearance
Front tire ratchet design with intuitive release
Rear tire cradle features co-molded strap to protect wheels
Redesigned foot-actuated pivot lever unfolds rack with ease, even with hands full
No-tool install with hand tight hitch cam system with integrated lock
Low profile arced design delivers amazing look
Semi-integrated cable bike lock with tray-located lock points
Can be folded up to vehicle when empty, tilted away, to ground, when loaded
Holds wheelbases up to 47" and tires as large as 3", bikes with 20" to 29" wheels
Aluminum construction lightweight, durable; powdercoat gloss finish
7.5" from receiver bolt center to frame when folded up
2 Bike capacity up to 40 lbs. each
Required hitch receiver size: 2"
Colors: Gray Metallic, Black Metallic, Pearl
Weight: 32lbs
Return to Top