Pumps & CO2 Mini Pumps & Frame Pumps
Lezyne Digital Alloy Drive Pump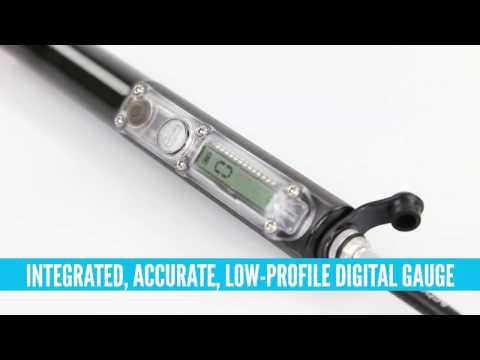 Just about everyone hates to use a compact handheld pump for larger volume tires. Not only do you need the right leverage and patience, you need a pump that gets the job done. With the push towards larger volume, lower pressure road, cross and gravel oriented tires, the Lezyne Digital Alloy Drive Pump can be your mountain and crossover pump. Maxing out at 90psi and longer with more volume than it's high pressure low volume sibling, this is a pump that should be coveted by the gravel and adventure crowd. We really like Lezyne's floor pumps, and the Digital Alloy Drive Pump may just be the best compact high volume design to date. No with so many riders running tubeless set-ups and being more specific about exact air pressure, this beauty features a digital gauge that is accurate and easy to read. This CNC machined aluminum design gets the job done properly so you can enjoy the full length of your ride, and have confidence at all times that a puncture won't leave you dialing the cell phone.
Designed for Presta and Schrader valve types with the dual end threaded end fittings on the Flex Hose, the 173 gram pump has the internally secured hose attachment that takes the abuse away from your valve stem. Given that you can get to 90 psi with reasonable effort, the accuracy of the digital gauge matters, and the integrated ABS air bleed system allows you release a few undesirable psi if need be. The super low-profile Digital Strip Gauge is completely integrated into the barrel, with direct access for replacing the 3V CR1220 coin-style battery. The 1.6" digital display is easy to read, can be set for bar or psi measurement, has a reset feature (read the instructions), and also a battery level indicator.
Mechanically the pump slides smoothly and efficiently, driving air with every stroke. The design is easy to use, the construction is meticulous, and the performance is exceptional. The composite mount fits your water bottle cage bosses and a velcro strap holds the Digital Alloy Drive Pump securely in place. These are the detailed reasons why you choose Lezyne for your inflation needs, and rightfully so.
Features
The most advanced high volume hand pump with a digital gauge
Light and compact CNC-machined aluminum construction, fittings
Integrated super low-profile, super accurate Digital Strip Gauge
Easily replaceable 3V CR1220 battery for gauge
1.6" digital gauge easy to read, can be reset, read in bar or psi, has battery meter
ABS Flex Hose has threaded Schrader and Presta ends, clearly marked
Hose stores within pump
Max pressure: 90psi / 6.2 bar
Length: 216mm (8.50")
Includes H20 boss bracket, screws, velcro strap
Color: Black
Weight: 173 grams