Accessories Lighting Systems - Front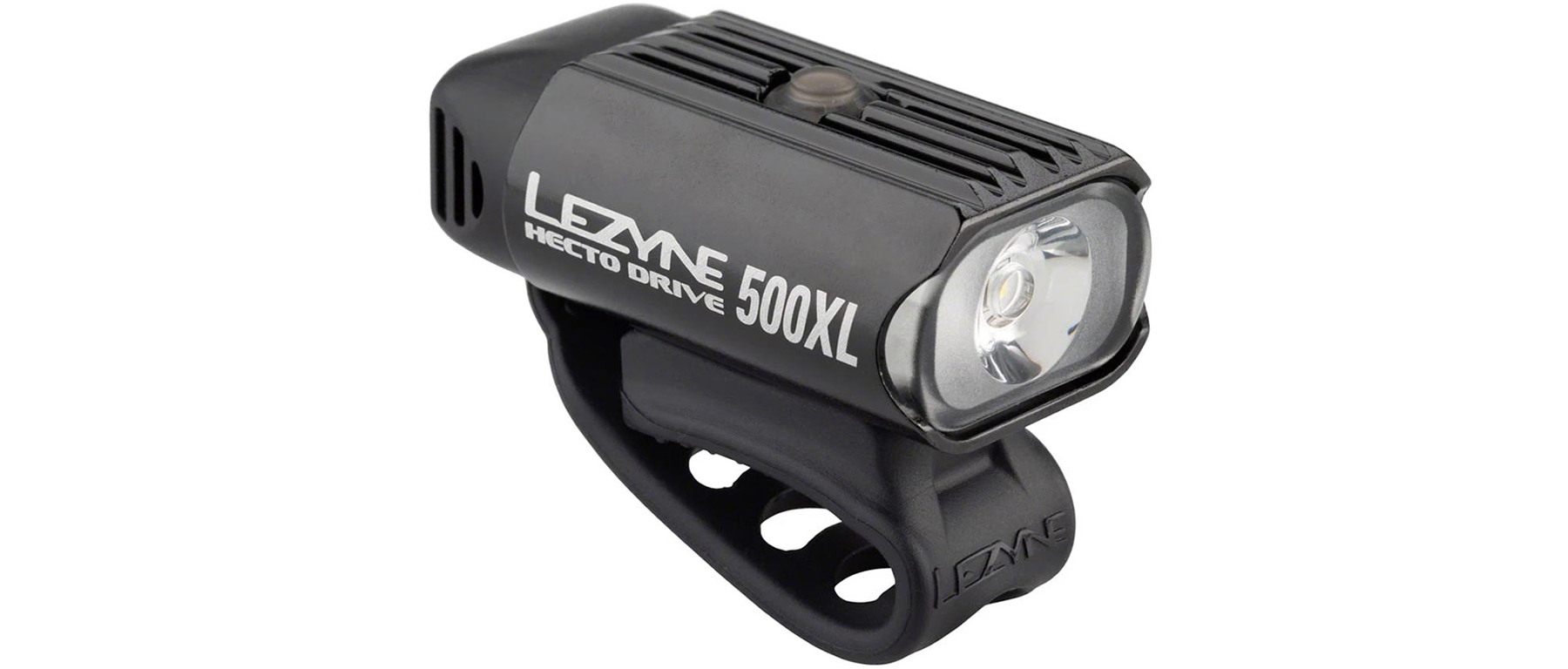 Hecto Drive 500XL Headight
Excel Sports Part # 445805
Lezyne Part #
1-LED-9F-V504
Request Stock Alert
Description
Lezyne's Hecto Drive 500XL could be one of our favorite mid-size lights ever. A 500 Lumen rechargeable headlight, with a CNC machined aluminum housing, LED lamp, 8 operational modes, and simple, but awesome strap-clamp mechanism- all for under $40? Yes. With an integrated, cable-free USB Stick, recharging in just 2.5 hours is a snap. This is a great headlight for every day riders who push their rides or commutes into the dark, even on gravel or less technical trails. The beam power of the single LED is focused by the MOR reflector design, a Lezyne technology that enhances the power of the bulb. All this, and much more at just 84 grams with the strap mount system attached. Again, $40. Thanks, Lezyne!
The Hecto Drive 500XL gets several exceptional technologies generally seen on higher priced light. First is a 3 color LED battery level indicator via the power/mode button. Red, Blue and Green light colors give the user a general sense of battery level. The second is Memory Mode. The light remains in the last mode used when it was turned off, which Lezyne determined is the mode they will most likely use the next time it is called upon. The lightweight, reliable Lithium Polymer battery is internal and compact, housed in the CNC aluminum/molded composite matrix body, which is weatherproof and protects the bulb and internals from impact. 180° visibility comes from side lens ports, to increase safety while on the road. The usual simple and effective silicone strap mounting system is quick to install and remove, yet holds your Hecto Drive securely to the handlebar.
The Hecto Drive 500XL Headlight is weather and water resistant, and built to Lezyne's exacting specifications for design, performance, and longevity. The direct USB recharging makes it ideal for someone who has a computer nearby most of the day. With great construction, Lumen specifications, 8 comprehensive lighting modes and key features at such a terrific price you can't go wrong with this beauty from Lezyne.
Return to Top
Features
500 Lumen, lightweight, compact Single LED headlight with 8 lighting modes, high quality
CNC aluminum body with composite matrix plastic- durable, strong and weather proof
Colored LED's (Red, Green, Blue) in the Power/Mode button reveal battery life
Enhanced MOR (Maximum Optical Reflection) for perfect beam
Features built in cooling fins for heat management
USB rechargeable, internal Li-Po battery
Charging times: 2:30 hours via USB 1 A, direct plug-in
8 Lighting Modes-3 constant, 2 flash, 1 FEMTO, 1 high power Daylight Flash, 1 Pulse

Blast- 1 hr run time at 500 Lumens
Enduro- 2 hrs at 200 Lumens
Economy- 4 hrs at 100 Lumens
FEMTO- 20 hrs at 15 Lumens
Flash1- 13:30 hrs at 50 Lumens
Flash2- 13:30 hrs at 50 Lumens
Daytime Flash- 5:45 at 500 Lumens
Pulse- 15 hrs at 50 Lumens

Mode memory feature will keep light in last used mode when turned on again
Cut-outs on side of lens provide 180 degree visibility in all lighting modes
Strap-style handlebar mount fits any handlebar
Helmet mount compatible (sold separately)
Color: Black/HiGloss
Weight: 84 grams (head unit only)
Return to Top