Accessories Lighting Systems - Front/Rear Sets
KTV Pro Smart Light Pair
Excel Sports Part # 445766
Lezyne Part #
1-LED-13P-V104
Request Stock Alert
Description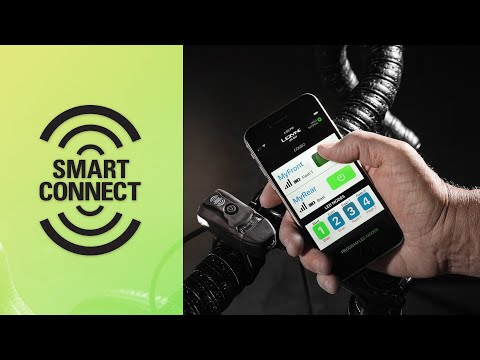 The "connected world" seems to be everywhere, and with this $70 pair of KTV Pro Smart Lights, even the seemingly simple commuter slash advanced visibility lights are managed by a phone app, and have wireless control between the front and rear lights. While this may not for everyone, there is a simplicity and practical aspect to the set-up.
The KTV Pro Smart Pair is the most advanced pair of cycling lights for commuters and cyclists looking for greatly improved visibility. The pair comes equipped with Lezyne's Smart Connect wireless technology, which allows them to be quickly programmed and customized by the companion LED ALLY phone app. Once programmed and paired, the front light wirelessly controls the rear light when toggling through its modes. Set up only the modes you need, with up to four mode-sets for a variety of cycling settings. The instructions explain the process, and you can also visit Lezyne's website for the same information and ALLY app details.
The KTV Pro Smart Front light is super compact and lightweight, and features a super bright 200-lumen Daytime Flash mode. Its co-molded construction is super durable and has an IPX7 waterproof rating. With a cable-free USB recharging stick, it can run for up to 20 hours on a full charge. And the 2-in-1 patented clip/strap system attaches to a variety of bars and loops.
Front Light Details
Compact Dual LED Light, MOR reflector system
Max Lumens: 200
Max run time: 20 hours
Recharge time: 3 hours via cable-free integrated USB recharging stick
5 Modes / Lumens / run times

Blast: 70 Lumens / 2 hours
Economy: 15 Lumens / 10 hours
Dayflash: 200 Lumens / 6 hours
Flash 1: 30 Lumens / 30 hours 15 minutes
Flash 2: 15 Lumens / 20 hours

IPX7 water resistance rating
Dual mount: handlebar loop strap or clip-on
Color: Black
Weight: 47.5 grams
The KTV Pro Smart Rear Light is a powerful and versatile cycling taillight with a highly visible 75 lumen Daytime Flash mode. Its construction features a light and durable co-molded design that's IPX7 (waterproof) rated. It has six output modes, and features our Wide Angle Optics for up to 270° of visibility. The KTV Pro Smart is compatible with round or aero posts, and it has an integrated cable-free recharging USB stick.
Rear Light Details
Compact Dual vertical LED Light, 270° Wide Angle Optics
Max Lumens: 75
Max run time: 19.5 hours in FEMTO
Recharge time: 3 hours via cable-free integrated USB recharging stick
6 Modes / Lumens / run times

Dayflash: 75 Lumens / 10 hours
Flash 1: 25 Lumens / 8 hours 45 minutes
Flash 2: 10 Lumens / 19 hours 30 minutes
Pulse: 25 Lumens / 8 hours 45 minutes
Economy: 3 Lumens / 18 hours
Solid: 20 Lumens / 4 hours

IPX7 water resistance rating
Mount: seatpost- aero or round via soft silicone strap
Color: Black
Weight: 45 grams
Return to Top