Accessories Lighting Systems - Rear
Lezyne Laser Drive Rear Light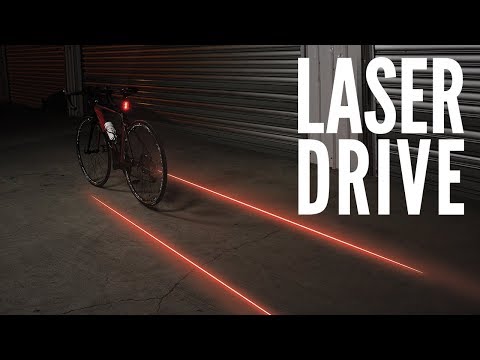 Rear bike lights that project lane lines behind the rider have become a desirable part of the bike commuter's arsenal, though if you also tend to train for team time trials at night, this might also be useful. Kidding, but these laser generated lines serve to demonstrate to drivers the minimum space required. The Lezyne Laser Drive Rear Light is a highly capable, four ultra-bright LED taillight with the Laser lines feature and 250 Lumen max output in Daylight Flash1 mode. You get nine lighting modes, plus 2 laser line modes. This is a light with serious capabilities for the every day commuter that fully charges via micro USB cable in 6 hours.
All of the lighting modes with run time and Lumen power are listed below, but you get three constant options, 4 night flash types, two Daylight Flash levels, as well as solid and flash modes with laser lines. This means you use the perfect amount of battery power for the conditions and circumstances. No need to blind drivers or pedestrians, and no need to waste energy. Lezyne's electronics and construction are top notch for build quality, durability, and long like so this light is a great investment for someone commutes day in, day out.
The lightweight and durable co-molded lens/body construction is waterproof and can handle any weather you throw at it. A unique design allows the Laser Drive Rear Light to be used with aero and round seatposts. Of course the lens cover also offers 180 degree visibility. This compact light weighs in at just 84 grams, so it packs a lot of power for it's size and weight. If you, or another cyclist you know are serious bike commuters, this great taillight from Lezyne has to be on your "most wanted" list.
Features
Seatpost mounted rear light with 11 overall run modes, including laser line options and incredible output and run times from the 4 ultra-bright LED's
Strap hooks onto both side of light body to secure to round or aero post
Mount holds light at appropriate angle for projection
11 Lighting Modes

Blast- 2:30 hrs run time at 40 Lumens
Enduro- 5 hours at 20 Lumens
Economy- 15:30 hrs at 6 Lumens
Day Flash1- 4 hrs at 250 Lumens
Day Flash2- 7 hrs at 125 Lumens
Flash1- 9:30 hrs at 20 Lumens
Flash2- 17:30 hrs at 10 Lumens
Flash3- 8:30 hrs at 20 Lumens
Flash4- 13 hrs at 20 Lumens
Laser/Solid: 7:45 hrs
Laser/Flash: 15 hrs

Charging time: 6 hours via included micro USB cable
180 degree visibility
Weather and water proof
Color: Black
Weight: 84 grams