Accessories Lighting Systems - Rear
Light and Motion Vya TL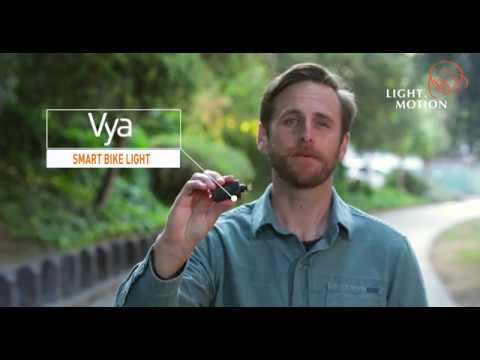 Perfect for urban commuters, with smart sensors, waterproof bio-renewable construction, and innovative safety features the Vya Tail Light leaps at least two generations from most current bike lighting. The standard Vya 's auto-run mode is the 50 Lumen max SafePulse system that optimizes max power during daylight hours. Developed to be a revolutionary lighting solution for day and night safety blending smart technology with powerful design and auto-on convenience, the Vya-series from the Light and Motion require us to give over control, and when it comes to riding and lighting, that is probably the best thing.
Besides the innovative construction, the Vya utilizes smart sensor technology that senses motion- and automatically turns Vya on when inserted into handlebar mount and features Auto-off when the bike is parked or the tail light itself is removed from mount. The light system features an integrated USB tab that plugs into any USB charger for a 2 hour recharge. That end inserts into the mount, and with a simple but secure 1/4 turn twist your light is mounted. That way you can leave the mount on your bike, and just twist out the light when if you stop at the store, set the bike in a bus bike rack, or simply when you need to charge.
The seatpost mount has shaped zones allowing you to create a good angle for light visibility and is quite stable. With an 8 hour run time and a 2 hour charging time you can easily limit keep your Vya Tail Light ready to go from home or work. With an FL-1 certified IP67 waterproof rating an excellent light penetration you won't hesitate to make your commute in the rain. Well you might, but your Vya won't.
Features
50 Lumen output Tail Light w/variable SafePulse beam pattern optimized for daylight visibility
SafePulse proven to maximize visibility by aiding in a driver's depth perception in order to safely locate and avoid cyclists

Single auto mode Pulse: Max 50 Lumens at 8 hours

Smart sensor technology senses motion and automatically turns Vya on when inserted into mount
Innovative amber side lighting increases critical visibility at intersections
Auto-off when bike is parked or light is removed from mount
Made with bio-renewable material waterproof to 1 meter (when inserted in mount) for all-conditions reliability (IP67 Rated)
Waterproof, impact, output ratings all meet FL-1 Certification standards
USB Mount Receptor allows light to be securely mounted or removed from bike in seconds with a simple, secure 1/4 turn lock
Direct USB Charging without cables (fully charges in 2 hours)
Included: Seatpost Mount (will fit any size post)
Dimensions: 3" x 1.3" x 0.8" (when mounted)
Weight: 30 grams