Clothing Jerseys - Short Sleeve - Womens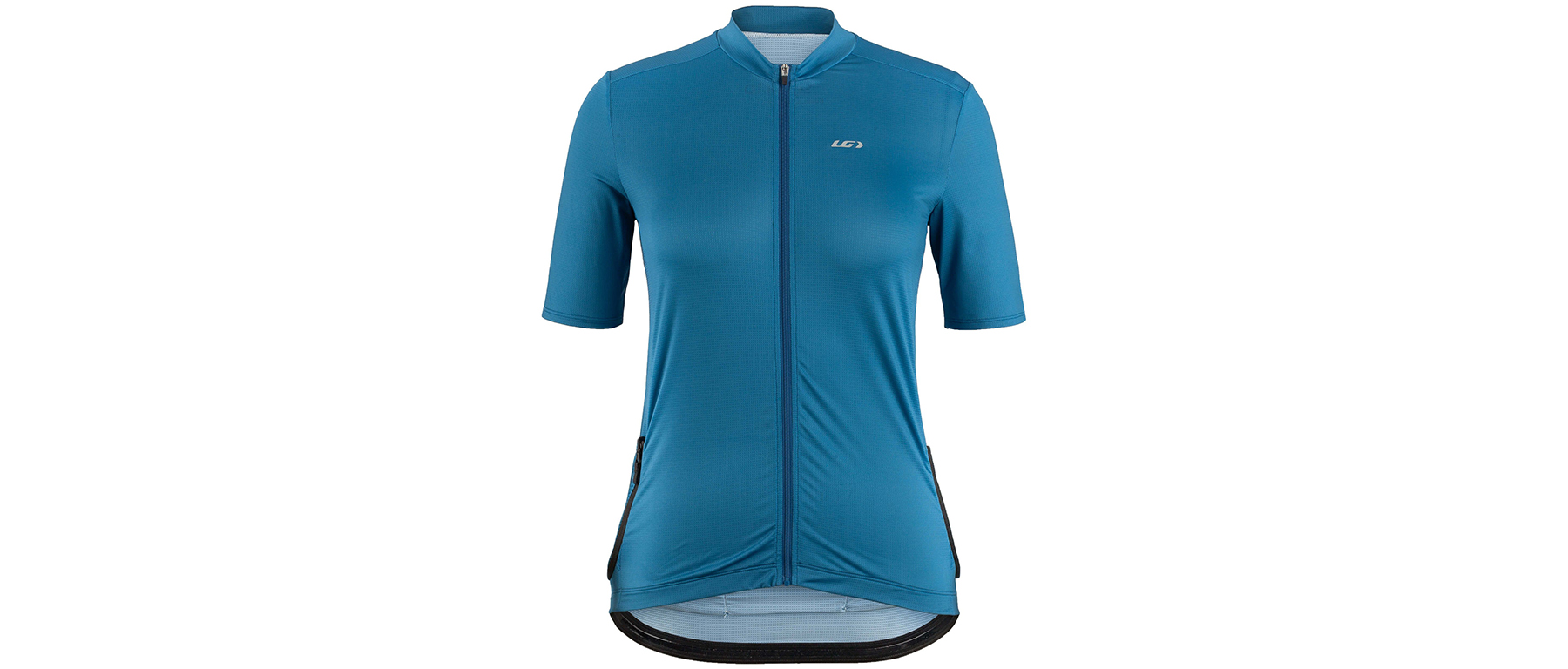 Womens Clutch Jersey
Excel Sports Part #
Louis Garneau Part #
UPC/EAN#
Actual Product Weight grams
Request Stock Alert
Sizing
Description

Lightweight, with a clean, form fit, the hot weather oriented short sleeve Women's Clutch Jersey from Garneau was designed for the serious road or gravel cyclist who rides all day every time life gives them a chance. The feel is superb, soft on the skin while it moves easily with you in or out of the saddle. If comfort matters on a two hour ride, it matters much more after hour six when fatigue and hours in hot sun combine to wear you down. The refreshing drying action and micro ventilation of the fabric helps keep you going, and the mildly compressive fit and stretch offer support without restriction. It is a tough balance, as this is not a race jersey. In fact, it has one defining feature, discussed below, that is somewhat unique and adds to the all day nature of the piece.
The fabric itself is a polyester blend, Light VentDry, that has a soft inner surface that ease moisture off the skin and uses the airflow not only to cool, but also to carry the moisture and heat away. it is designed to perform consistently over time, and can easily handle the periodic upshift in effort on a climb. It never seems to overheat. The design and cut seem to reflect a race jersey, with today's slightly longer sleeves, minimal arm bands and collar, but without the super tight fit and compression you find on the highest performance pieces. These work great in the most aggressive riding position with placing on the line, but most all day cyclists have a more measured output, and use the drop when necessary, not as a primary position. The sleeve length and mild compression of the sleeves, and the piece overall, do offer some muscle support, defeating the free movement of finer muscles from surface to tire vibration. The full length zipper gives some extra ventilation control as well as impacting how the Clutch fits and feels.
Garneau has opted for the pro-style three pocket structure, but adds a unique twist, or pivot, or swivel. The two side pockets feature a zipper opening that reveals two more pockets that swivel outward from the seam, for more storage. It's definitely a different approach, and cyclists can be reluctant to embrace changes to proven set-ups, but if you need additional storage, especially for items like keys, ID, credit card, etc., that you won't really need to access while riding, the option frees up other pocket space. An interesting feature for sure, and truly aimed at longer distance/add day riders. Of course, a silicone gripper on the rear hem and cut of the piece help to hold the rear in place and stabilizing loaded pockets. As with essentially all of their jersey's Garneau also adds reflective logos and accents on the front and rear for low-light visibility.
Return to Top
Features
Form fitting women's summer short sleeve jersey optimized for the needs of all day rides and performance comfort
Lightweight, with a quick drying fabric that has a soft feel on the skin, that also wicks away moisture
LG Standard fit, which is close to the body, without being overly compressive or restricting like a race fit
Light VentDry polyester blend fabric effectively and consistently cools and dries while offering some support
Collar and sleeve hems are more minimalist for a cleaner and sleeker shape
Sleeves themselves are a little longer than tradition, offering some efficiency and muscle support
Silicone gripper on the rear hem helps stabilize pockets
5 back pockets including 2 swiveling ones off the two outer standard pocket seams
Front and back reflective accents
Sizes: XS, Small, Medium, Large
Colors: Dark Blue
Return to Top
Sizing
Mens Shorts, Bibs, Knickers & Tights
| Size | S | M | L | XL |
| --- | --- | --- | --- | --- |
| Waist | 28-30" | 31-33" | 34-36" | 37"+ |
Mens Jerseys, Jackets & Vests
| Size | S | M | L | XL |
| --- | --- | --- | --- | --- |
| Chest | 38-40" | 40-42" | 42-44" | 45+" |
Womens Shorts, Bibs, Knickers & Tights
| Size | S | M | L | |
| --- | --- | --- | --- | --- |
| Hips | 33-35" | 36-38" | 39+ | |
Womens Jerseys, Jackets & Vests
| Size | S | M | L | |
| --- | --- | --- | --- | --- |
| Chest | 32-34" | 34-36" | 37-40" | |
Gloves
| Size | S | M | L | |
| --- | --- | --- | --- | --- |
| Width | 7-8" | 8-9" | 9-10" | |
Helmets
| Size | S | M | L |
| --- | --- | --- | --- |
| Head Circumference | 52-56 cm / 20.5"-22" | 56-59 cm / 22"-23.25" | 59-62 cm / 23.25"-24.50" |
Return to Top