Tools & Maintenance
Park Tool CT-3.2 Chain Breaker
Park Tool CT-3.2 Chain Breaker
The Park CT-3 Screw Type Chain Tool is now made from investment cast tool steel. Along with superior strength and durability, the CT-3 features a handy "loosening shelf" to remedy stiff links after reassembly. The fine thread and comfortable size enable easy removal of even the toughest chain rivets. Like all Park Tool Chain Tools, it's easy to use and built to last, and has a replaceable driving pin.
Features
Works great on 8, 9, and 10, 11-speed chains
Fits many 1/8" track and BMX chains
Heavy-duty shop quality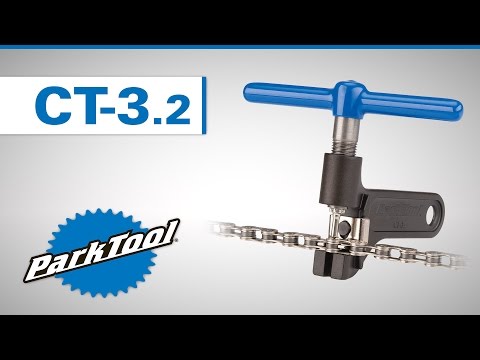 Average Rating:
Anonymous
Posted on 7/19/2017
If you have a $2,000+ road bike and a high-end 11 spd chain... spend only $25 more and buy the Park CT-4.3 master chain tool. It is MUCH better. It is designed very differently (better). It holds the chain in the block much more securely for superior chain rivet install.
Anonymous
Posted on 2/13/2015
Bought this and it works!!! Installed a 11speed Ultegra chain. If you screw up a chain with this tool you should not be working on your bike. Great value for the money.
Pros Good quality and good value for the money!
Cons None
Anonymous
Posted on 8/19/2009 12:59:55 PM
This guy is a real brute and makes fast work of breaking any chain. Re-inserting chain pins is another matter, I'd imagine even trying to do so on a 10s chain would be an exercise in frustration. But on hard-to-handle 1/8" track chains, this guy is perfect, and honestly I've never had occasion to try inserting a pin on a 10s chain due to the prevalence of tool-free master links. Build quality is as awesome as you might expect, and the replaceable pin is a great feature (I though that was ridiculous when I bought this-- who ever bends a pin on a chain tool? But then I bent the pin the second time I used the tool).
Anonymous
Posted on 9/5/2008 5:49:37 PM
Great tool but has a few design issues. Works great on 8, 9 speed chains and track chains (PC-1) even though the the CT-7 was specifically designed for BMX/fixed gear chains. I destroyed a KMC 10 speed chain with this. When pushing the pin back through, it causes the rear plate to mushroom out. The circlip that prevents overdriving the screw is a POS. Always has been an issue and should be redesigned. Bought a replacement from a hardware store that fit better and lasted longer but its bent and loose now.
Anonymous
Posted on 7/24/2007 8:58:01 PM
Excellent chain tool -- the best I've used. No problems with 9 speed, but I haven't used on a 10 speed chain.
Anonymous
Posted on 6/15/2007 8:38:26 PM
I just destroyed a 10-speed Dura Ace chain with this tool. The anvil is too wide and the pin widens the back plate hole. I'm not sure what I'll do, maybe use the IRD link or the Shimano-brand tool.
Anonymous
Posted on 4/2/2007 9:04:28 AM
The CT-3 chain breaker is a spectacular tool. I go through a 10 speed chain every 1.5 to 2 months (approx. 2,000 miles). This tool breaks the chain quickly and effortlessly. While my smaller Park CT-5 chain tool is great for the saddlebag on my bike, the CT-3 tool is an awesome addition to my toolbox. It helps me easily mount a new chain. Well built, sturdy, and highly recommended.
Anonymous
Posted on 1/10/2005 9:17:11 PM
I just picked up one of these from Excel and I have to say it's the best 25 bucks in my toolbox. You might think, "This thing is overkill, I only have to break two or three chains a year." That's exactly why you should buy it. Oh, sure, half an hour of aiming the pin of some $6 chain tool will get the job done as long as you regularly replace its bent pin, if not the whole tool. But you could also use a CT-3, which doesn't require the aim of Robin Hood and will last long enough to be passed on to your children.