Tools & Maintenance Cleaners & Degreasers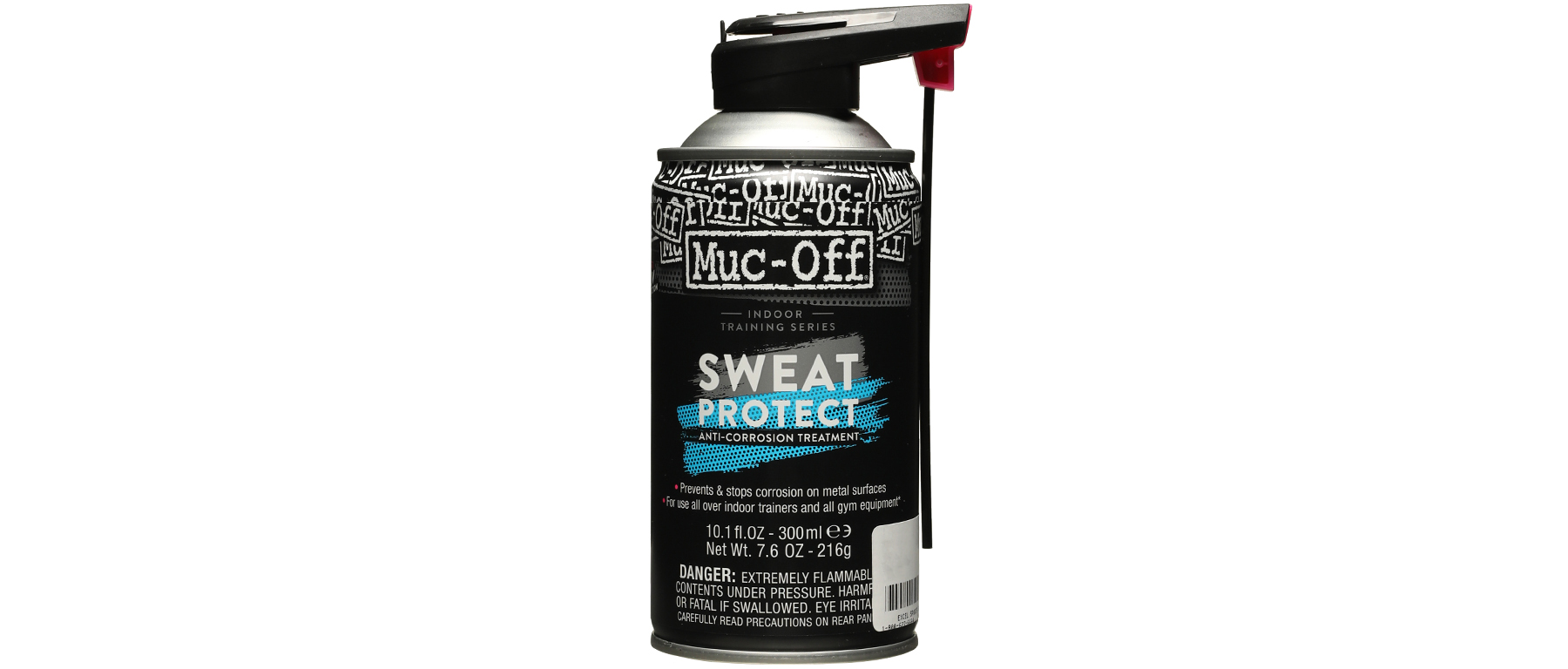 Description
Human perspiration, a.k.a. sweat, carries salts and other minerals that can be corrosive to all kinds of bike and gym equipment. Wiping down helps, but most people do it quickly, perhaps pushing sweat into hard to reach places. That is why the best way to protect starts before you train.
Introducing the ultimate protection for your indoor trainer or gym equipment: Muc-Off Sweat Protect. This spray uses state of the art anti-corrosion additives and inhibitors to provide class leading protection against corrosion. It even works on surfaces that already have rust and corrosion, stopping the progress of existing corrosion.
Sweat Protect drives out moisture and leaves a protective anti-corrosive layer on your bike's frame, metal parts, and paintwork to keep the harmful effects of moisture and sweat at bay. And yes, you should still lightly wipe off your bike or equipment afterwards. An application of the protection lasts up to 3 months, though Muc-Off recommends you wash your bike and reapply Sweat Protect periodically based on use to ensure total protection.
Use instructions: Shake can vigorously. After washing the surface with Muc-Off Equipment Cleaner, apply Sweat Protect to any surface that needs protecting to disperse remaining moisture. Spray directly onto the surface and leave in place for a higher level of protection, or for an even thinner coating wipe off any excess fluid with a cloth. Note: Mask/cover braking surfaces before application. Store in a cool, dry place. Do not apply to tire tread or braking surfaces (rims, pads, rotors, calipers.
Return to Top
Features
Ultimate spray protection for your indoor trainer or gym equipment
The end of corrosion caused by sweat on your training equipment
For use all over indoor trainers and all gym equipment
Prevents and stops corrosion on metal surfaces
Penetrates and protects with a non-drying film
Can dissolve existing rust and prevent growth
Integral tracer dye – aids accurate application to ensure total protection
Easy to apply using Muc-Off's Genius Straw
Protection lasts up to 3 months
Muc-Off recommends you wash your bike, reapply Sweat Protect periodically to ensure total protection
Size: 300ml Spray w/Genius Straw
Return to Top