Accessories Lightning Systems - Front/Rear Sets
NiteRider Lumina 1000 Boost/ Sabre 110 Combo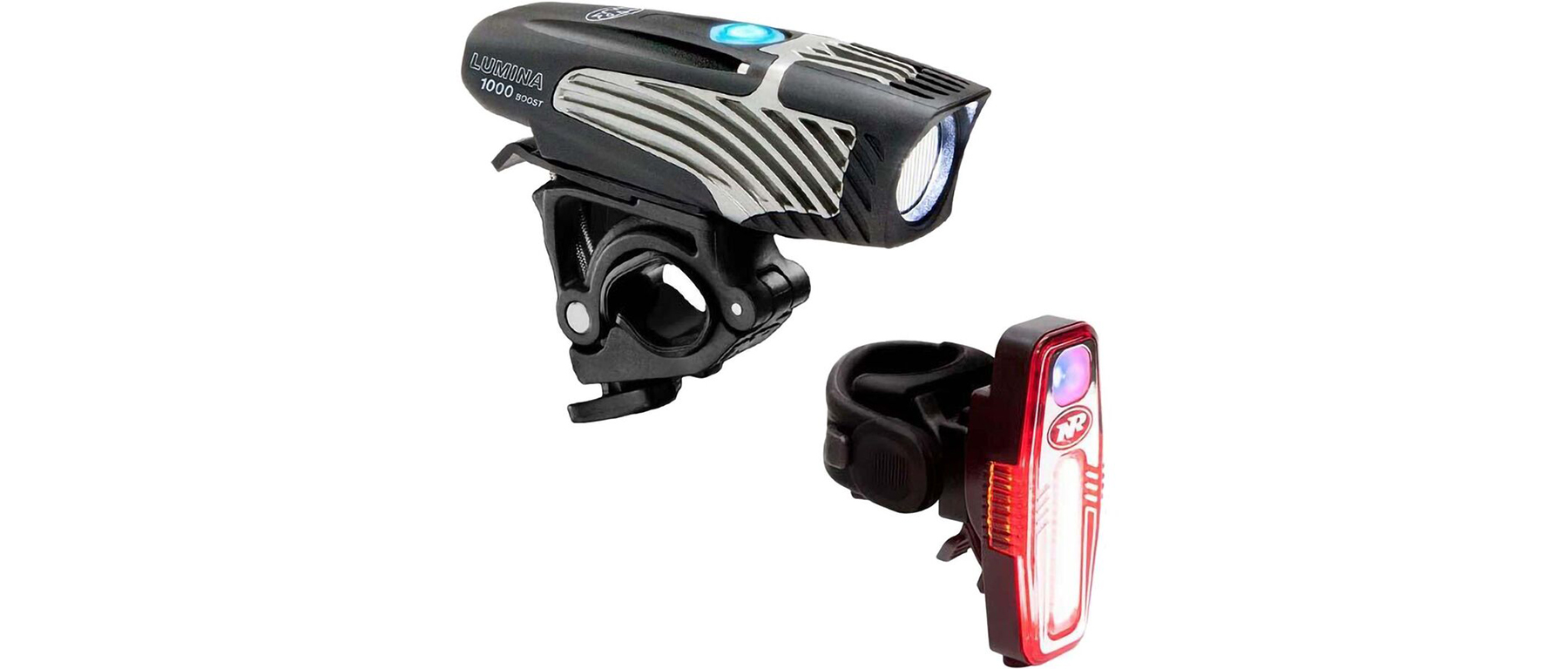 The Lumina 1000 Boost pumps out up serious light and as the front light of this combo package makes the deal even more impressive. The Lumina series represented a new style of compact, powerful and efficient integrated bicycle headlights and NiteRider has fleshed out the series with incredible options, great value and all the NiteRider standards that have made the company the best known in bicycle lighting. The sleek profile and compact design gives the Lumina stealth-like properties, and the lamp and clamp weights only 172 grams. The integrated lighting unit unclips quickly from the new strap style handlebar mount- which now works with handlebars diameters up to 35mm. The big news with the Lumina 1000 Boost is the Boost feature. After carefully considering how riders use their lights, an emphasis was made in mid-range brightness lighting modes, where the combinations of run times and brightness converge. But what about when you need max lighting quickly, if only for a short time- simple, as from any mode you can quickly push the power button twice to Boost right up to 1000 Lumens, then you can go back to the previous mode with the same action.
Your 60 minute total of max Boost time encourages you to use it smartly and keeps the bulk of your lighting time more efficient, as you rarely need full brightness. The three other steady run modes feature ideal brightness levels and run times. You also get Walking and two Daylight Flash modes for a total of 7 modes. The reflector and lens are engineered to give you a great penetrating spot beam, as well as generous ambient flood. The combination delivers the best of both worlds, whether using the handlebar mount or the optional helmet mount (sold separately). The distinctive styling of the Lumina is due to the aluminum housing that diffuses heat build up over the greatest possible area, so it is never too hot to touch. The rest of the casing is a lightweight composite plastic that is durable. The Lumina 1000 Boost meets FL1 standards for Lumen output, battery charge, and IP64 for water resistance.
Using its Intellichoice charging system, the USB charging time is only 2.5 hours at 1A charging amps, or 5 hours at .5A charging amps. Quality is top notch, and NiteRider has been making lights in the US for well over twenty years. No other lighting company has NiteRider's pedigree, and the Lumina 1000 Boost delivers great lighting options with a high max for the money.
Features
1000 Lumen LED headlight, with quick access Boost mode for max brightness
Ideal for long commutes, road or trail rides, or all around activity
USB rechargeable, internal 3.7v (2.6A/h) Li-Ion battery; low battery indicator
Boost Mode, double click power button to unleash maximum LED output
Intellichoice charging via USB cable: 2.5hrs at 1A, 5 hrs at .5A
7 Lighting Modes (by Lumens produced):

1000 (Boost): 1hr min run time
750: 1.5 hrs run time
375: 3.5 hrs run time
200: 6 hrs run time
50: 26 hrs run time (Walking mode)
DVF Flash: 6 hrs run time (Daylight)
DVF Pulse Flash: 10.5 hrs run time (Daylight)

Use lock mode by holding button for 7 seconds, no accidental use when stored
FL1 Standard IP64, water resistant
Strap-style handlebar mount with QR tab fits up to 35mm
Helmet mount compatible (sold separately)
USB charging cable included
Weight: 172 grams
The NiteRider Sabre 110 taillight has a powerful multi-array LED system with considerable versatility and a 110 Lumen max brightness output. The Sabre 110 features 6 run modes- 3 steady/3 flash, which includes a Daylight Visible Flash (DVF) mode now considered a crucial feature. The narrow, vertical orientation hides slickly behind a seatpost, is easily and quickly mounted, and it's internal Lithium Polymer battery is USB rechargeable. Amber side lights in the lens deliver 180° of coverage, with a contrasting light color, for added visibility.
The USB rechargeable Li-Po battery has a 2.5 hour recharge time and delivers full 110 Lumens for 1.75 hours in the high steady mode. Fast flash mode runs at full power for 17 hours while the super bright staggered DVF Pulse flash is rated at 7 hours. You get an integrated clip on the light housing which allows to clip it to a belt, loop tab, or pack strap in addition to the seatpost mount, low battery indicator, the USB charging cable, and an FL1 Standard rating IP64 for water resistance at just 28 grams. The Sabre 110 is a very capable taillight with well-proven NiteRider performance and reliability.
Details
110 Lumen max LED taillight, belt/bag clip option, Daylight Visible Flash (DVF) mode
USB rechargeable, internal Li-Po battery w/1.5 hour charge, sealing access port
DVF and amber side lighting for additional safety and visibility
6 Modes: Steady High, Medium, Low - 3 flash modes

High Steady: 1.75 hrs run time
Intermediate Steady: 4 hrs run time
Low Steady: 8 hrs run time
DVF Fast flash: 17 hrs
DVF Intermediate Pulse flash: 6 hrs
DVF Slow flash: 7 hrs

Low Battery Indicator: power button will light up red when power is low
Meets FL1 standards for Lumen output, run times, IP64 water resistance rating
Rubber seatpost mount, USB cable included, light has integrated belt/bag/strap clip
Weight: 28 grams