Accessories Lighting Systems - Front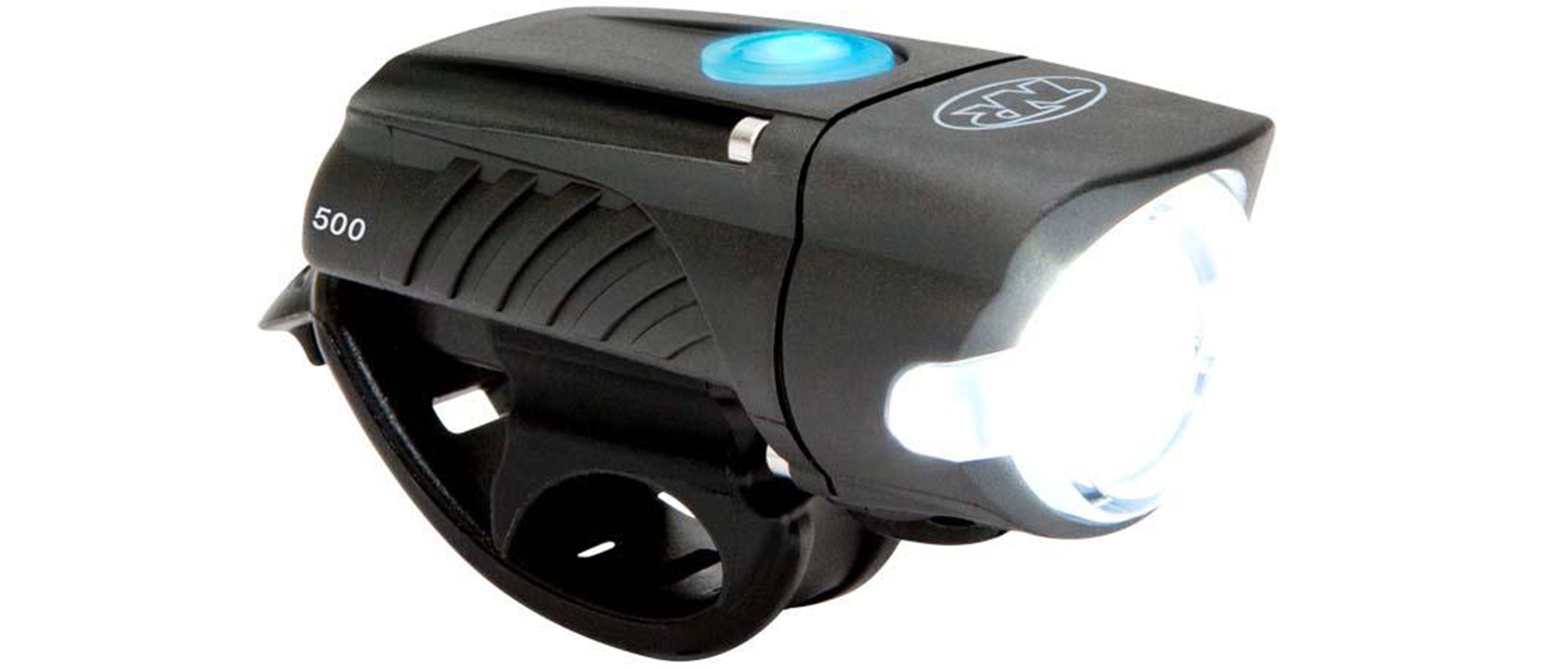 Description
The Swift 500 is a compact, powerful LED light with an internal USB rechargeable battery that is a perfect commuting option. At only 82 grams, it is also light despite the 5 lighting modes and integrated rubber mount system. Clearly there is a lot to like about the Swift 500, but have you seen the price? An MSRP of 39.99? If you had been buying a 500 Lumen light a few years ago it would have cost you twice as much. Technology and production for the win!
Road cyclists like the Swift as well, as there is nothing tricky about it. Charge it, mount it and go, making it great for shoulder season rides where you might get caught in tricky light situations. The rubber strap mount will fit any bar diameter up to 32mm, and quick release tab make pulling the Swift off when you lock up your bike is a breeze. Charging the battery vis USB at 1A takes only 2 hours, and at 500mA it is just 3.25 hours. The composite fiberglass reinforced casing is durable and the light is water resistant to rain and splashing with an IP64 rating. Your five run modes include three steady modes, High, Medium, and Low. A Daylight Flash mode runs for 9.5 hrs, and Walking mode projects 20Lm for 25 hrs.
The Swift 500 really lets you control your lighting needs and battery usage, making it ideal for commuters or roadies who always want to have a capable light on hand for off season or dark hours riding. At only 82 grams, the weight is negligible and the peace of mind considerable. The power/mode button is also fuel gauge-low battery indicator. We requested it take out the trash too, but for under $40, that would be a bit too much to ask. No worries, the USB cable is included!
Return to Top
Features
500 Lumen, compact, handlebar mounted LED headlight with integrated rubber mount
Internal USB rechargeable 3.7v (1.2A/h) Li-Ion battery, w/IntelliCharge
Highly durable design made with fiberglass reinforced plastic
Smooth 450 lumen beam pattern in an ultra compact and lightweight design
Innovative Collimator Lens – optimizes your field of view
4 Light Levels plus 1 Daylight Flash Mode so you can meet lighting and battery needs

High Steady: 500 Lumens for 1.5hrs
Medium Steady: 225 Lumens for 3 hrs
Low Steady: 100 Lumens for 9 hrs
Walking mode: 20 Lumens for 25 hrs
Daylight Flash mode: 500 Lumens for 9.5 hrs

Power/Mode button is also a Fuel Gauge / Battery Level Indicator
FL1 Standard IP64, water resistant
USB charging time: 2hrs at 1A, 3.25 hrs at 500mA; USB charging cable included
Integrated rubber mount works with handlebars up to 32mm diameter
Weight: 82 grams
Return to Top