Tools & Maintenance Bottom Bracket, Cassette, & Cog Tools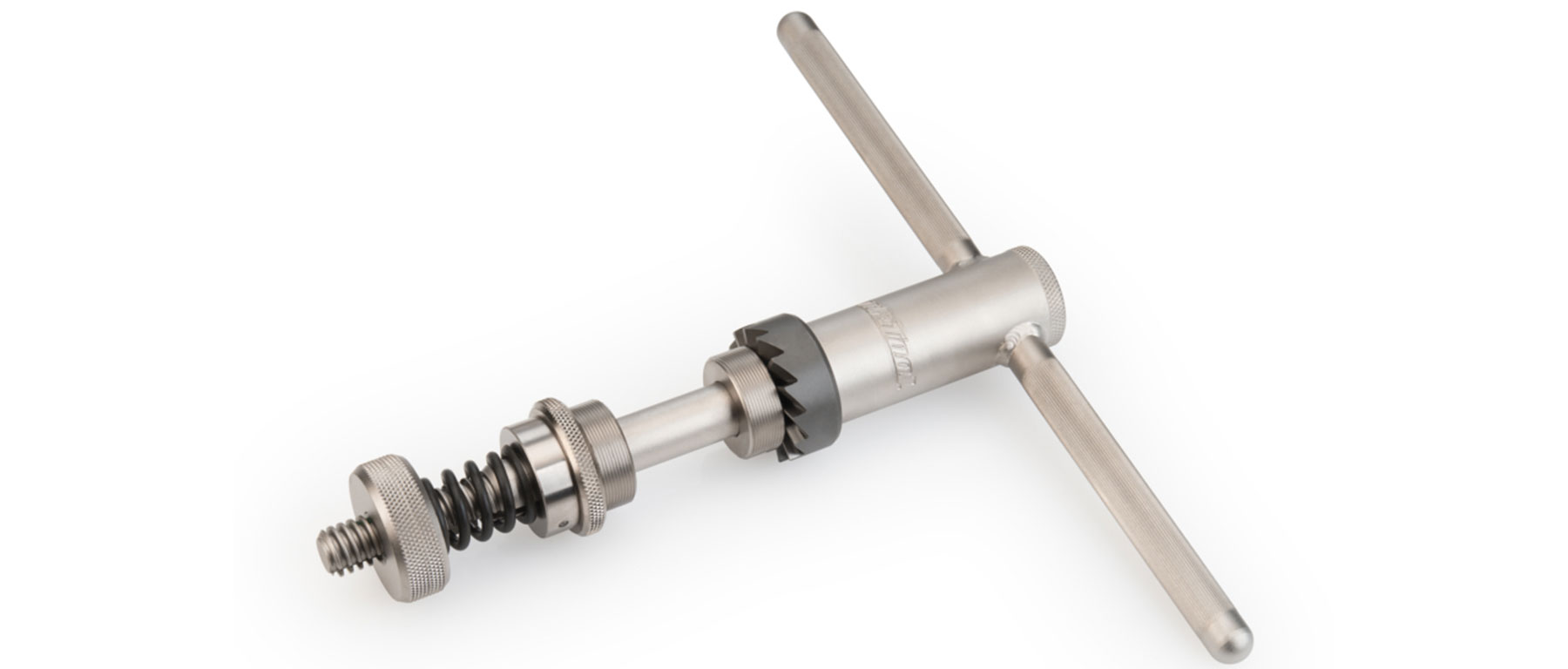 Description
Steel frames are still abundant in the cycling world and have been basically as long as there have been bikes. Facing a bottom bracket seems a little anachronistic, but if you intend to use precision components on a steel frame, ensuring that your surfaces are both clean and parallel is essential. With some of the modern threaded external cup bottom brackets, facing the bottom bracket shell can seem unnecessary as the use of composite bushings allows for a little more flexibility than older internal threaded styles. That being said, if your faces aren't parallel, you may well find yourself blowing through bearings far more frequently than you should. That is why the Park Tool BFS-1 Bottom Bracket Facing Set is not "good to have around", but can be essential.
The BFS-1 set is composed of handle with a perfectly perpendicular shaft that ends as a threaded rod. The shaft is designed to carry a cutting tool that sits directly on the largest stock section, which has a spring retainer. Two threaded bushings, sized for a 1.370 x 24 TPI (English) bottom bracket shell are then threaded in (bushings are Right/Left threaded to match the threading of bottom bracket, not the side). These ensure a perfect alignment once you slide the tool through you apply the knurled washer, then the anti-rotation washer, pressure srping, and finally the wide knurled tension nut. The tensioning assembly, featuring the spring load system, allows you to create and adjust pressure on the unit to precision face one side of the shell at a time. This is a tried and true system, with machine shop quality components and construction. Two key pieces of information: always use cutting fluid, and it is always easier to add tension than to over tighten and take too large a bite, if you will. Take it slow and only remove as little material as possible. Remember the shell width matters.
Park supplies the BFS-1 with the most common bushing size, the 1.370 x 24 TPI, with this set, but separately offers the two 36mm x 24 TPI bushings necessary for Italian BB shells. The cutting face has a 45mm OD, and comes quite sharp. If you use your cutting tool often, it will require sharpening at some point. You can find a local machine shop that offers such services, or contact Park, which offers a mail in sharpening service.
Return to Top
Features
Bottom bracket facing tool set for steel and alloy frames/bb shells
Precision tool with machine shop quality construction
Self-contained facing set is easy to use, equipped for English/BSC threaded shells
Includes:

1.370 x 24 TPI right hand bushing – English (part #681)
1.370 x 24 TPI left hand bushing – English (part #682)
45mm facing cutter (part #690)
Plated steel facer T-handle with knurled handles for grip, control
Spring retainer
Knurled washer
Anti-rotation washer
Pressure spring
Tension nut (wide, knurled)
Instructions, with parts diagram

Always take it slow and minimal, and always generously use cutting fluid
Measure to ensure you don't remove too much material
Park offers part# 688 for 36mm x 24 TPI Italian standard shells, 2 required
Return to Top