Tools & Maintenance Tool Kits
Park Tool BX-2.2 Blue Box Tool Case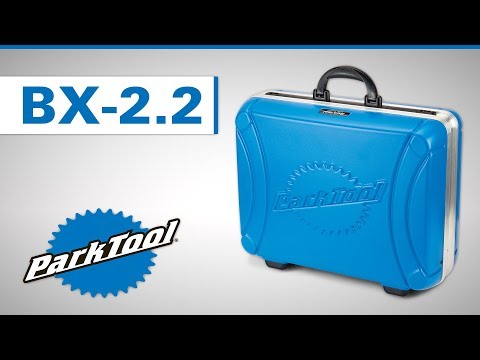 The Park Tool BX-2.2 Blue Box Tool Case is the updated version of the famed BX-2 and features an all-new pallet configuration and storage options to help you keep your tools secure and easily accessible. The expanded custom designed tool pallets, including dual-sided pallet wings, are all housed in a virtually indestructible composite travel case. Designed and built for the professional traveling mechanic who demands the best!
Park has built the durable, dent proof molded composite case with three key principles: useful and adequate storage of bike tools, flexibility of use, and overall secure storage. Starting with the last, the BX-2 features an anodized aluminum frame and key-locking latches for general security and stoutness. But secure storage really focuses on keeping your tools stable and safe during transportation. The removable interior tool boards feature an ABS inner panel, which is then covered with with tough 600D ballistic nylon, into which the actual tool organization is built. The panels add structure, but aren't completely rigid, offering variable compressibility and accommodation of tool distribution. Think of the case as a sandwich, with a series of layers. This keeps your case from rattling and potentially damaging tools during storage or travel.
The beauty of the easily mobile BX-2.2 is that it allows you to handle any and all events with ease, with tools that suit your actual requirements. If you are reading this, you likely have a comprehensive set of tools, but want a great case for travel, racing, or due to limited storage space. Park Tool sought to create the best such case we have seen, and the Blue Box delivers.
Features
Suitcase-style tool box case designed for professional traveling mechanics
Dent-proof composite shell built around an aluminum frame
Custom designed tool-holding pallets with loops and pockets
Front tool pallet that stores securely inside during transport
Sturdy, durable, plastic carry handle
2 latches with key locks/keys
Nominal dimensions: 19" x 14.85" x 8.5" (48.25 cm x 37.7 cm x 21.6 cm)
Color: Park Tool Blue
Weight: 13.2 lbs. (6 kg)