Tools & Maintenance Headset & Hubs Tools
Park Tool CRP-2 Adjustable Crown Race Puller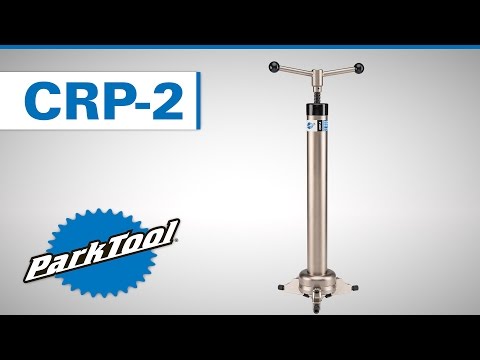 As sizes and standards change, Park Tool continues to meet the demands of home and pro mechanics for the best tools for any bike-related job. The development of tapered and over sized steerers up to 1.5" required Park to step beyond the capabilities of the CRP-1. The second generation Adjustable Crown Race Puller, the CRP-2, uses three adjustable knives to be able to ideally accommodate, and safely and quickly remove any type of crown race up to 64mm wide, on steerer tubes 14-43cm long and 1" to 1.5" in diameter.
The triangle layout, and independent control of the three knives allows the user to position the CRP-2 around any configuration of suspension fork controls, and still safely remove the race. Park uses all steel construction on this tool, and the durability and precision will hold up for years of every day shop use. The only part that wears is the blades, which by necessity have thin edges. Even when used properly, with equal penetration from each adjustable blade, it is possible the knives can be damaged or simply wear out over time. These are replaceable, and always available from Park (part #1155-3).
If you regularly service your own bikes, run a shop, or are a mechanic with your own tool set, the Park CRP-2 Adjustable Crown Race Puller is a mandatory item. Easy to use, and utterly indispensable, this tool will effectively and properly get the job done, every time, whether your fork crown is steel, carbon, magnesium or aluminum.
Features
Crown race puller with three independently adjustable, equidistant knives
Works with steerer tubes from 1" to 1.5", and races up to 64mm in diameter
Steerer tube length must be between 14 and 43 cm long (5.5-17")
Use with suspension or rigid forks, use triangle knife placement around obstacles
Blades are necessarily thin and will wear with use
Replacement blades are available: Park part #1155-3
All steel construction for long term durability