Tools & Maintenance Scales & Measurement Devices
Description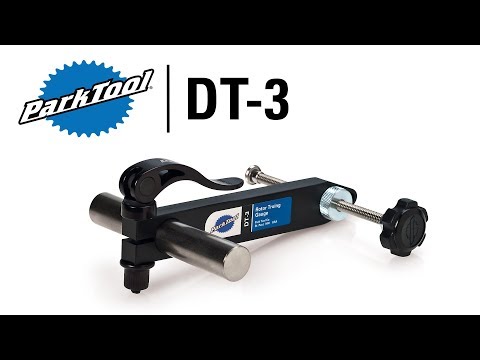 Truing disc brake rotors is a challenging and hardly-ever rewarding task. In the shop, or for anyone with a Park Tool TS-4, TS-2.2, or TS-2 Professional Wheel Truing Stand, you can use the DT-3 Rotor Truing Gauge while the rotor is affixed to the wheel. Consisting of a piece of stock, a main axle that is adjusted from the stock and controlled via quick release lever, and a threaded rod with flat end and thumb screw control, the DT-3 is fairly simple to set-up and use.
The base black stock of the DT-3 slides onto arm axle, which threads into the truing stand arm, allowing you to position the gauge to whatever distance from the rotor as you require. Then the thumb screw device allows you to position the business end close to the rotor. Spin the wheel, and adjust the device incrementally as needed until you have a rub or contact with the rotor. You get a very clear view of the gauge end and rotor as you face the wheel, so you can adjust with sight and sound. When you find the locations of the rotor that aren't straight, use a rotor truing tool like the Park RT-2 to bend the rotor, then continue the process until the rotor is as straight as possible.
For more comprehensive accuracy, Park offers the DT-3i.2 Dial Indicator which might seem like a bit much for a home mechanics, but if you have a pro-level truing stand and regularly ride with disc brakes, you know and appreciate the importance of precisely trued rotors.
Return to Top
Features
Disc brake rotor truing gauge system for use with Park TS-4, TS-2.2, or TS-2 Professional Wheel Truing Stands
Works with any size disc brake rotor
Can adjust gauge inboard and outboard based on wheel spacing
Actual rotor measurement is managed with thumb screw controlled threaded rod with a wider flat end to align with rotor
A rotor truing fork, such as the Park RT-2 must be used to actually true rotor
Use with Park DT-3i.2 Dial Indicator for impressive measurement accuracy
Return to Top