Tools & Maintenance Cable Routing Tools
Description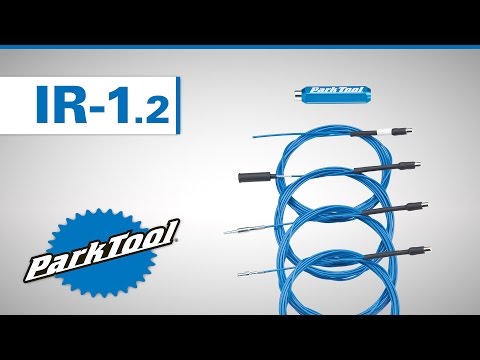 While bike and frame manufacturers have made effective improvements in internal cable routing systems, there are few tasks more annoying and time consuming for a home or shop mechanic that running internal cable or wire systems. Even the best conceived systems can be impacted by an odd bit of resin or flake of a bladder. Never mind working on a frame that hasn't been subjected to current design and engineering. Passing wires and cables through older frames can be a nightmare. For this reason Park had originally developed the IR-1 kit, which has now been supplanted by the Park Tool IR-1.2 Internal Cable Routing Kit. The IR-1.2 features the standard brake/shift cable, brake/shift housing, and hydraulic hose tools, but adds an E-Tube connector on a dedicated hose that can be pulled through 6mm frame holes created specifically for electronic shifting systems.
The kit includes four plastic coated 250cm cables with attached magnets and unique fittings, plus an external guide magnet to speed operation. Opposite polarity magnets on cables seek and attach inside frame tubes, making it easy to route through frame entrances and exits. Some mechanics have found that the flexible, but partial rigidity of the coated cables make the magnets superfluous for all but the most difficult cable runs, but when you need them, the magnetic system works quite well. For this reason, the IR-1.2 is only effective on carbon, titanium, and alloy frames that are not made of steel. While there are custom built steel frames with internal routing, magnets like steel, as you may recall, rendering the system ineffective for ferrous metals.
The 2500mm length means this kit can be used with any size bicycle, including tandems and most recumbents. Every shop, pro, and travel mechanic needs to have an IR-1.2 Internal Cable Routing Kit on hand. Every home mechanic who rides or works on internally routed frame designs should have one too. Think of it as insurance. When you don't need it, you know it is waiting in the wings. When you do need it, there is no better solution to your problem. Park Tool offers smart tools and solutions for bike mechanics, and the IR-1.2 certainly qualifies. Buy the kit, stick it in your drawer and hope you never need it, but when you do, you may find you use it more often because it makes your work easier, faster, with less potential damage to wires, cables or housing.
Return to Top
Features
Kit speeds the internal frame routing of electronic wires, shift cable/housing, brake cable/housing and hydraulic brake line
Includes a guide magnet and four installation cables, each with a magnet on one end and a unique adaptor tip on the other end
Included instructions offer four methods/suggestions for using the kit to install lines
Fitments for shift cable, brake cable, housings, hydraulic hose, E-Tube connector
Four plastic coated 250cm steel cables work with nearly all internal routing bikes, even tandems
A must-have on-hand tool for any mechanic, shop- saves time, money; prevents stress
Return to Top