Tools & Maintenance Multi Tools & Folding Wrenches
Description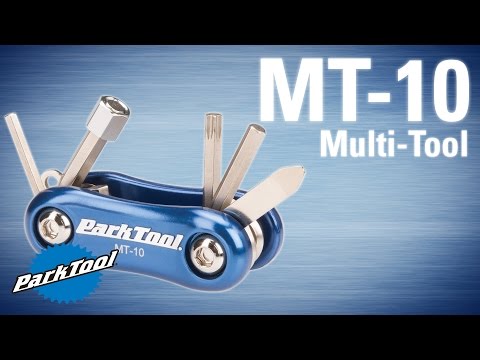 The world of compact multi-tools is a competitive venue where riders can pick and choose from many great options. Even Park Tool, a leader in bike specific tools for decades has to develop new options and refine even the most basic features to be a preferred option. The Park MT line was developed with innovation, competitive weight, and overall high quality not as goals, but requirements. The MT-10 Multi Tool will suit many riders, but likely favors road cyclists who desire a truly functional tool. Park carefully selected the tool options most likely required by road cyclists.
There are 7 tools on the MT10. Your Hex keys are 3mm, 4mm, 5mm, and 8mm, all of which are more common than other sizes for road use. The Torx T25 driver is commonly used on brake bolts, shifters and disc brake rotors and calipers. A combination screwdriver will work with flat or Phillips head screws. Park also includes a simple ring that you can use to attach the tool to a key ring or safety cord, to ensure you will always know where your MT-10 is.
Park has forged the aluminum body plates into shapes that make the ergonomic tool easier to handle and use, and serve to keep the tool stiff when applying torque. The tools themselves are made from steel, precisely machined, then hardened and plated for strength and corrosion resistance. These are the accepted and desired standards for lightweight multi-tools that are truly functional when you need them. At 76 grams, the well conceived and executed MT-10 is not only competitive, but sets a new standard for innovation, raising the bar again. That is what we expect from Park Tool, and you should as well.
Return to Top
Features
Compact, lightweight multi-tool designed for road cyclists in mind
Features 7 tools and key ring holder
Forged aluminum body plates with ergonomic design, anodized blue finish
Steel tools have been hardened for strength, plated for corrosion resistance, durability
Hex keys: 3mm, 4mm, 5mm, 8mm (5mm with sliding 8mm interface)
Torx T-25 driver
Combination screwdriver compatible with various interfaces
Key ring holder
Weight: 76 grams
Return to Top