Tools & Maintenance Multi Tools & Folding Wrenches
Park Tool MT-40 Multi Tool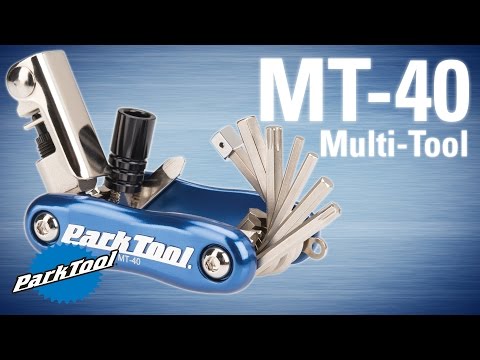 The world of compact multi-tools is a competitive venue where riders can pick and choose from many great options. The Park MT line was developed with innovation, competitive weight, and overall high quality not as goals, but requirements. The MT-40 Multi Tool is the one tool most riders will need for virtually any road or trail-side repair
There are 12 tools on the MT-40. Your Hex keys are 2.5mm, 3mm, 4mm, 5mm, and 8mm, all of which are commonly used. The Torx T25 driver is commonly used on brake bolts, shifters and disc brake rotors and calipers, while the T30 is common now on chainring bolts. A combination screwdriver will work with flat or Phillips head screws.
An unfamiliar, but highly useful black tool is actually a CO2 inflator head. It threads onto a pivoting arm and recesses into the tool body. This fun little development keeps you inflator safe and easy to find, eliminating yet another item you need to carry in your saddle bag. Compact chain tools are rarely simple or all that effective to use, but this is Park Tool we are talking about. The design is effective because you release the body of the chain tool from the handle, then use the handle with hex to drive the pin. It works very well and you won't be fumbling around. Park also includes a simple ring that you can use to attach the tool to a key ring or safety cord, to ensure you will always know where your MT-40 is.
Park has forged the aluminum body plates into shapes that make the ergonomic tool easier to handle and use, and serve to keep the tool stiff when applying torque. The tools themselves are made from steel, precisely machined, then hardened and plated for strength and corrosion resistance. These are the accepted and desired standards for lightweight multi-tools that are truly functional when you need them. At 253 grams, the well conceived and executed MT-40 isn't a featherweight, but it packs all you generally need into a compact, efficient, and usable design. From Park Tool, of course.
Features
Compact, lightweight multi-tool with integrated chain tool for any cyclist
Features 12 tools and key ring holder
Forged aluminum body plates with ergonomic design, anodized blue finish
Steel tools have been hardened for strength, plated for corrosion resistance, durability
Hex keys: 2.5mm, 3mm, 4mm, 5mm, 8mm (5mm with sliding 8mm interface)
Torx drivers: T25, T30
Combination screwdriver compatible with various interfaces
5-12 spd chain tool to remove or drive pins (will not peen Campy 11 rivets)
Threaded CO2 inflator threads on/off tool mount for use, then stores in tool body
Key ring holder
Weight: 243 grams