Tools & Maintenance Wrenches & Sockets
MWR Ratcheting Metric Wrench
Excel Sports Part #
Park Tool Part #
UPC/EAN#
Actual Product Weight grams
Request Stock Alert
Description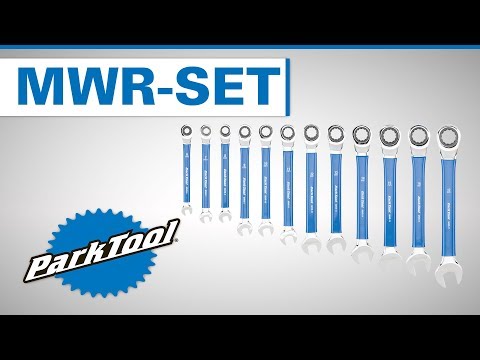 When speed, efficiency, and ease of use matters to you, the Park Tool MWR series of Ratcheting Metric Wrenches has to be on your Most Wanted tool list. With most of the great features and construction of the non-ratcheting version, but with the 72 tooth, 5 degree gear ratchet making your work more efficient, the MWR wrenches are welcome in most every shop or home work environment.
Besides the obvious ratchet difference from the base MW series, the MWR wrenches have a flat box end, which allows you to use the ratchet in either direction by flipping the tool over. If it was angled like the non-ratcheting Metric Wrenches, you would not be able to do that. As such, most serious work benched actually stock both versions, as sometimes you need the leverage and clearance of the MW to break a but or bolt free, but then can switch to an MWR for speed in removing, especially on longer thread systems.
Each wrench is made from forged chrome vanadium steel; the heft is just right, with the strength and power to back it up. The wrench is chrome plated and polished to a bright finish. The steel ratchet gear assembly is sealed and not serviceable- and will never need it. Park dips the handle section in their durable blue-color vinyl to offer grip even when grease is present, as well as to save your hand when leverage is required. These great Ratcheting Metric Wrenches are sold individually here in 12 sizes, from 6mm-17mm. Park also offers a complete set of 12, sold under the MWR-Set.
Return to Top
Features
Shop quality metric ratcheting combination wrench with open and 12-point box ratchet end that offers speed and efficiency with every use
Open face has inline angle for leverage, reach
Box end is flat to handle, so you can flip the wrench over to change ratchet direction
Forged chrome vanadium steel, chrome plated, meticulously polished
Ratchet gear has 72 points, engaging quickly at 5 degrees
Handle area dipped in Park Tool blue vinyl for a positive grip
6mm, 7mm, 8mm, 9mm, 10mm, 11mm, 12mm, 13mm, 14mm, 15mm, 16mm, 17mm
Sold individually
Return to Top