Tools & Maintenance Work Stands
Park Tool PB-1 Portable Workbench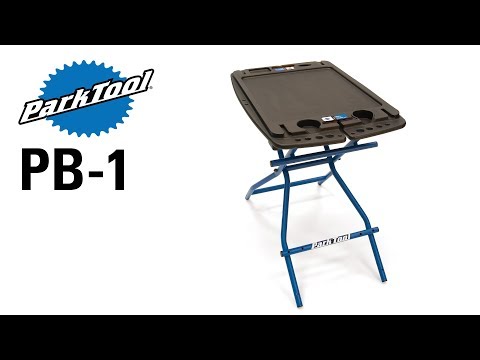 Why should I buy a portable workbench designed for bike use? Can't I just use a folding table, tree stump, sorta flat boulder, or my trunk lid? Of course you can! Enjoy the wasted time looking for tools that fell or rolled away. Look, not everyone needs a PB-1 Portable Workbench, but maybe YOU do. Do you car travel to road, mountain or cross race weekends? Are you considered the "group mechanic" when you meet the crew at the trailhead? Perhaps you live in an apartment where space and storage is limited? If you are a cyclist who works on your own bikes, you get it. If you are a shop that frequently does support for events, you get it. The PB-1 was made for bike service. No need to drag the wobbly 3x3 card table out to a race. With an ample, recessed work top, slots and spaces for tools, lubes, and beverages, as well as the ability to fold flat in seconds, this is a work bench that has a compact foot print, can easily hold your travel case or tool box, with a 100lb weight limit.
The PB-1 comes in two parts. The steel tube, scissor style-folding base, and the molded plastic top. The base opens easily, then you click the top on, and secure with the two leashed clips. Done. The effective work surface of the top is 91.5cm x 58.5cm (36.1" x 23.03"). The height when set-up is 32", which is a compromise height considering you may not may not be using a tool box on top. The recessed center section will prevent small parts and tools from rolling away, and the tool slots on the edges are close at hand for your commonly used tools. Park offers the PTH-1, a papertowel folder that sets right into a a pair of holes designed for that purpose.
Folded down the PB-1 is compact at 108cm x 58.5cm x 18cm (42.5" x 23.03" x 7.08"), meaning it can be stored in a closet, trunk, backseat, and so on. At just 20lbs, it is easy to manage if your race tent is a decent hike from the parking area, and when folded, the configuration offers an easy carry handle. We feel the PB-1 is a real work horse, and judging by how many we sell, many people agree. Numerous riders by one just to use as their home work bench because space is tight. If you travel to ride, make it will make your life easier. Thank you to Park for this simple, but very well executed Portable Workbench.
Features
Two-piece folding work bench, molded plastic top designed for bike tool/service use
Steel tubing used in base is strong, four-foot stability, powder-coated for durability
Molded plastic top clips into base, and when opened up, is secured with leashed clips
Bench sits 32" high when set-up, ideal for adding a tool case or box
Top features recessed center to corral loose tools and parts, plenty of tool/acc slots
Top dimensions: 91.5cm x 58.5cm (36.1" x 23.03")
Folded dimensions: 108cm x 58.5cm x 18cm (42.5" x 23.03" x 7.08")
Weight limit: 100lbs
Easily stored, transported and hand carried
Weight: 20lbs
Color: Park Tool Blue base and Black top