Tools & Maintenance Work Stands
Park Tool PCS-10.2 Home Mechanic Repair Stand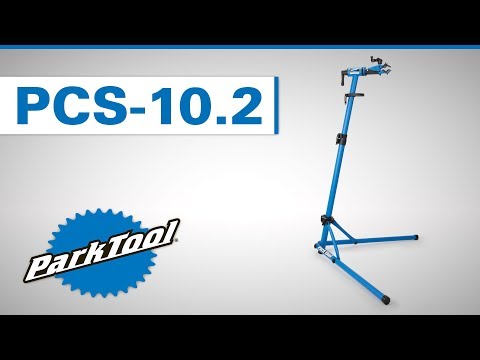 The PCS-10 Home Mechanic Repair Stand has been a workhorse of their line-up for years, and now Park has given this well equipped best seller an update with new oval shaped steel tubes that offer more strength and stability than the original's round tubes.
A work stand is the key component of any home shop. Holding the bike stable at a convenient working height allows easy access for adjustments, cleaning and repair. The PCS-10.2 Deluxe Home Mechanic Repair Stand was designed and built using Park's 50 years of experience creating professional shop stands used in shops around the world. The unique three-point leg system and stout adjustable upright create an extremely solid platform capable of handling bikes up to 80 lbs. (36kg). Easy to set up and use in a home shop, garage or driveway, the PCS-10.2 also folds easily for transport (think race tent or trailhead) and when you need to stow or store it.
The quick release system offers height adjustment from 39" to 57", and the max weight rating (when weight is centered with stand) is 80lbs. At just 19.9lbs, the carry weight is manageable for anyone and the unit folds down to 10.5" x 39.5". The PCS-10.2 is compatible with several Park Tool repair stand accessory options.
Features
Top selling home bicycle repair stand with upgraded tubes and features
Height adjustment from 39" to 57"
Cam actuated, micro adjustable clamp that allows quick bike entry and exit
Safely fits 1-3" (25mm–76mm) diameter tubes/ seatposts of any shape, material
All steel structure for max stiffness, durability; textured powder coat finish
Teardrop shaped tubing adds strength and ensures perfect positioning during use and folding
Folds quickly, easily, compactly for storage down to 10.5" x 39.5".
Features aluminum quick release mechanisms, strong tubular support braces
Super strong glass filled nylon composite fittings and top tube internals creating smooth clamp rotation and secure positioning
Includes height adjustable compact tray to hold small parts, a few tools and the PTH-1 Paper Towel Holder (optional accessory)
Compatible with BAG-15 Carry Bag (sold separately)
Max bike weight: 80lbs (when properly centered)
Color: Blue
Weight: 19.9 lbs