Tools & Maintenance Work Stands
PCS-10.3 Home Mechanic Repair Stand
Sold Out
Description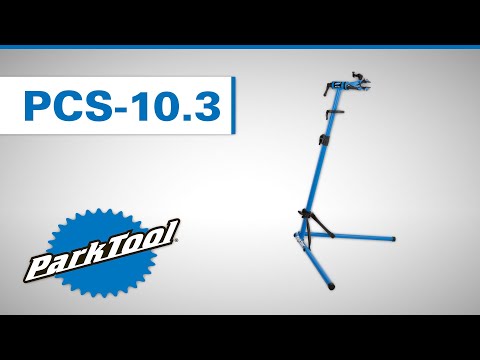 The Park Tool PCS-10.3 Repair Stand is the latest version of the 10-series full-featured bicycle workstand- designed and built for the home mechanic. The PCS-10.3 includes Park's tried and true cam-actuated micro-adjustable clamp design for quick one-handed entry and exit, as well as a quick-release height adjustment lever for easy, secure adjustment. It features 18" (460 mm) of height adjustment and 360 degrees of clamp rotation, positioning all parts of the bike within reach for any mechanic whether seated or standing.
The stand's all-steel construction with teardrop-shaped tubing ensures maximum rigidity and stability, with tubular support braces, a locking support yoke, and upgraded internals for extra dependability. The PCS-10.3 is able to hold up to 80 lbs. (36 kg), which allows for compatibility with virtually all two-wheeled pedal-driven bicycles, including fat bikes and most e-bikes. With it's open triangle base with three ground contact points, this rated maximum weight capacity of the PCS-9.3 assumes the greatest weight is centered below the clamp and between the legs.
The PCS-10.3 features an integrated height-adjustable parts tray, as well as accessory ports for the Park Tool #106 Work Tray or PTH-1 Paper Towel Holder (both sold separately), so your tools and small parts are always within reach. Quickly folds down for storage and transport with a smooth-operating leg support system that pulls both legs up in one simple motion. The PCS-10.3 is the perfect way to truly upgrade your home shop with a stable way to hold nearly any bike off the ground for adjustments, cleaning and repair.
Return to Top
Features
High-grade home workstand for cyclists who service their own equipment, especially sensitive or varying bike and seatpost designs
Cam-actuated micro-adjustable clamp fits 7/8" to 3" (22 mm–76 mm) diameter tubes and seat posts of any shape and material, including aero posts and dropper posts
Narrow clamping jaws (2.7"/70 mm) fit into tight areas or on short seatposts
Rubber saddle pad allows bikes to be hung by the saddle for quick adjustment or storage
Durable, textured powder coat finish
Integrated height-adjustable parts tray
Height adjustment collar features accessory ports for compatibility with the #106 Work Tray or PTH-1 Paper Towel Holder (both sold separately)
Maximum weight capacity: 80 lbs* (36 kg)
Height adjustable from 39" to 57" (990 mm–1450 mm) using convenient quick-release lever
Base when open forms a triangle of 36" x 36" x 48" (920 mm x 920 mm x 1210 mm)
Folds down to 45" x 14.5" (1140 mm x 370 mm)
Color: Park Tool Blue
Weight: 16 lbs. (7.2 kg)
*NOTE: The maximum weight capacity of the PCS-10.3 assumes the weight is centered below the clamp and between the legs.
Return to Top