Tools & Maintenance Work Stands
Park Tool PCS-4-1 Deluxe Home Mechanic Repair Stand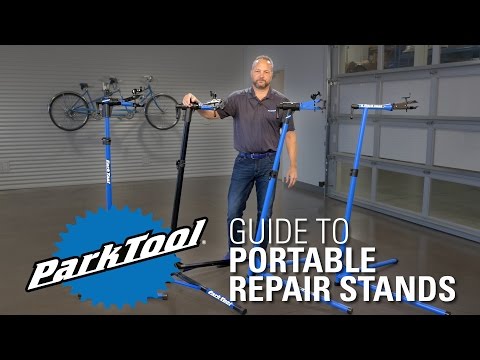 Carrying pro bike mechanic equipment to consumers for home use, Park Tool has long offered great workstands that wouldn't be out of place in a shop or home garage. The PCS-4-1 Repair Stand has a lighter weight steel, somewhat foldable base stand with Parks' pro-style 100-5C Adjustable Linkage Clamp. With 360° rotation and a 4" wide opening the 100-5C features solid cast aluminum construction and durable replaceable clamp covers. The clamp system has relief channels on both jaws for cable routing, and features replaceable jaw covers.
The PCS-4-1 has fixed 90° base legs that fold together, but not up, making it perfect for leaning or storage against a wall when folded. The fixed base feet extend back behind and forward of the legs for excellent stability on flat surfaces. While decent as a travel stand, keep in mind that a flat firm surface is required. Many shops use the PCS-4-1 as a supplemental stand for expos, onsite events, test ride checks, and even as a back-up or additional shop stand.
The upright adjustable extension allows you to quickly set a clamping height from 51" to 68" from the floor surface. When open and set-up the base forms a 26½" x 28" square. Construction wise, the rock solid, four-point leg system that folds together for storage, and fixed half of the upright section is made of steel powder coated tubing. A composite horizontal tube adjusts out from that extension and is controlled by a composite friction collar with an oversized quick release mechanism.
Capable of holding up to 100lbs if the weight is perfectly centered, the PCS-4-1 can easily handle most of today's common bikes, even fat bikes. If you have a stout electric bike you will want to verify the weight before mounting it. The stand itself weighs only 26lbs, so it holds nearly four times it's weight, is easy to move and store, and the Park Tool Blue durable powder coat will hold up well to all kinds of abuse. We highly recommend this stand for home use. Just make sure you know how to adjust and use the clamping mechanism, as the leverage is quite powerful, and carbon frames and posts can be damaged if you aren't careful. The black barrel-type nut on the 100-5C Adjustable Linkage Clamp controls the opening distance, is easy to use, and takes a little getting used to, but the clamp is highly secure and a favorite of bike shop techs- who by the way also have to learn how to use it, so it can be done!
Features
Heavy duty folding stand with the top choice of shop quality clamp system
Perfect for heavier duty home use or portable shop use
Features a rock solid, four-point leg system that folds together for storage
Made with powder coated steel for base and upright tubing
Adjustable composite extension moves clamp height from 51" to 68" from floor
Clamp is Park's 100-5C Adjustable Linkage Clamp; cast aluminum, lever locking
Clamp rotates 360° in mount, opens wide to 4", has replaceable jaw covers
Base forms a 26½" x 28" square (67 cm x 71 cm)
Maximum weight holding capacity of the PCS-4 is 100 lbs (centered over base)
Weight: 26 lbs