Pumps & CO2 Mini Pumps & Frame Pumps
PMP-3.2 Micro Frame Pump
Excel Sports Part #
Park Tool Part #
UPC/EAN#
Actual Product Weight grams
Request Stock Alert
Description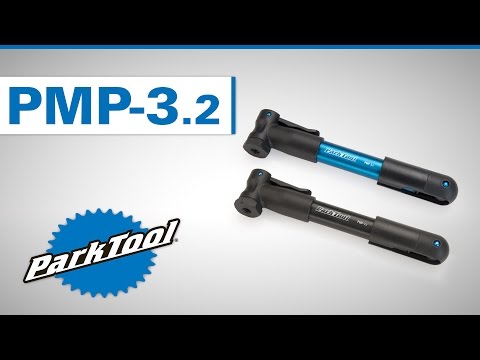 Micro air pressure pumps are a solid back-up for road cyclists who prefer to use CO2 for quick inflation. Even combined with a CO2, a micro pump has utility, as you can start your tube to give it a little shape before installing into the tire/rim (don't blow into tube valves- most contain lead). In the worst case scenario you can actually inflate your tire to a working pressure with a micro pump. Park's PMP-3.2 Micro Pump has a couple of advantages over it's competitors, such as the fact that it is made by Park, so attention to detail is excellent, and small parts are always available for a possible rebuild. The PMP-3.2 is just under 8" long, so it can be carried in a jersey pocket, strapped to a saddle bad, tossed in a bag or pack. The included bracket can be mounted to water bottle cage bosses, with or without a bottle cage. Park supplies bolts with enough length either way. At just 105 grams, the weight is negligible for the protection it offers the rider. Last, Park has maintained a soft-touch, dual-density, flip out handle that allows the user to comfortable deliver the strokes necessary to fill an average road tire to around 100psi.
The construction is typically Park. The barrel is made from lightweight, yet strong, aluminum as is the plunger. All mini and micro pumps require considerable stroke repetition to fill a tire, and the plunger o-ring is easily replaceable, as regular use and high pressure will break down the rubber. The rubber gasket in the pump head also can be replaced, as it wears over time. The head itself is capable of both Presta and Schrader valve use, but it is a manual set-up. You have to flip the gasket and actuator each time. It is simple, and gives you flexibility, but odds are you will leave it one position or the most of the time.
A tip for mini and micro pump use: don't go all out at the beginning, pumping fast to build air volume. Keep a steady pace so as not to wear yourself out. You can get to 100psi, but it gets harder and harder as you go. 80-90psi is more realistic for most users. If you require a micro pump for emergency and supplemental use, the Park PMP-3.2 Micro Pump is one of the best options out there, and it is backed by the professionals from Park Tool, and their support with small parts.
Return to Top
Features
Micro pocket pump ideal for emergency road tire use, or to supplement CO2
Manual dual-head design, can be switched between Presta and Schrader
Aluminum barrel and plunger keep weight down, with solid performance
Dual-density folding group delivers leverage, comfort while pumping
Compact H20 cage boss mount, uses silicone band to secure pump
May be mounted with or without bottle cage, hardware included
Can be mounted, carried in jersey pocket, bag or strapped to seat bag
Park offers replacement parts and gaskets, visit the Park Tool website for tech info
Length: 7 7/8" (200mm)
Maximum pressure: 100 psi / 7 bars
Colors: Black, Blue
Weight: 3.7 ounces (105g)
Return to Top