Tools & Maintenance Bottom Bracket, Cassette, & Cog Tools
Park Tool SR-18.2 Sprocket Remover and Chain Whip 1/8"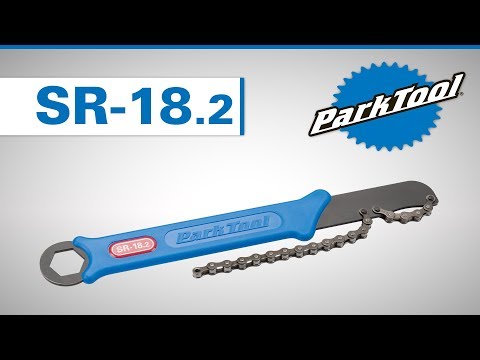 Park Tool continually revises their tool line-up, sometimes due to changes in bike component design and technology, others when they feel an existing tool can be improved through upgraded design and construction. Hence the SR-18.2 Sprocket Remover and Chain Whip. The 1/8" pitch cogs used for track and single-speed use haven't changed over the years, but Park has improved the handle design for all of their chain whip tools, and the SR-18.2 features that new handle, as well as the added benefit of hardened pins that hold the chain segments to the tool body. The upgrades make the tool stiffer, more comfortable in the hand when applying leverage and less likely to fail long-term, even in the most dedicated fixie shops in Brooklyn or Seattle.
The handle shaft itself is made with heat treated steel to prevent bending and flexing under load. There are two business ends. The first carries the chain segments required to wrap and firmly control the cog as you tighten or loosen as required. The second has a 1" (25.4mm) 6 point Hex box end, which fits most Park Tool freewheel and cassette lockring tools. The molded composite wrap on the handle now has better coverage and shapes at both ends of the handle to protect the hand while applying leverage. This shop-grade tool is designed to last for decades, and is a great home tool for track, fixie, and single-speed riders who do their wrenching.
Features
1/8" pitch combination chain whip and freewheel / lockring remover wrench
Heat treated steel body to prevent bending and flexing
Molded handle for comfort, with better ergonomics for using either tool
Features hardened pins to keep the chain in place
Works on 1/8" fixed gear sprockets and single speed cassettes
1" (25.4mm) box-end wrench fits Park Tool Freewheel/Cassette Lockring Tools