Tools & Maintenance Work Stands
Park Tool TK-4T Tool Kaddie with Bench Mount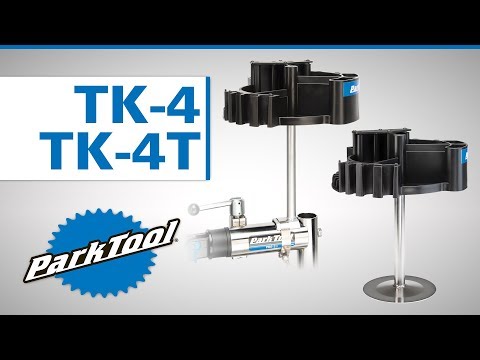 Some bike mechanics are very neat and tidy. Others, much less so. In other words, they are just like the rest of us. What matters is how your bike comes back to you, and some of the most dedicated and professional techs we know prefer a busy work bench. For the rest of us, tool organization saves time and creates space. Many home mechanics have less room to use for bike work, so an efficient and compact system for every day tools is much appreciated. With the new TK-4T Tool Kaddie Park with Bench Mount, the mechanic-driven designers at Park have tried to address that issue for all parties. The new, upright design gets stands on a bench or work station, elevating a rotating tray with wondrously effective tool storage, which is easily interacted with.
The TK-4T was painstakingly designed with pockets and holders for specific tool shapes and sizes as well as some generic storage areas, to better accommodate more users. The Tool Kaddie rotates 360 degrees for easy access to all tools from any angle and is molded from Park's durable nylon composite material. The unit itself stands on any stable, firm, flat surface, meaning you can easily move it as desired. It is surprisingly stable, but we know of a few folks who prefer to secure it to a surface in high traffic shop areas.
Given that this is a Park Tool offering, it is only right that it is designed with specific Park tools in mind. You get a dedicated receiver port for an optional (sold separately) PTH-1 Paper Towel Holder, as well as specific mounting slots for installing an HXH-2P or HXH-2T P-Handle Holder system (also sold separately). Other zones have specific slots and holders for 3-way tools, screwdrivers, P-Handles, and pliers/cutters, plus there are more generic slots and holders for other tools you may want on hand. If you like to have your tools close at hand, and organized, the Park Tool TK-4T Tool Kaddie with Bench Mount is perfect for just about any mechanic who needs a little order and convenience in their life. Just for reference, Park also offers the TK-4, which is the same kaddie, but with a mounting system dedicated for Park Professional Workstands.
Features
Upright, bench mounted, 360 degree rotation tool kaddie from Park
Designed for use on stable, firm, flat surfaces
Made with incredibly durable and cleanable molded nylon composite
Specific slots and holders for 3-way hexes, screwdrivers, P-Handles, pliers/cutters
Generic slots and holders to hold a wide variety of tools and small parts
Option to directly attach HXH-2P or HXH-2T P-Handle Holders (sold separately)
Built-in receiver port for PTH-1 Paper Towel Holder (sold separately)
Can be easily moved and repositioned as necessary